For 25 years, Arbor has been making environment-friendly snowboards with advanced design and excellent craftsmanship.  They are proud of their approach of providing the best snowboards along with protecting the environment. Here are the best Arbor snowboards for 2023 that can let you have fun while having the optimal snowboarding experience.
Best Arbor Snowboards for 2023
1. Arbor Crosscut Camber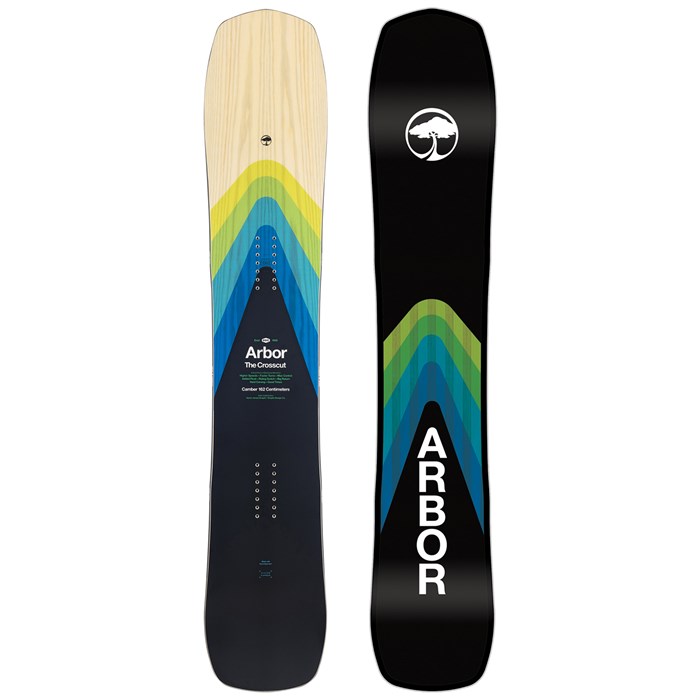 When you need better control with the performance like a pro, then this snowboard is your perfect option.
Having a system camber gives you an amazing responsive ride with overall better pop. You slay the snow like a veteran. The camber is reduced over the edges giving it a parabolic shape that makes it ideal for the snow. The shape is 0.87 cm taper.
The flex is slightly stiff to give you better control; it meets your advanced expert levels. In the core, you get the best quality paulownia. It makes the core really light but very reliable. What you get is the lighter but highly responsive Highland core. Due to its amazing construction, this board can be your partner for many years.
Thanks to its mixed glassing, you get a triax over biax lay-up which gives you diversity like no other. You can enjoy jumps, pow, groomers, backcountry, and so much more.
With this snowboard, you get 360° fully wrapped sidewalls. Thanks to this, you don't need tip fill when using the whole snowboard. All in all, you get better durability and improved board life.
The sintered base gives extra molecular weight that increases the speed with durability. When it comes to edges, you also get outstanding features with recycled steel edges. They have amazing durability and sustainability. The edges are factory tuned so you really see the only perfection.
To save the planet even further, you get the top sheet made from castor bean oil which is completely water repellent along with having high durability. Overall, if you love nature and want to enjoy the best snowboard ride, then it is the best snowboard to get your hands on this year.
2. Arbor Shiloh Camber
Shiloh is well-equipped with every feature that gives you a stable, speedy, and smooth ride with pops and twists that you like.
This snowboard is just perfect for the all-mountain and freeride. No matter what you get in your mind, you can achieve with this board. It has the camber rocker type that gives an amazing performance with its slightly reduced tail and tip that makes edges less aggressive. This board has rating-6 flex which means you get stiffness but you can enjoy and be playful side by side.
With the 3 degrees uprise fenders, you get side lifts for a smoother ride without having shorter cambers. The core is also a double-barrel II core. You get the blend of poplar and paulownia with the bamboo along the rail. This construction provides you with enhanced response and amazing control.
For the lamination, there's a biax over biax which makes it ideal for the all-mountain ride. The sintered base is also up to your mark with enhanced molecular weight and extra speed and durability. Furthermore, you get recycled steel edges that add sustainability with increased durability. Like other Arbor boards, the edges are factory tuned.
Further, you get carbonized bamboo powerply top sheet that provides deep amber color to the board. Additionally, a castor bean oil eco-top sheet is also used to protect the board from water and add durability.
Overall, when you want to be playful but also need stability, then this board can fulfill your desire.
3. Arbor Bryan Iguchi Pro Camber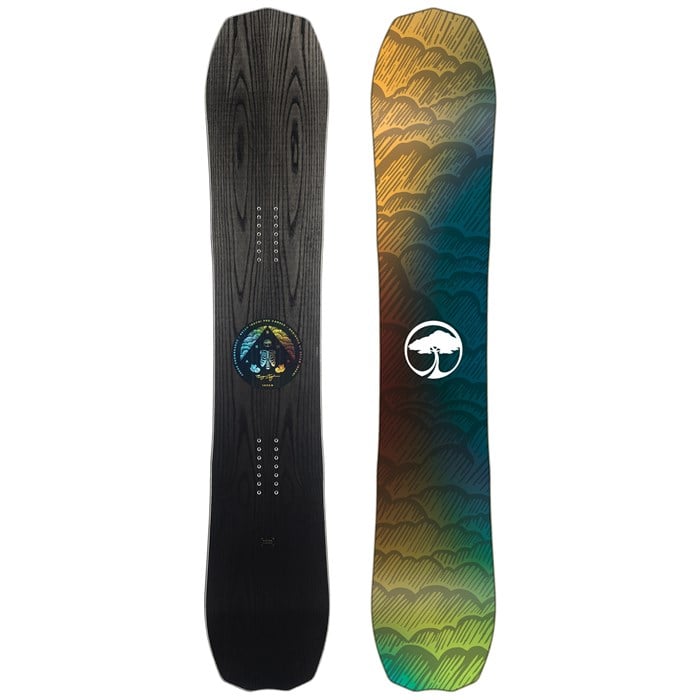 To meet all of your advanced expert needs, Arbor made this snowboard with great care and consideration.
Having 7 flex, you can expect this board to remain stable when you ride all-mountain, powder, or freeride. It has a double barrel core made from paulownia and poplar blend with bamboo going down from the board's center. The combo gives you fuller control with longitudinal pop.
The mixed glassing laminate – a triax over biax lay-up – provides you with the versatility of play. You also don't have to go for tip fill with its 360° fully wrapped sidewalls. You get amazing tolerance with increased durability.
The sintered plus base contains mid-density material that offers better speed and overall durability. Edges are also no lesser with the high-quality recycled steel edges for enhanced reliability.
The eco-friendly bioplastic top sheet protects the snowboard from water and keeps it going season after season. Further protection is provided by wend natural wax, which also makes the board ever ready for the ride.
Overall, when you a bit of stiffness and also want to have a lot of fun, then go for this amazing Arbor's masterpiece.
4. Westmark Camber
If being limitless is what you want, this snowboard can make the whole mountain your play area.
This board is designed for all-mountain and free rides. You get the 5-flex rating that makes it playful while being stable. You can enjoy a smooth performance with the camber rocker system. The response rate is very high. Thanks to the reduced tip and tail, you get a less aggressive leading edge for a wonderful performance on the snow.
You get highland core in this snowboard that gives it great versatility. It has a 1:2 blend of poplar and paulownia that makes it very light weighted along with adding durability and return. Further, the biax over biax lay-up makes it ideal for the learner and provides perfection for all-mountain riding.
You don't need to go for tip fill with its 360° fully wrapped sidewalls that keep the board together and provide better life along with high tolerance. Additionally, to improve things more, you have sintered base with increased molecular weight for enhanced speed and better durability. Furthermore, you gain highly durable recycled steel edges that are factory tuned for optimal performance.
If that's not enough, see the top sheet. It is made from castor bean oil which not only increases the durability and life span of your board but also keeps the water away from the core. Already waxed with natural wax, this snowboard is ready to ride when you first put your hands on it. So, for enjoying nature while protecting it, this board gives you the best snowboarding experience.
5. A-Frame
With high stability and improved responsiveness, this A-Frame snowboard can totally alter your snowboarding experience for the good.
When you want to pop, more on edge-on performance with fuller control, then the camber rocker system completely matches your needs. While providing all these, it gives you smoother and less aggressive performance thanks to the reduced tip and tail; also, you get a cleaner performance on the snow.
The flex rating is 8, which means it is very stiff and the stability will make you ride like a pro. You gain better control and can enjoy all-mountain, powder, and freeride. This snowboard has a highland II core which makes it very light. With the use of high-quality paulownia, you get reliability and durability that can highly improve your play.
You get mixed glassing laminate in this board – there's a triax over biax which provides you total diversity and lets you enjoy what you desire. Also, it features RWD carbon A-Frame. This carbon fiber goes diagonally from under the back foot to the contact point and augments power transfer from the backside.
Like other Arbor boards, there's no need for tip fill, thanks to the 360° fully wrapped sidewalls that keep the board together. The base is also outstanding with zero-waste base technology that lowers the carbon footprint and waste while manufacturing the board. Further, the sintered plus base has mid-density that enhances durability and speed along with making the repair super easy.
Overall, it is one amazing board to keep you going on the snow the way you love.
Pros and cons of this boards brand
Pros
Well, if you love nature, then you must say that Arbor is truly the best, and even if you don't, you would say the same thing. Their boards are very light weighted and have the best construction material. They are reliable and very durable and designed for all kinds of riding. They use special technologies to utilize wood in different ways.
Cons
– No hybrid design; you will only get true rocker or camber designs
– No plastic material at all – if you are fond of plastic, Arbor doesn't make anything for you
Conclusion
Arbor is manufacturing some of the best snowboards in the market today. They are highly durable and withstand the harshness you make them face when you ride. This brand is highly curious when it comes to snowboard making along with saving nature. All of the processes involved in snowboard making are environmental-friendly. Even after the use, these snowboards don't pollute the earth. So, if you want to return the best to Mother Nature, then it is one of the best options to enjoy what you love – snowboarding.
Related Articles:
Ryan grew up with snow, so he has an endless passion for skiing and snowboarding and everything around these.