If you're someone who wishes to get a new pair of the best bindings for all mountain skis of 2022 – 2023 season, then you've reached at the right place.
As an all-mountain skier, finding the best bindings is crucial for you as they play an important role in optimizing performance, providing comfort and offering a smooth & stable ride.
Related:
Best Bindings For All Mountain Skis of 2022 – 2023
Here's a list of the top ski bindings for all mountain terrain for the year 2022 2023.
Overview Best All Mountain Ski Bindings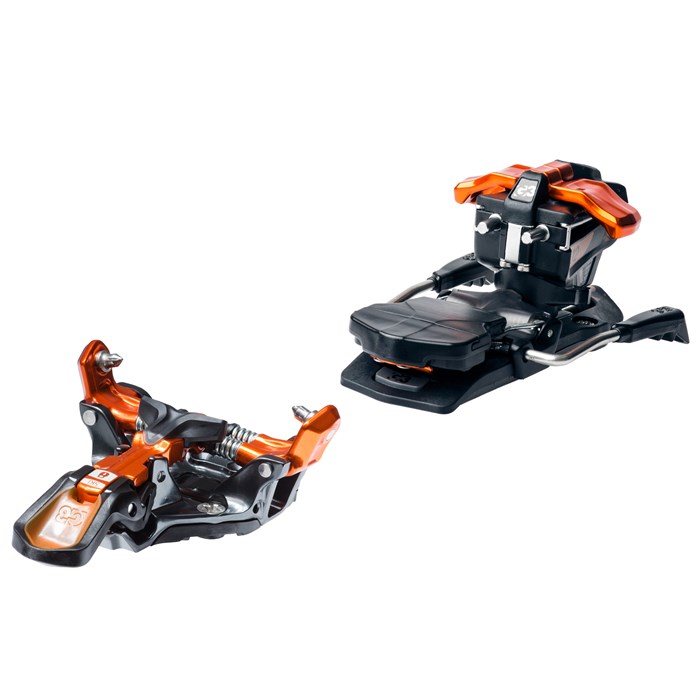 Genuine Guide Gear, formally known as G3, is a Canadian manufacturer that takes pride in producing high quality gear for backcountry skiers. Their ION lineup of ski bindings has received multiple accolades which makes it a cult favorite.
Ion 12 alpine touring ski bindings consist of a forward pressure heel, anti-friction device (AFD) and an easy release adjustment system. During landings and compressions, the forward pressure heel allows for consistent movement.
Irrespective of the kind of boot you wear, AFD give you the freedom to reliably move your feet back and forth. You can use a Pozi Drive screwdriver #3 to set whatever release values you require.
This heel piece is connected to a spring-loaded brake that can be retracted to its full capacity for quick and powerful halts.
At the toe there is shock absorption which allows transfer of energy to be optimized. This shifts the power to the corner of the ski and improves torsional rigidity.
Its Snow Clearing Channel keeps snow at bay. Overall, the manufacturer has kept the toe design simple and easy-to-use. Ion 12 Alpine Touring Ski Binding ensure that you climb up and down the mountain without any issue.
You can rotate your binding in both directions by adjusting them with the help of Quick Flick heel lifts. It can easily fit any tech ski boot. You get to choose a DIN release value between 5 to 12.
It depends on how speedily to wish to step out of your bindings. It has a weight of 585 gms and it comes in brake widths of 85mm, 100mm, 115mm and 130mm. Overall, Ion 12 is a highly reliable and practical all-mountain ski.
---
Marker is known to play with a variety of materials to make its bindings burlier and long-lasting. Their Jester 16 binding has undergone some major updates as compared to its previous models.
There is an Inter Pivot 3 Heel piece which features a magnesium heel housing that optimizes performance. Thanks to the Triple Pivot Elite Toe, you're able to avoid early release issues.
This technology introduces a spring in the toe part which optimizes the absorption of energy in a better way. Its AFD gliding plate is made from stainless steel and it offers unhindered release.
With the help of Sole.ID technology, these bindings are made compatible for touring, walking or alpine boot soles. Your bindings never accumulate any snow or dirt because of its anti-ice metal rail.
Jester 16 ID has a DIN release value between 6 to 16 making it suitable for skiers who are at diverse skill levels.
The overall weight of these bindings is 1070grams. You can purchase these in different brake width options – 90mm, 100mm, 110mm and 120mm. Overall, these ski bindings have a unique design and a sturdy built as well.
---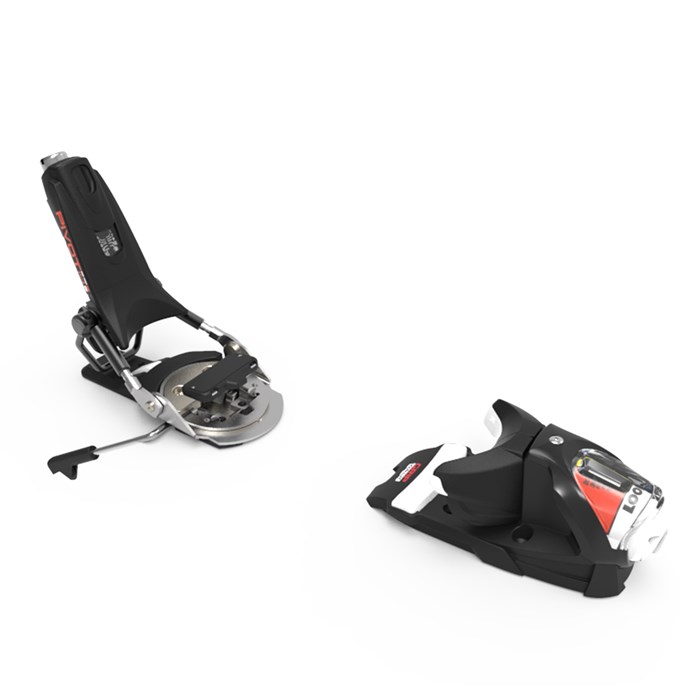 In 1963, Look introduced its first ever version of Pivot ski bindings. Since then, the brand has constantly focused on innovating their pioneering product. Pivot 14 GW is an all-mountain ski binding that has a traditional touch combined with latest technologies.
The heel piece of these bindings is made to reduce unnecessary pre-release and enhance shock absorption to the max. This is achieved by a turntable design which allows for under-the-heel rotation at an exceptional elasticity of 28mm.
In the toepiece, there's 180o multi-dimensional release combined with 45mm elasticity. Greater power transmission and higher release retention is achieved with these features.
This binding has a Dual Standard Concept which makes it compatible with both Alpine and GripWalk soles.
Additionally, Pivot 14 has a consistent flex because of its shortest mounting zone. Unlike any other binding, it is designed in a way that introduces 7 points of contact with the ski boot.
These many contacts enhance your ability to control the ski, offer greater energy transmission and ensure better response in snow. It has a maximum DIN value of 14 and a minimum value of 5 making it a great option for intermediate to advance skiers.
It is available in 2 colors – Icon and Forza 2.0. It can be purchased in 75mm, 95mm and 115mm sizes. All in all, Pivot 14 GW has a reliable construction with user-friendly entry and release systems.
---
#4. ATK Crest 10 Alpine Touring Ski Bindings 2022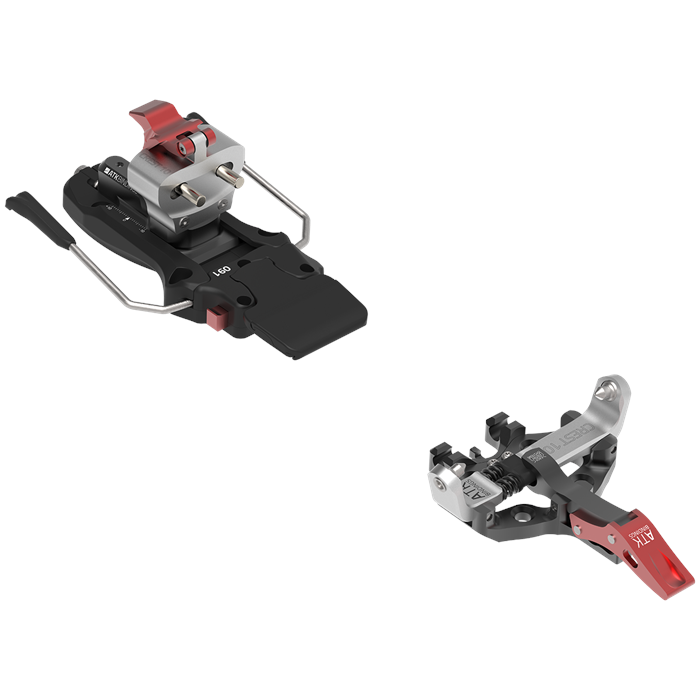 Since its inception in 2007, ATK bindings has focused on creating high-tech ski bindings for every type of skier out there. Their Crest 10 model is the newest addition to their Crest Touring lineup. Let's look at the unique features of this model.
There is a Cam Release System in the heel which offers enhanced stability when riding downhill and a precise release adjustment within an adjustable range of 5 to 10.
Its Elastic Response System improves ski flex making it easier to absorb pressure during jumps and compressions. You can speedily substitute or adjust your boot with the help of a 20mm wide adjustment plate that is installed in the heel.
Touring mode is achieved with its heel flap that comes with a raiser. It allows you to make the most out of its 3 walking modes.
In the toe, Monolink Technology 1.0 is utilized. This feature not only enhances stiffness, but it leaves overall weight of the toe part 2.5 grams less than what it would have been without this technology.
Its Easy Entry System ensures that whatever tech boot you're wearing you can step-in and out of the binding without any hassle.
Additionally, Crest 10 comes with built-in crampon slots, a ski-brake at the rear end with a versatile size range and an elastic plate that allows this brake to maintain its release value.
These bindings have an individual weight of 280 grams. All in all, Atkins Crest 10 Alpine Touring ski bindings are extremely light in weight and are the most comfortable in all-mountain terrains.
---
#5. Atomic STH2 16 MNC Ski Bindings 2022
Atomic, as a brand, is known for creating advanced and highly innovative ski equipment. They believe in providing unmatched ski experiences to the passionate skiers.
Their MNC or Multi Norm Certified line of ski bindings is suitable for touring as well as freeriding which makes these an all-in-one solution for your skiing needs.
The heel piece on STH2 16 MNC bindings includes heel flex interface that allows a natural flex. It also has a Freeski brake which retracts itself to a closed position. Its toe piece makes use of Transfer Switch Technology that has 2 modes of power transfer – Progressive and Direct.
Its Sliding AFD and 3D driver toe design offers smooth release and dampens vibrations by allowing it to rotate in multiple directions. Power Transmission in powder and step-in is improved by the XL wings on the toepiece.
With a single screw movement, you can adjust both wings simultaneously. You have the option to easily adjust the height of the toepiece manually.
Furthermore, both these pieces sit on an oversized 71mm wide platform. With a low-profile chassis and progressive transfer pads, these bindings have greater transmission of power through and through as well as enhanced shock absorption on all terrains.
It's a sturdy model with a steel housing and an individual weigh of 1240 grams that can withstand rough conditions. The 52mm Elastic Travel makes movements in and out of the bindings super easy and smooth which in turn offer a seamless riding experience.
Without any doubt, Atomic STH2 16 MNC Ski Bindings are a powerhouse and a must-have for those who want an all-in-one experience from their bindings!
---
#6. Salomon MTN Pure (With Leash And Brake) Alpine Touring Ski Bindings 2022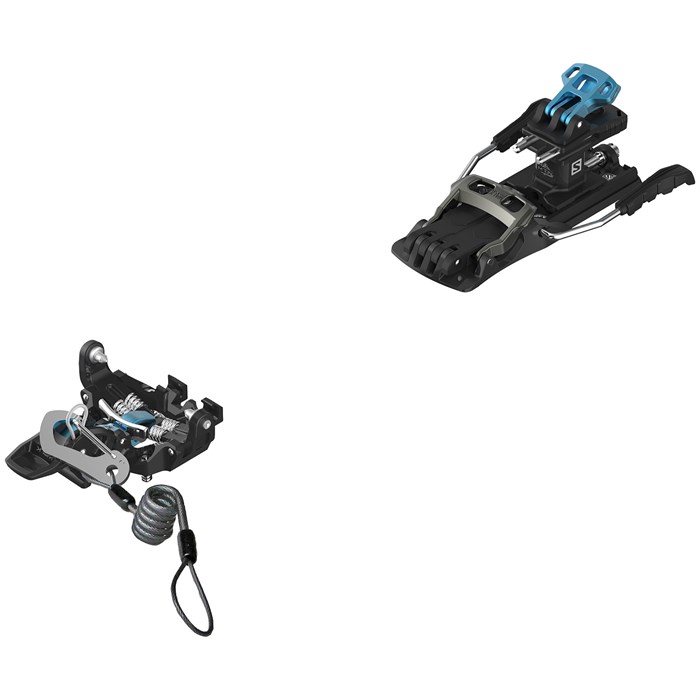 Salomon manufactures sporting equipment for the playful and passionate athletes. They introduced their first one of a kind binding back in 1957. MTN Pure is one of their newest and most advanced alpine touring unisex ski binding.
Its heel piece has release values available for women, men and expert. You can use multiple pairs of tech boot of your choice thanks to the 30mm wide range of heel adjustability. Choose between flat, medium and high climbing levels by rotating relevant lifters.
Its toe piece has patented guiding elements that allow you to always keep your toes in a correct position. If you wish to ski uphill, you simply need to put the Locking Toe Lever in "Up" position.
MTN Pure is available in an individual bindings weight of 400 grams, and it comes with a leash and brakes. These MNC bindings are made from robust aluminum material combined with carbon-infused PA.
Keep in mind that ski crampons need to be purchased separately. Truly, Salomon MTN Pure is a reliable product that is simplistic in design and powerful in energy transmission.
---
Things To Look When Choosing Best All Mountain Ski Bindings:
As an all-mountain skier, you're facing rough terrains and unforgiving weather conditions while going up and down the mountains. In order to find the best all-mountain ski bindings, you need to look for a few key features.
To begin with it's important to choose a ski binding with a large DIN range. DIN settings allow you to determine the stiffness of your binding. A higher DIN setting will mean there will be much less pre-release.
But keep in mind that a very stiff binding will result in higher risk of injuries. Whether you're a beginner or an advance skier, a wide DIN range will be sufficient for your various all-mountain needs.
Secondly, as you'll be skiing in a rough terrain with rocks, dirt and thick snow, ideally you would want to choose a ski binding that is made from strong materials. Look for sturdy metals like aluminum that are not only rigid but light in weight too.
Finally, having a wide toepiece plays an important role in achieving the kind of skiing level that you're looking for. As this gives more room to easily adjust and avoid any pre-release.
Keeping these features in mind will help you in selecting the best all mountain ski bindings according to your preferences!
Ryan grew up with snow, so he has an endless passion for skiing and snowboarding and everything around these.