Capita is a renowned name in the snowboard industry. Its snowboards have earned many quality awards recently. All of its snowboards are handcrafted in Austria with 100% clean energy. The company has its dedicated manufacturing unit where everything is made with care. Here are the best capita snowboard 2023 to improve your snowboarding experience this season.
Best Capita Snowboards for 2023
1. CAPiTA Kazu Kokubo Pro Snowboard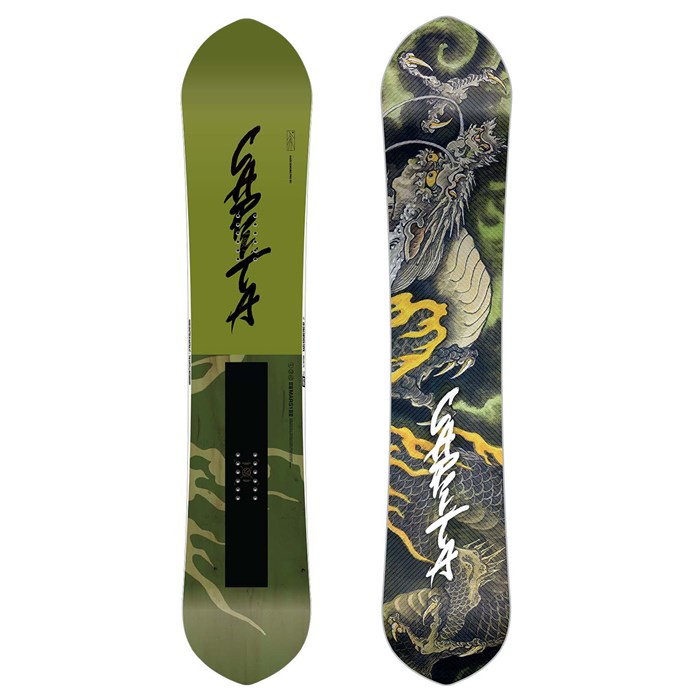 With Transworld Good Wood and Magazine Platinum Pick awards, this snowboard surely provides you the ultimate experience.
Designed for the advanced expert snowboarders, it features Alpine V2 rocker which gives it lower body camber along with a cambered nose (reverse). Thanks to these features, turning appears easy. Also, you get an extra float and you land like a pro.
With the directional flex and the rating of 6.5, you get the desired stability while being playful. The radical taper shape is specifically made for deep powder but you can enjoy diversity as well. You get a radial sidecut with a tapered tail that sinks into the powder and the wider nose floats. That means you don't have to work much to achieve your pro level.
As for the core, it features FSC certified panda core. This core makes it perfect for freestyle riding. You get a combination of paulownia and poplar core with bamboo power rods. With this core, the weight is reduced and the performance is enhanced.
Here you get three kinds of laminates. Amplitech V-tech amplifier which is a natural flax fiber having carbon strands. Holy sheet fiberglass gives extra strength with a lower weight. And the magic bean resin, that reduces the wood core thickness and adds extra strength with power and pop. Overall, all of them work side by side to enhance durability and performance.
For the base, you get a hyperdrive base with extra lightweight but increased density to enhance your power and speed and keep you going in the snow. The skinless core ash woodgrain top sheet provides protection but further lowers the weight which makes the snowboard even better.
Altogether, the qualities of this snowboard make it one of the best snowboards available in the market today.
2. CAPiTA Spring Break Powder Racer Snowboard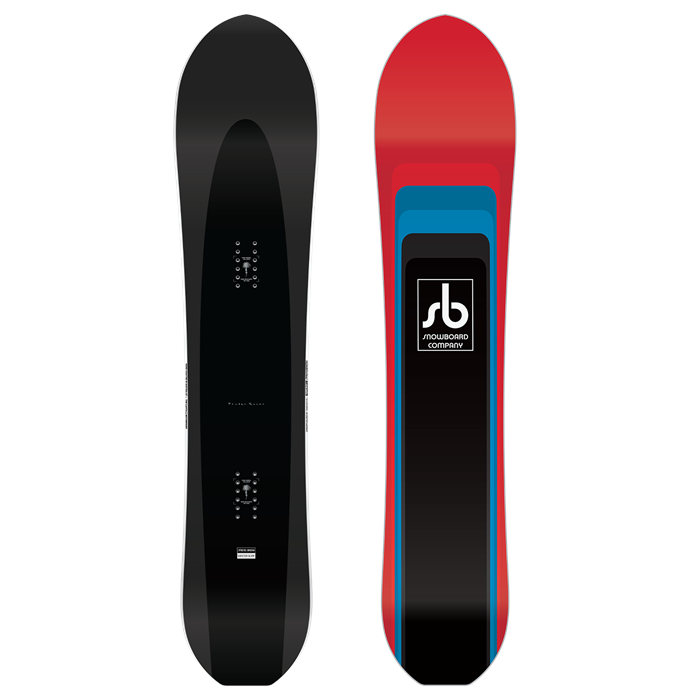 Having classic surfboard features, this snowboard lets you float on the snow with great power and maneuverability.
Designed specifically for powder, this snowboard has a surf rocker profile. It has a constant arching tip and tail with smooth inserts like a modern surfboard. With the low angles, you can enjoy enhanced control with better float. Further, it has a directional flex with a rating of 5 which means you can have a good play.
With the directional shape, you get surf blended radial sidecut. With this shape, you have the best combination of surfboard and snowboard to ride on the snow. The core is FSC certified hover core which is 7mm poplar blended with thin cut paulownia strips. Thanks to this light-weighted core, you can have amazing responsiveness throughout the board.
When it comes to laminate, you get technora plus flax boosters that work as a shock absorber and energy sources with enhanced ollie power and turning. You also have holy sheet fiberglass configuration. It adds more strength and no weight at all. Additionally, with magic bean resin, you get more pop and power with improved durability.
This snowboard features a powder drive base that makes it dynamic and durable. It adds reliability and agility to the board. You have extra-wide chassis to meet your riding needs on powder.
Overall, this board is amazing when you are powder racing – its features can greatly augment your experience.
3. CAPiTA Outerspace Living Snowboard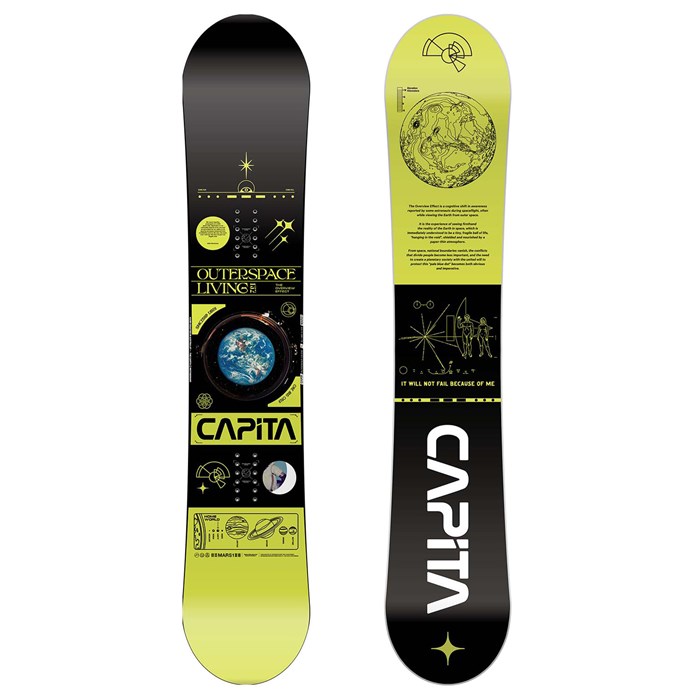 The features and design of this snowboard will surely make you believe that it is something from outerspace.
The Outerspace living has the Resort V3 profile rocker type. It has raised camber and reverse camber at both ends. The design provides it better speed and perfect shape for different terrain. Thanks to the elevated contact points, the board easily floats and the old-school nose and tail makes transitions simpler.
You can enjoy twin flex and twin shape in this board with radial sidecut. Your snowboard initiates and ends a turn using the same arc. With the FSC certified dual core, you can trust the durability blindfold. It gives you consistent performance with better pop and power.
There's carbon Kevlar struts laminate that provides amazing strength and performance. With the magic bean resin, you get all the strength of the hard wood but with lower weight. It also helps to save the wood core weight and you gain great responsiveness. Furthermore, it also has a special blend fiberglass that helps you to use ideal 626g/m2 biaxial blend with structural additives to get improved performance.
With the PLT top sheet technology, you get maximum protection along with performance. The multitech level 5 Deepspace silkscreen graphics make it to stand out from others.
So, from killing looks to ultimate performance, this snowboard gives you the low maintaining and long lasting partner for your favorite sports.
4. CAPiTA Paradise Snowboard – Women's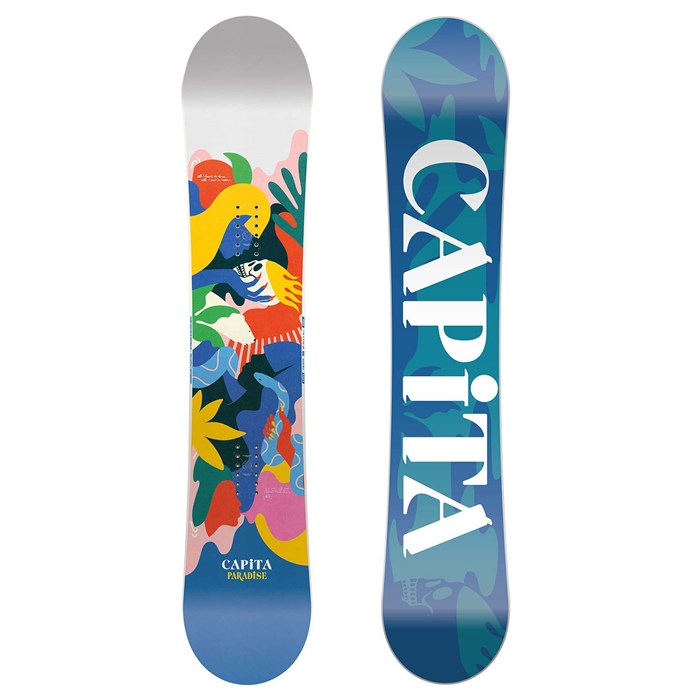 Paradise is where your heart resides and with this snowboard, your favorite sports give you the heavenly fun.
Whether it's an all-mountain ride or freestyle ride, you get the best of both worlds with Paradise on your side. It has the twin flex with the ratings 4.5 to keep you as playful as you want. The twin shape with radiant sidecut further makes everything easy and simple.
This snowboard has the resort V3 profile with raised camber platform through the inserts. It is to gain high-speed edge through diverse terrain. The elevated contact points let you float and land like a pro. The traditional shape of nose and tail makes transitions flawless.
The core keeps it as sturdy as possible as it features FSC certified dual core. It gives you the confidence to jump from intermediate level to an expert. You gain uniform flex with no surprises at all. The full wood core gives you comfort and power side by side.
Capita's special, you see three laminates in this board. Carbon Kevlar struts is the mixed material that gives the perfect combination of strength and performance. Alongside, there is magic bean resin to give pop, durability, and power. Then you get special blend fiberglass that overall enhance the performance so you can be at your best.
With the Superdrive base, you can have the powers of both sintered and extruded bases. When you are ripping the snow, this base keeps you going. It reduces maintenance and increases life span. On the whole, it is one of the best snowboards to own today.
5. Supernova
Think beyond the normal and get one step ahead with Supernova.
With the special Alpine V2 rocker, you get lower-body camber. The nose is a reverse camber. This setup provides greater turning power and also helps you to float along with maintaining stability. The flex rating is 6 with 1-soft and 10-stiff.
You get directional shape with this board. A progressive sidecut that has two or more radii mixed together to enjoy three stages of a turn. From the start to the end, you enjoy maximum power with this shape.
The core is FSC certified P2 superlight which extracts out any extra weight from the core leaving it very light weighted to gain the best performance with the extreme pop. The core is the combination of paulownia and poplar wood.
Versatility is what you desire and this setup provides it to you. With this core, you get extra pop and extreme park jumps while remaining highly stable when doing so.
When it comes to the laminates, you get holy sheet fiberglass. It has low elasticity modulus and high tensile strength. With the same glass weight, you gain increases power and responsiveness without adding more weight. You get triaxial fiberglass at the top and biaxial below which gives durability and extra strength.
Further, you also get a powerful, durable, and poppy, magic bean resin which lowers weight with high responsiveness. Carbon fiber boosters are also present to further improve the features.
You get a Quantum drive running base that is compressed ultra-high-molecular-weight polyethylene. It makes the board faster and more durable. The top sheet has a metallic underlay with PLT technology that increases the life of the snowboard.
The combination of top sheet and multi tech level 4 deepspace silkscreen provides multi-layered ink to add life to the board's graphics. Overall, from looks to the performance, the Supernova has everything that makes it amazing.
Pros and cons of Capita Snowboards
Pros
Highly durable
Environment friendly material
Multiple laminate layers
Emphasis on graphics
Excellent craftsmanship
Cons
Some models might appear dry and you need to wax them for the first ride
Conclusion
Well, Capita has been ruling the hearts of many snowboarders. It is making some of the masterpieces in the market today. If you haven't try one, then it worths a try. The functionality is amazing. You get what is described. As for the durability, if you know how to ride on a snowboard, then it can be your partner for many seasons.
Popular Articles:
Ryan grew up with snow, so he has an endless passion for skiing and snowboarding and everything around these.