The frontside skis are known for their narrower waists with the design to meet the special needs of the skiers. They are specially made with unique features and some of the best beat the others in the market because of what they are offering.
Here, we have made the list of the best frontside skis 2023 along with their amazing features which are taking the market by storm.
Related:
Best Frontside Skis for 2022 – 2023
Rossignol Experience 88 Ti Skis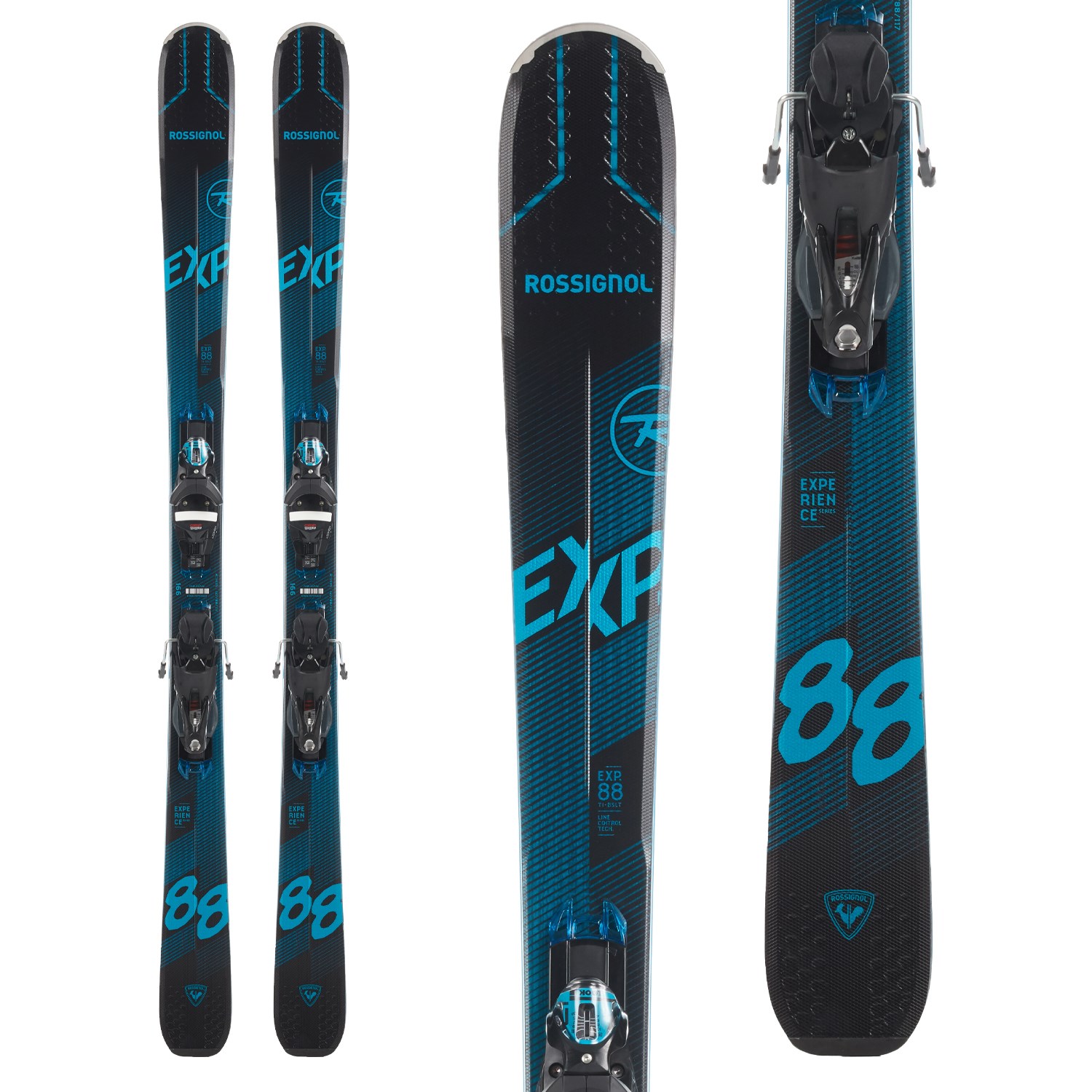 This skis and bindings combination is specifically made for you when you want to have the true all-mountain experience.
Having an all-terrain rocker, these skis have 70% camber and 30% low tip rocker. This rocker type makes them ideal for diverse kinds of terrain and snow conditions.
It gives you a perfectly balanced blend of hard snow accuracy with the fully-fledged fun of soft snow. The longer tip and early rise tail add up more benefits and let you have the best ride.
With the HD core, you can enjoy the snow feel like never before. This composite core has a new low density. The ABS sidewalls allow super grip while turning. Thanks to this low-density core, you have an effortless ride all the time.
These skis have line control technology that has a central power rail from one to another to enhance stability. Further in laminates, you will see air tip VAS that absorbs shocks and titanal construction that enhances stability more and adds rigidity and precision.
The included bindings also improve the performance of these skis to take your experience to a whole new level.
---
Nordica Santa Ana 88 Skis – Women's 2021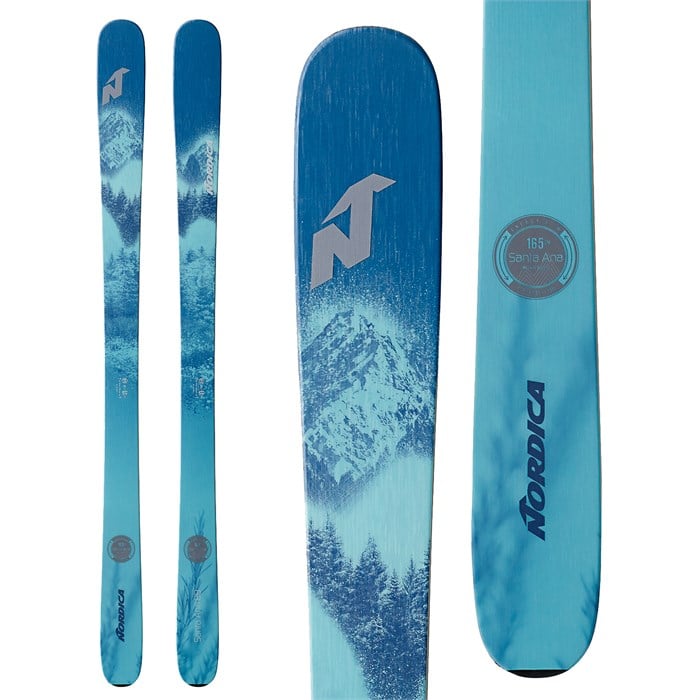 Designed by keeping the special needs of woman skiers in mind, these skis are the choice of every woman who wants perfection.
If you are looking for a smooth rocker at tip and tail with camber underfoot, this all-mountain rocker profile gives you ultimate balanced performance. It has an energy TI balsa core that is a full wood core having a metallic sheet that allows top-end power transmission.
Further, it gives edge grip ad torsional stability. When it comes to the shape, it uses true tip technology. The trimming of heavy ABS plastic at both ends and adding a light wood core to these areas with the tapered shape lower overall weight and enhances the performance of the board.
These skis enhance maneuverability while maintaining stability with a classical feel. With the carbon-reinforced chassis, you get 35% less traditional glass. There are full-length carbon strips that lower weight but add up to the stability and strength.
Overall, this construction makes the ski stronger and stable with a very lightweight. Made for intermediate and advanced riders, these skis are just perfect in many ways.
---
Head Kore 87 W Skis – Women's 2021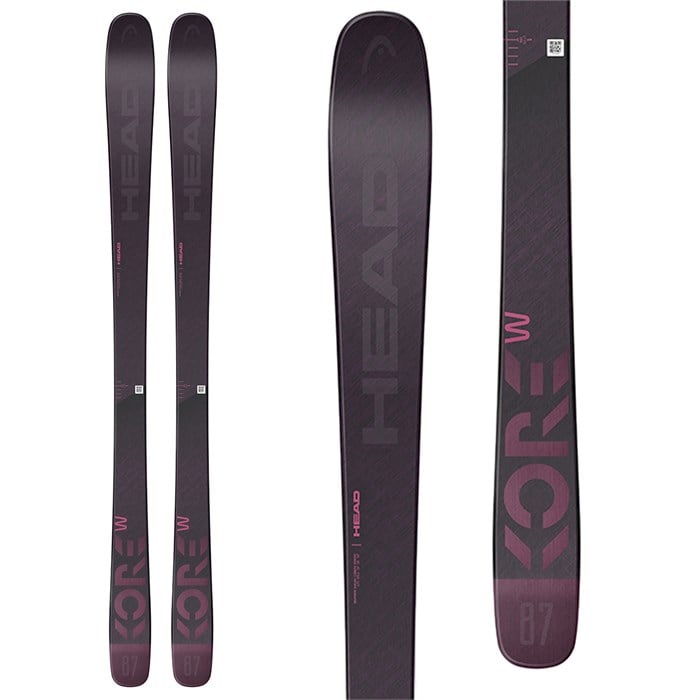 Agility, stability, with lightweight construction, these skis are ideal for carving, all-mountain, and alpine touring.
It features a very lightweight wood core made of Karuba/ poplar. Having Karuba inside gives the core ideal balance of durability, weight, and density. It is something that you can rely on blindly. The rocker type is rocker/ camber/ rocker which adds other benefits.
These skis feature topless tech – as the name says there is no top sheet surface and polyester fleece is present instead which lowers the weight greatly. At the center of these skis, you get Koroyd, a very light weighted, elastic yet strong honeycomb-shaped material. It adds strength and stability to the skis.
Further, to make things even better, graphene is integrated at both ends. It is known to be the lightest but a very strong material which makes the skis highly responsive in deep snow. The base is structured UHM C; it is a world-leading race ski material so you can rest assured that you are getting the best.
On the whole, when you want to explore the magnificent world of skiing more professionally, you can go for these skis.
---
Black Crows Vertis Skis 2022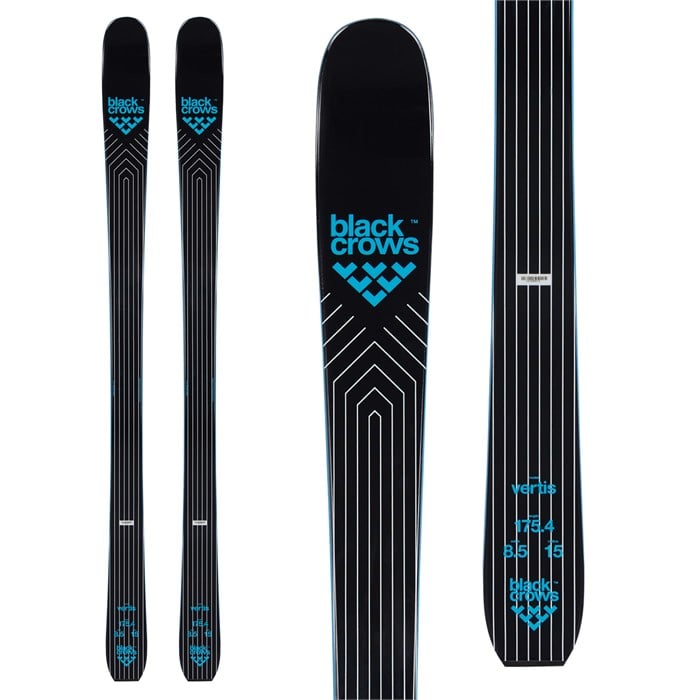 With tight turns and perfect flex, these skis are built to enhance your skiing skills in many folds with fun.
Having a poplar wood core, you can rely on these skis for sure. They are durable and the strength is unmatchable. For the sidewalls, you will see the semi-cap construction which compliments the overall design.
Sintered graphite base adds extra durability to the model and makes it more playful. Furthermore, the short radius sidecut is highly reactive and offers quick edge-to-edge transition over changeable snow.
The rocker type is long classic camber for carving alpine-style turns. Also, you will see a slight tip rocker for stability, planing, and good edge control. It is an all-mountain terrain made for intermediate and advanced skiers.
Ideally known for the playful and sporty flex, these skis are surely what you have been looking for.
---
WNDR Alpine Vital 100 Reverse Camber Skis 2021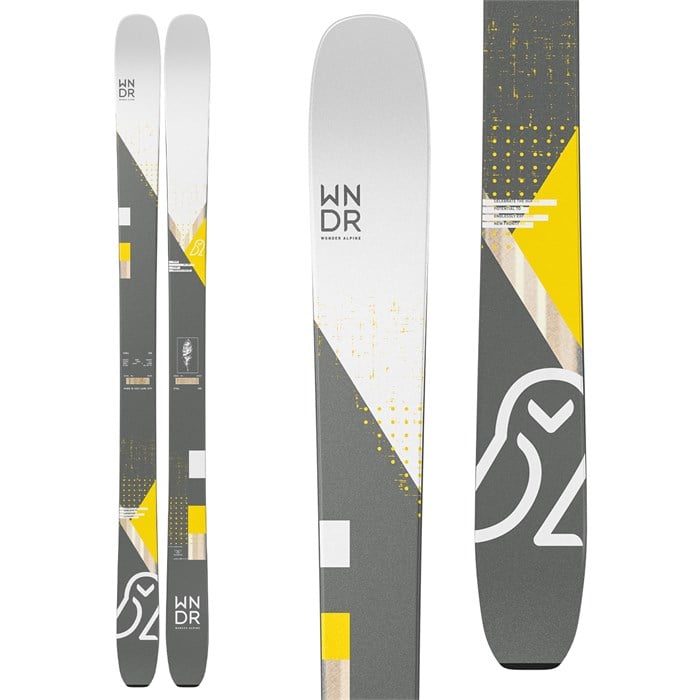 Beautiful in looks and high-class in performance, these skis are the perfect blend of everything amazing.
Using the innovative algal core, these skis are one of their kinds. This core is a composite of perpendicularly laminated aspen with high-density polyurethane algal stringers. This biobased content gives many unique properties to the construction to make it the very best.
You don't see the traditional petroleum-based resin systems as laminates. It features the biobased super sap technology. Additionally, the uses of entropy resins lower the carbon footprint of alpine,
For the sidewalls, it has an algal wall that uses biobased polyurethane that is made to hold and adds strength to the core. Also, these sidewalls are specially made to lower the plastic debris that goes to the landfills. To enhance durability, the edges are pure steel.
For the rocker, it features the reverse rocker that adds an extra advantage to your skiing. Alongside, these skis have a partial twin tip tail and are ideal for all-mountain and alpine touring.
Specially designed to meet the needs of the advanced and expert players, these skis not only make the riders happy but the environment as well.
Ryan grew up with snow, so he has an endless passion for skiing and snowboarding and everything around these.