The best rear entry snowboard bindings are responsible for keeping you on your snowboard. They also offer you a direct connection to your board which is vital for movement transfer and feedback.
Rear entry snowboard bindings derive their name from the way the users slide their foot from the rear. You do this by pulling the highback backward and simply sliding your snow boots into the binding.
This is quite different from Flow/traditional bindings which involve opening some straps and closing them after inserting your boot into the binding. As you can tell, the rear entry snowboard bindings offer easy in easy out operations.
With that, here are our 6 picks of the top rear entry snowboard bindings for 2023 – 2024 Season.
Best Rear Entry Snowboard Bindings for 2023 – 2024 Season – Best Flow Bindings
If you are a serious snowboarder, then you are going to need a pair of highly functional flow snowboard bindings to help you really bring your A game to the snow.
Luckily, we have compiled a list of the best flow snowboard bindings that you can get right now to make the most of your next snowboarding trip.
Please swipe the screen from right to left to see more columns (on Your mobile).
---
#1. Flow NX2 Fusion Review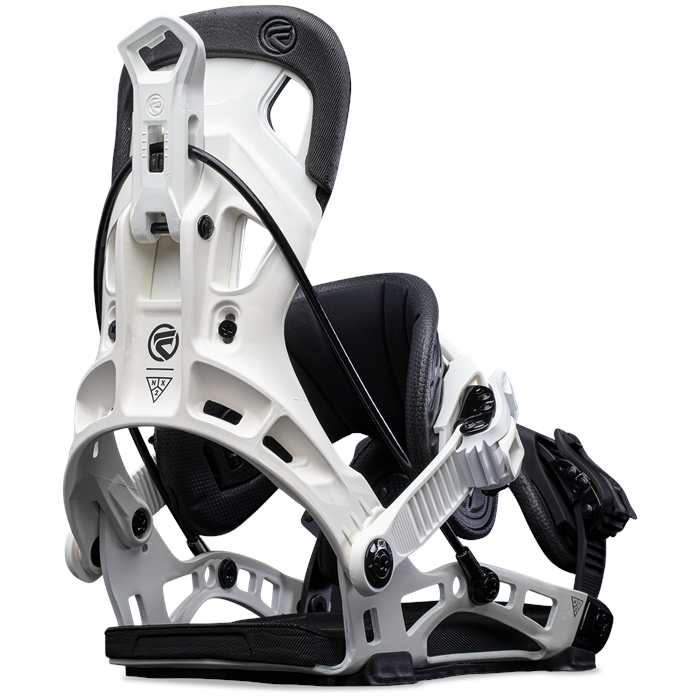 They are high-quality lightweight bindings that let you enjoy snowboarding without any disturbance.
NX2 Fusion Bindings are highly responsive, lightweight but have enough stiffness to keep you going thanks to their special aluminum alloy construction. The highback and baseplate have the aluminum construction and also the carbon support panel, all these make them very fast with the optimal control.
The baseplate construction keeps you well connected to the board underneath. You can easily take the board where you want. The rounded edges further improve the control and let the board glide more swiftly. The high back also adds up to the support to enhance control.
Moreover, these bindings have a rear-entry design that allows fast strapping. Also, they feature active strap technology and fusion powerstrap that distribute the pressure equally for quick and efficient control and comfortable snowboarding. Further, it has locking slap ratchet buckles that give you comfort while fastening the board to your feet.
Due to the natural positioning and canted footbeds, your whole snowboarding experience remains comfy and you don't feel tired when you finish. Additionally, to improve things further, they have N-Gel to cushion your feet and EVA to absorb vibrations.
On the whole, no matter which terrain you select for snowboarding, these bindings offer the best connection between your feet and the board.
#2. Flow NX2 Hybrid Review – Best All-mountain Snowboard Binding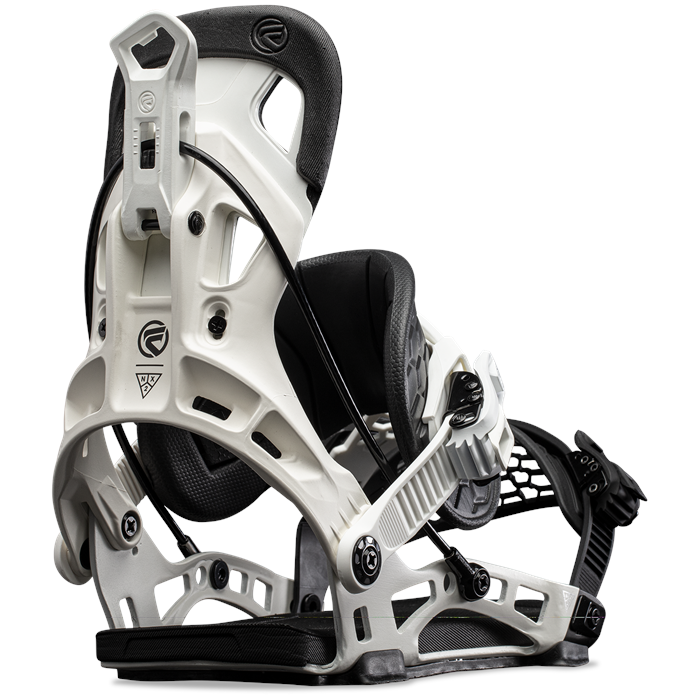 Aluminum alloy baseplate
N-Gel Cushioning
Asymmetrical uni-back
Active Strap Technology
Locking Slap Ratchet
The Flow NX2 Hybrid are the most popular option this season among veteran snowboarders. The baseplate of the bindings is made out of aluminum alloy. It is stiff and quite sensitive so it responds to any small movement. This is why it is preferred by expert snowboarders because it gives them more control over the whole process.
An N-gel cushioning layer is also attached to the bindings. This layer filters out excess vibrations from bumpy terrain so that you can get a smoother ride. So, bonus points to Flow for coming up with a way to ensure comfort without sacrificing the stiffness of the bindings. The asymmetrical uni-back adds a layer of strength and security. It is reinforced using carbon additives to make the uni-back extra strong. It allows fits snugly over your boots and keeps them securely in place.
These bindings have a special active strap technology which minimizes resistance and makes it easy for you to remove these bindings quickly. On the other hand, the locking slap ratchet makes the entry process smoother and locks into place your desired foot strap tightness.
#3. Flow Fuse Hybrid Bindings Review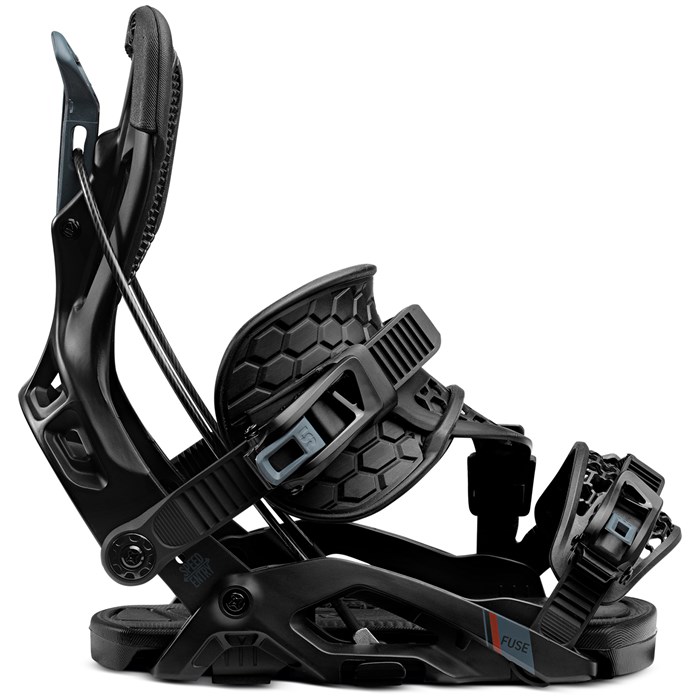 Nylon baseplate
Canted BankBeds
Reclining Highback
Hybrid PowerStrap
Hexo Toecap Strap
Now, let's look at the Fuse Hybrid bindings and see what they have to offer. The baseplate is made out of nylon and it is molded to the shape of your boots. It is a lot more comfortable than other types of baseplates and even has adjustable side wings. The canted bank beds are tilted at a 25-degree angle for a truly customized fit that hugs your boots snugly.
The reclining high back and the hybrid power strap work together to facilitate easier entry and exit. As soon as you activate the reclining high back the strap loosens so you can remove the bindings quickly. And when you close the high back it simultaneously tightens the strap so that the bindings are securely in place in no time.
The Hexo Toecap Strap helps the bindings adapt themselves to the contours of the front of your boots for an optimized fit.
---
#4. Flow Nexus Fusion Bindings Review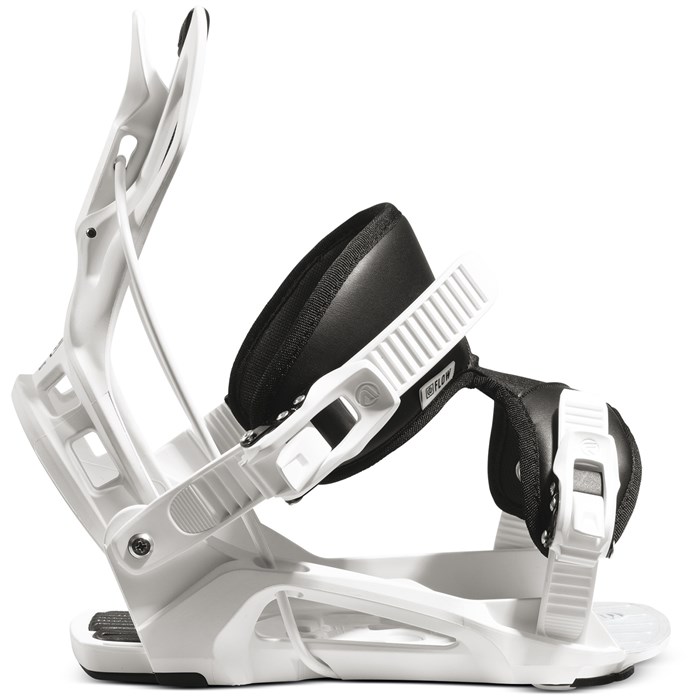 AXIS-Series baseplate
Power Triangle
Glass-Filled uni-back
Fusion PowerStrap
Locking Slap Ratchet
Next, let's explore the Nexus binding which are another amazing product by Flow. They have an AXIS-Series baseplate that is reinforced with glass-filled nylon. Its asymmetrical design transfers energy easily while the off-axis PowerBeams provide greater stability to the baseplate.
A steel cable is attached mid-way between the baseplate and the high back to create a power triangle through which energy is efficiently transferred. It also facilitates the turning motions involved in snowboarding.
A glass-filled uni-back forms the spine of the bindings. It provides additional support and keeps your boots securely in place. A large fusion power strap is also given in front to keep the toecaps of your boots in place while the locking slap ratchet makes the entry process short and sweet.
---
#5. Flow Juno Fusion Bindings Review – Women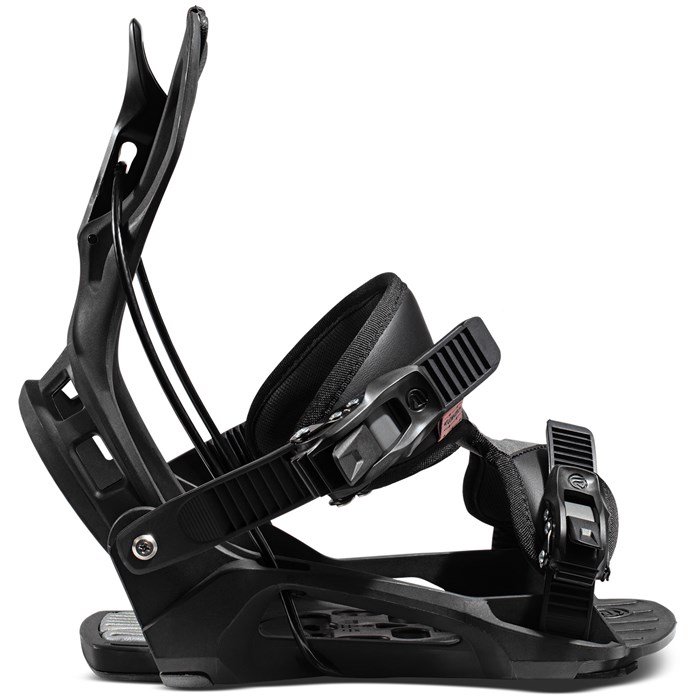 Soft flex rating
Nylon baseplate
Reclining Highback
3D power strap
Rear-entry binding style
The Juno bindings are an excellent choice for first-time snowboarders who are still learning the moves. They are especially designed with a soft flex rating for beginners because they provide both high-performance and optimal comfort.
These bindings have a nylon baseplate that is extra wide to provide a greater amount of stability compared to other more run of the mill bindings. The baseplate also has cable attachments that transfer power in a well-balanced way.
The Juno bindings also feature a reclining high back that is connected with a 3D power strap. The strap tightens automatically when the high back is closed so that your feet are quickly secured. This way you remain steady on your snowboard at all times. The entrance design of these bindings follows rear-entry binding style.
---
#6. Flow Fenix Bindings Review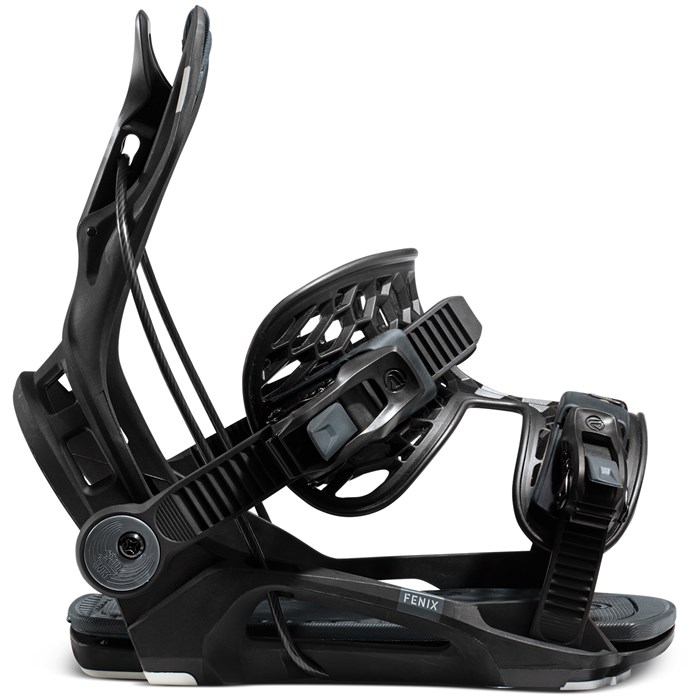 AXIS-Series baseplate
EVA footbeds
Asym UniBacks
Active Strap Technology
Fusion Exo-Frame
Finally let's look at the Fenix bindings. They have an AXIS Series baseplate that is made out of rockered glass-filled nylon. These bindings are ideal for intermediate level snowboarders who do have some command over snowboarding.
The baseplate also has EVA footbeds that are designed to snugly fit your boots for a close fit. The Asym Uni back is made out of glass-filled nylon. The overall design of the uni-back is lightweight yet durable. It provides that much needed extra support to the back of your boots.
The Fenix bindings also have an Active Strap Technology that makes the entry and exit process smoother. The strap will tighten as soon as the high back is closed to keep you steady while you snowboard. It will also lift up completely so that you can remove the bindings in fast and easy manner.
---
What are Rear Entry Snowboard Bindings?
It is no secret that the first rear entry snowboard bindings were manufactured by the company named Flow. The rear entry system is actually a hybrid. It is a cross between the strap in footwear and step-in shoes.
They combined this because the step-in items offer much-needed comfort and ease of use, while the strap-ons offer a great degree of control. From a distance, a FLO back entry snowboard bindings look like a common strap-ins.
However, if you look closely you will see that there is actually one large strap made of reliable and strong webbings. This webbing extends across a frame.
The strap itself is one of the most important parts or sections of the overall product because It provides control, balance and helps to build up speed.
The strap holds your feet firmly against the base plate. Wearing the Rear entry snowboarding bindings is quite easy as all you need to do is slide your feet in by dragging the high-back behind, secure the strap and close high-back.
The only thing you need to ensure is that the webbing is tight over your feet. There are however some basic drawbacks in the rear entry models. Firstly, these are hard to adjust once strapped in.
Secondly, adjusting your foot in the middle of a flight over a snowfield is harder. The thing about FLOW models is that their use widespread.
---
Rear Entry Bindings Pros and Cons
These are the kind of products that you can either love or hate them, but you cannot ignore them. Here are its advantages and disadvantages in greater detail. Rear Entry snowboard bindings are such products. Below given are its advantages and disadvantages.
Advantages
Wearing these items is faster and easier. All you need to do is to slide your foot down after pushing the highback out of the way. As such, wearing or strapping these may be easier to other models.
The webbings are specially made to provide pressure uniformly throughout the feet. This, therefore, does not put much pressure on the back of your feet since its weight is evenly balanced.
While you cannot adjust it while on the go, you can adjust your feet easily in another way. All; you need to do is to lift the high back and adjust the feet or place them wherever you want.
Disadvantages
Problems start when there is solidified ice or snow on the base plate. If this happens, it is hard to wear the bindings or slide your foot in unless you clean it first. This problem does not occur in other models due the shape and general material of the base plate.
While using the FLO rear entry models it can be harder to get in places where the snow powder is deep. The models work best when the ground is harder and more stable.
Making adjustments while on the go is quite hard and next to impossible.
Rear entry snowboard bindings are heavier than other models and therefore may be cumbersome and awkward.
Due the size and the type of model, it is not very responsive. This is a huge disadvantage because in snowboarding you may need to make crisp turns and fast changes in direction.
Rear entry snowboard binding's forward lean adjustment is limited while the high backs cannot be rotated at all.
---
Rear Entry vs Traditional Snowboard Bindings
Traditional snowboard bindings are also called two-strap because these have two straps which you need to tie over your feet before getting started. Compared to this, the obvious difference in rear entry snowboard bindings is that in these you enter the feet from the top-back, or rather from the rear.
The name comes from this. As you know, rear entry bindings are also called FLO bindings, referring to the popular line of products from FLO.
Although FLO models are popular, they do not have the entire market. Most of the products of the market currently are the traditional kind. These have a toe strap and an ankle strap.
These also come with rotatable disc plate for grounding the binding firmly to the board and the highback which is easily adjustable. Now let us find out the advantages and disadvantages of each.
Two strap snowboard bindings
Pros
Two strap models are the most popular kind. This translates to the fact that you shall find more items of this kind.
This offers you the maximum amount of control. Therefore, if you are looking for security or safety while enjoying the sport, then this may be ideal for you.
Two strap models can be adjusted more easily. This means that one model can deal with different size shoes.
Since these products are so popular and easily available, you can also get spare parts or get the entire thing repaired in case they get damaged. For instance, if the highback alone gets damaged, it can be replaced more easily.
Cons
Wearing these is slower than the rear entry models because in this case there are two straps to fasten. This takes comparatively room. In the case of rear entry models, you only have to strap one ratchet strap tightly.
While experienced riders can strap the models standing up, beginners need to sit down to do the same. This is not the case with the rear entry models.
There are two straps which work on different pressure points. Unless these are adjusted or placed properly, they can give rise to pain in the foot.
Rear Entry Models
Pros
Strapping and undoing the strap is easier. All you need to do is to fasten the main ratchet strap and you're good to go! You can strap products of this model even if you are standing up. Can't wait to get on the ice? No problem! You will get there before your friends even touch their boots.
The strap is made especially wide and as such the pressure it gives it spread wide enough. This does not cause strain or pain.
This ideal for teaching your kids snowboarding
Cons
There are not many products of this kind when compared to the two strap models.
If you want to make the strap to exactly fit, then you may be trying at it for days.
The strap is made of webbing. There are advantages of this as this is firm yet soft. The pressure it gives is not much, yet it holds firm. However, the problem here is that webbing stretches over time.
You'll find it harder to find replacement parts or repairing centers.
---
Rear Entry Snowboard Bindings Buying Guide
what do you need to know when purchasing a rear entry snowboard binding? I'll keep this simple. When purchasing a rear entry binding, there are 3 vital considerations that you'll need to look into;
Get your size
Do I really need to emphasize on this one? Rear entry snowboard bindings come in different sizes; small, medium, and large. There are also a few brands that offer them in XS and XL versions. What's important is to get a pair with a baseplate that fits your boots comfortably.
Fortunately, most of the rear entry snowboard bindings allow you to use the straps to make some fine adjustments.
Consider the bindings' flex
Simply put, flex refers to how flexible the bindings feel. Flex in bindings is rated from 1-10 with 1 being the softest and 10 the stiffest.
Notably, this can be quite confusing for the beginners. So here is a simpler way to help you understand
1-2 soft
3-5 medium flex
6-8 stiff flex
9-10 very stiff
So, which is the best flex for you?
Flex is quite subjective. It mostly depends on the rider's experience and styles.
Experienced riders are better off with bindings with a stiffness rating of 6 to 10. These bindings are ideal for free riding and advanced freestyles. On the other hand, starters might prefer softer bindings (1-2) due their high degree of forgiveness and high-level safety.
Snowboard compatibility
Another vital feature that you don't want to ignore is checking out whether your bindings are compatible with your snowboard. Here, you should ensure that the insert system- the holes found in the front and in the back of your snowboard- are compatible with your bindings discs.
---
2020 – 2021 Rear Entry Bindings Review
#1. Flow Fuse-GT Hybrid
With advanced features, affordable rates, and high reliability, these snowboard bindings have all the futuristic characteristics that can let you enjoy your favorite sports hassle-free.
Flow has infused Fuse-GT Hybrid with the ultramodern features so your snowboarding becomes memorable. They feature a glass-filled nylon base which is very responsive and your board flawlessly follows your lead. This construction gives the right flex to the bindings with the correct feel of comfort. No matter how long you remain on the mountain when wearing them, you don't feel tired.
Additionally, they have an aluminum alloy heel cup to provide extra support to the back of the feet while giving the desired flex. Not only that, but they also contain aluminum alloy side-wings for even more enhanced support with the optimal response in every condition.
Due to the active strap technology, the entry is quick and easy. Also, thanks to the advanced locking slap ratchet buckles, you can easily adjust the bindings as per your needs. Different sizes are also available so you can have the perfect fit.
The powerful aluminum alloy makes them very lighter in weights but increases the durability. You can rely on them in every kind of terrain. If you want to be confident while snowboarding and have comfort along with functionality, then these bindings are surely the best.
#2. Flow Haylo Womens
These high-quality snowboard bindings are suitable for all the delicacy of the women's feet while snowboarding.
Having a perfect design with working flexibility, these snowboard bindings are one of the best available for women in the market. They are very light weighted due to its special construction but the material is very reliable.
The entry and exit are hassle-free. You can easily wear them or remove them within seconds. They feature uniback highback for supporting the back of the feet. Further, the Fusion Exofit Powerstrap secures the binding tightly to the snowboard. These bindings are comfortable and give the response that you desire. Furthermore, the locking slap ratchets enhance the lock system for better performance.
The rockered baseplate also improves functionality. It lifts the toes perfectly so that with less power you get an efficient energy transfer. It makes you feel less tired overall, no matter how long you ride it. Available in different sizes, these bindings are for every lady who wants to have the best snowboarding experience. It is perfect for all kinds of terrains.
#3. Flow Minx Womens
Designed specifically for the women who want to have snowboarding fun with great comfort, these snowboard bindings have everything that they are looking for.
Flow Minx has uniback highback for the perfect entry and exit without any effort. Their construction gives them ideal flex with responsiveness to lead the board easily wherever you like. The LSR Locking Slap Ratchets lock the bindings securely to the board and the Fusion Powerstrap makes sure that you don't feel uncomfortable with all the straps and adjustments.
To improve the responsiveness and efficiency, the energy transfer is flawless and simple thanks to its highly durable rockered baseplate. That means you can ride the snowboard for a whole day without any fatigue.
It is equally perfect for the new snowboarders and also ideal for the veterans who like to show off their stunning stunts. Available in different sizes with adjustable straps, every woman can find the best fit.
#4. Flow Alpha MTN
Another excellent Flow offering for the 2019 season is the Alpha MTN bindings. This model is one of the best options for the casual boarder. Intermediate boarders can also make good use of it as it is specifically designed for all-mountain snowboarding. The flex of the bindings is accordingly somewhat stiff which best suits all-mountain snowboarders.
Like many other Flow bindings, this model features a rear entry design. The rear entry features makes it incredibly convenient for snowboarders to quickly enter and exit the bindings. Alpha MTN also offers good responsiveness and feel, letting you make the most of the snowboarding experience.
The padded hi-back and footbed of these bindings offers a comfortable wearing experience. This is particularly important if you are going to ride for long hours.
Flow has used an upgraded version of LSR ratchets which makes it easier to adjust and fit these bindings. The Alpha MTN bindings have a mostly plastic body but Flow has used a very sturdy plastic in the construction. So you can be sure of their durability and long-term reliability.
#5. Flow Fuse
The Flow Fuse bindings are slightly high-end model of bindings from the company. These bindings also feature brighter colors which are sure to stand out on the ice. The baseplate comes with glass-filled nylon rocker. Together with a fairly good degree of flex and stiffness, the bindings offer good, balanced snowboarding experience.
The hi-back of these bindings also utilizes glass-filled nylon modback. The dual strap system used in the bindings ensures a comfortable yet firm grip. Strap 1 comes with a Flow Fusion Powerstrap which is often found in most Flow bindings. Strap 2 utilizes a Hybrid Power-Cap Strap which reinforces Strap 1 and absolutely makes sure that your bindings are going to stay in place. Although the default model comes only with the Fusion strap, you can choose the Hybrid strap separately.
Flow Fuse comes complete with mountain plate and screws. As with other Flow bindings, these feature the rear entry system which makes it easier for snowboarders to get in and out of them without any inconvenience. One of the truly stand-out features of these bindings is their color.
Top 3 Best Rear Entry Bindings Review for 2018 Season
#1. Arbor Cypress
If you looking for a stiffer binding to achieve greater control during heavy-duty snowboard performances, the Arbor Cypress 2018 binding is the way to go. Geared at the male snowboarders, this binding comes with a high-quality and highly durable XDrive baseplate. The baseplate is reinforced in strength and stiffness by the light-weight fiberglass to make sure that you stay in control of your board.
The binding features a 65A durometer outsole which is beefed up to ensure a smooth and comfortable ride. The EVA footbed also adds to the comfort and overall control-optimization of the binding. Arbor Cypress 2018 comes with assymetrical highbacks which ensure maximum speed and great control during the mountain performances. The highbacks sport 5 lateral prerotation which reinforces the binding for added optimization.
In all, if you want a pair of bindings that gives you good control over the snowboard while letting you achieve maximum speeds during big mountain performances, this is an excellent choice for the 2019 season.
#2. Union Flite Pro
The Union Flite Pro is the lightest men's snowboard bindings available this season. It features all the essential features without adding any extra weight, letting you enjoy an incredibly light-weight pair of bindings that is not going to weigh you down.
Flite Pro has a base constructed from light-weight Duraflex Nylon material. This is complemented with a similarly light-weight highback. The highback, despite its light profile, still provides you a great degree of control and stiffness. The grip and hold of the bindings is achieved with the Ultragrip Toe Strap which is constructed from thermoplastic material.
Flite Pro also comes with an extruded aluminum heel cup. It ensures that the bindings deliver a good performance on any terrain and lets you channel most of your power effectively into the snowboard. If you are looking for a pair of bindings that offers a great performance and quality while staying incredibly light-weight at the same time, Union Flite Pro is for you.
#3. System LUX 2018
The System LUX Women's 2018 binding features a rear-entry design. This design makes it easier to mount and unmount these bindings within seconds. The bindings come with a multidisc base plate which makes it possible to use these bindings with a huge range of snowboard types.
A notable feature of the LUX 2018 bindings is the degree of comfort they offer while delivering great control at the same time. The highbacks on the bindings come with added EVA padding for a very comfortable wear. Patented read cable locks keep the highbacks in place and give you greater control on the snowboard when you are riding hard. The footbed also features high-density dampening to cushion your ride as well as the landings and shield your heels from sustaining any notable impact.
The hold and grip of the bindings is ensured with high-quality 3D molded ankle straps. These straps are constructed from polyurethane material ensuring a very strong hold without causing the slightest discomfort. LUX 2018 also features toolless forward-lean adjust to give you a more natural and ergonomic position by default for a smoother snowboarding experience.
Top Rated Rear Entry Snowboard Bindings for 2017
K2 Men's Cinch TC
K2 is a brand that you can't easily resist when hunting for rear entry snowboard bindings. This manufacturer's Cinch TC 2017 is one of the most recommendable in its listings. The experienced snowboarding enthusiasts appreciate the host of perks that this pair brings.
Canted Full Length Padded Base
First, this binding features a Canted Full-length EVA padded base. The essence here is to protect you from fatigue caused by standing for long.
Secondly, this padded foot base offers you optimum traction. This ensures that you get better maneuverability of the snowboard while still being safe at no matter what speeds.
Airframe highback
It's also worth noting its nicely padded airframe highback. We like that this highback conforms easily to your foot's contours. It not only gives you a great deal of protection, but it also boosts support and comfort levels.
Easily maneuverable straps
K2 Cinch TC also has superb straps that hold your foot by the ankle and by the toes. These straps are also padded for additional comforts. They use a cinch system that lets you make fine adjustments easily for the right snug.
Flow Five Hybrid Black 2017
Flow is regarded as the father of snowboard bindings. It's, therefore, not a surprise that one of this renowned brand's bindings appear on our list.
So, what's there to like about the Flow Five?
Low-profile
The first thing that you'll probably like about these bindings is going to be its low profile. Flow Five Hybrid boasts a lightweight Full EVA toe base plate. This footbed is bombproof (think durability) and has a heel insert for superior comforts.
This footbed's low profile design promotes low contact with your foot. What's the catch here? It ensures that most of your power and control is channeled to the snowboard.
Its highback
Flow Five boasts a lightweight highback made from molded plastic. Like in most bindings, this highback is a 1-piece unit that tilts back to offer you more room for speed entry and exit.
Its 3-D straps
Unlike in K2 Cinch TC snowboard bindings, Flow Five combines the ankle strap and toe straps at the midfoot zone. The essence here is to give your boots optimum support without being overly bulky. They also offer you an instantaneous response in precision. These straps are also nicely padded for a comfortable fit and excellent support and energy transmission.
GNU Gateway Mens
GNU Gateway With durable synthetic textiles and a wedge design, these bindings render themselves well as the best rear entry snowboard binding that will allow you fly high without breaking your bank.
What size fits your boots best?
GNU Gateway offers you a range of size choices: US M (M 4-7), L (M 7-10), and L (M 9-12). So if you've been having trouble getting your ideal snowboard binding size, the variable options come as a relief.
Its wedge design
A superb feature with these snowboard bindings is the wedge design on their footplate. This design helps you accelerate with ease. It also offers you excellent control of the snowboard while allowing you to get a lively response as you cruise down the trails.
Synthetic textile straps
GNU Gateway also sports durable synthetic textile straps. These straps have a heavy padding and confidently hold your foot for increased comforts and safety. They are augmented by ergonomically-designed highback support that is strong and easy to deal with.
What's more lovable here is the cup design with the toe strap. This one ensures that your snow boots slide into place without any chances of becoming loose.
System MTN Men's 2018
Are you looking for an affordable pair of snowboard bindings? System MTN featuring Flow's style is worth checking out. These are among the cheapest yet reliable bindings available on the market today. They are ideal for starters but the experienced snowboarders can also have them for backup too.
Flow binding in entry-level pricing
System MTN imitates Flow's design of rear entry snowboard bindings. It is characterized by a low profile with minimal foot contact. Another notable feature about System MTN is the Full EVA padding on the highback. The footbed also has a high dampening footbed that offers a good deal in comfort even for the long rides.
Versatile compatibility
Want to know the best thing about System MTN? It is compatible with all snowboards. This means that you can use it with any of your boards that have the standard four holes, Burton Channel and the Burton three hole inserts.
Top 5 Flow Bindings for 2016
Buying it is quite an investment. As such, you need to know about the best products on the market. Here are the top 5 rear entry snowboard bindings 2016.
1. Flow NX2 Hybrid
The Flow NX2 Hybrid Snowboard Bindings is designed especially for men. If you want a product which allows you to have a stellar performance every time you step onto an ice field, then this is the best product for you. The product is special because it comes with a Nylon ModBack which contains glass.
This results in better flexibility and performance as it snaps easily behind your back. The strap is special as well because it is ingrained with the Active Strap Technology. This snaps tightly yet comfortably around your feet. This is not so tight so as to cause any pain but allows for better control and maneuverability.
On either side of the BandBed base plate, you have the ATM .8 support panels. These are quite strong and hold up the upper parts of the snowboard binding. This product comes in two different types, or rather with slightly different features. In one version you get the Fusion Power Strap, and in the other you get the Hybrid Power Cap Strap. Either way, you get a lot of benefits.
The base plate is made of Rockered Aluminum Alloy. This is tough against the elements yet comfortable for your feet. The buckles are reliable as they are of the Locking Slap Ratchets. Fastening or locking them is a piece of cake and does not take much time.
2. K2 Cinch Tryst
The K2 Cinch Tryst Womens Snowboard Bindings 2016 is made keeping in mind the special requirements and needs of women. These are made stylish with the latest trendy designs. The product is available in attractive color themes such as Black and Blue.
The best feature of the product is the Cinch trade technology. This technology won't be seen physically, but its effects shall be felt all the time, providing you with much-needed support, balance, and control.
The technology forces the side rails to lean forward and the high back to lean backward, which in turn makes wearing or strapping in the snowboard bindings very easy. With this fantastic technology, it is as easy as stepping into a shoe or boot.
One of the major problems with this kind of product is the system tends to be heavy. But with this particular product, you do not have to worry about anything. This is because the base place is of the C2 variety, which gives stability and protection, but reduces the overall weight to a great extent.
If speed is something you love, give this product a try. In addition to this, the underfoot is characterized by canted surfaces aids stability during wide stances.
During snowboarding and skiing, people have to worry about one thing constantly: vibration. As you speed up over surfaces or on slopes, the snowboard starts to vibrate.
The better equipped a snowboard binding is to reduce vibrations, the better your performance and safer you shall be. This is one of those products as it contains a Harshmellow trade insert for vibration absorption.
The high back comes with EVA padding for adding comfort to the feet. This also absorbs vibration to some degree. Additionally, the padding absorbs impact as well. It is of the Cinch Trade Peaceback variety which is rigid but offers good protection.
The K2 Cinch trade Tryst Snowboard Binding comes with Canted footbed and custom Caddi Ankle strap. The foot bed makes placement of your feet very comfortable while the strap provides extra padding, security, and comfort. The strap is also important as it protects the vital pressure points of your feet.
3. Flow Fuse Fusion
It is made of nylon, has medium flexibility, and has awesome features such as the 2.5 degrees canted bank bed base plate, adjustable straps, locking slap ratchet and a glass filled nylon Mod Back high back, whose strap has Active Strap Technology.
Let us go into details now to see how the product can really benefit you. The product is perfect for those who want to move faster and fly higher. It is for those who love the thrill of a race but want safety and security as well. As such, this is ideal for the experienced snowboarders.
The bindings come with flexible cushioning so as to make your feet comfortable for the longest period of time. The glass filled nylon Modback high back offers a great deal of protection.
For more protection and security while you are enjoying the sport, it has the Active Strap Technology. It is easy and quick to strap into, which is further augmented by the presence of Fusion Power Strap.
Just pick up the strap and drop it comfortably over the band. It will not let you down while on the run. This unique strapping technology also allows you to strap conveniently faster than anyone!
While snowboarding, snow does get onto the bindings. At times, it creates dampness and causes you to slip slightly on the foot bed even though the strap has you tightly over the boots. But in the case of the Flow Fuse Fusion Snowboard Binding, this does not take place. This is because it comes with 2.5 degree canted bank beds which offer a great deal of control and comfort.
4. Gnu 2016 Mutant
Want to make a visual impact on the turf and make all heads turn? Then the Gnu 2016 Mutant Men's Snowboard Bindings is the pair you should get. Although its color is not its best feature, it is bright red and therefore very showing. So if you want to show off during your performances on the field, then you should certainly get this product! Apart from style, the pair of snowboard bindings also offers you many practical benefits.
The pair is characterized by a protective and reliable FT-2 Lightweight base plate made of aluminum, the FT-4 Asym Highback which is high enough to cushion and shield your ankle area effectively, professional quality EVA footpad which easily absorbs vibration.
This special footpad is also useful for equal pressure distribution over the footbed. Since it offers you unmatched comfort, you can wear the bindings for a considerable period of time without feeling fatigue. This is also highly useful and it saves you from getting unbalanced while on the move. The feature is really fantastic and its absence can spell the difference between a fall and a successful run.
Its straps are completely adjustable so you can make it as light or tight as you want. Therefore making adjustments while on the go is quite easy. The base plate has an easy access cover included which protects it from the accumulation of ice.
The surface area of the Comprex Grip Straps Oversized is larger than normal, which does not put un-required pressure on the feet but offers additional control and stability. There are two more benefits. Due to the large surface area of the straps, these are less likely to come off.
Once you strap these on, they shall stay that way until you take them off. Secondly, its ingrained compression lets the strap remain flexible under considerable pressure. The second strap conforms to the contour of the feet and allows you to remain in control at all times.
Now let us come to the nature of the high back. As you may know, the high back is an integral part of all snowboard bindings. This is because it offers both support and protection to your ankles. It is designed by Asym. The highbacks of Asym is implemented in most bindings due to their superior quality.
This is design to let you take split second decisions and sharp turns with the greatest of ease. The shape of the highback is special as well because it covers the entire back part of your feet and protects its vital parts like the ankle area.
5. Burton Custom Bindings 2016
The Burton Custom Snowboard Bindings 2016 comes packed with a host of exciting features. It is available in two color combinations: Black-Red and Grassland, which is bright fluorescent green. Now let us see how is so good about this product apart from its attractive appearance.
Overall, it provides superior protection and stability for an in-control performance.
Its Single-Component Canted Highback adjusts itself according to the contours of your legs. This provides a great deal of support, protection and comfort.
The Living Hinge makes leaning forward to gain speed easier, and also allows the highback to rotate slightly to adjust itself. The strap is the LushStrap variation, which is special because it provides superb comfort.
Towards the tip of the product, we have the Primo Capstrap which snaps easily around your toes and offers support and safety. On the footbed, it has a FullBed Cushioning system which keeps your feet from getting fatigued from standing up all the time. The Smooth glide buckles allow you to wear and release the ratchet faster than your friends can!
Conclusions
In this article, you have seen some of the best rear entry snowboard bindings on the market. You have also seen why there are better than other varieties or models. These products are very useful if you want to enjoy the sport well, but these do not come cheap. If you want to make a smart investment, then this guide is perfect for you.
All of these bindings deliver an excellent performance while some have stand-out features such as added comfort or extra stiffness. We hope that once you go through these brief reviews, you will be able to find a pair of bindings that suits your requirements and preferences.
Related Articles:
Ryan grew up with snow, so he has an endless passion for skiing and snowboarding and everything around these.