Here is the inside scoop on the best snowboard bindings for all mountain 2022! Stay tuned, as we investigate the key features of each binding to find out which one is the best for mountainous terrain.
If you are into snowboarding, you probably already know the importance of owning a sturdy pair of snowboard bindings. The bindings provide protection and structural support to your feet so that you can indulge your snowboarding passion without risking an injury.
So, without further ado, let's look at the best all mountain snowboard bindings for 2023.
Related:
Best Snowboard Bindings For All Mountain 2022 – 2023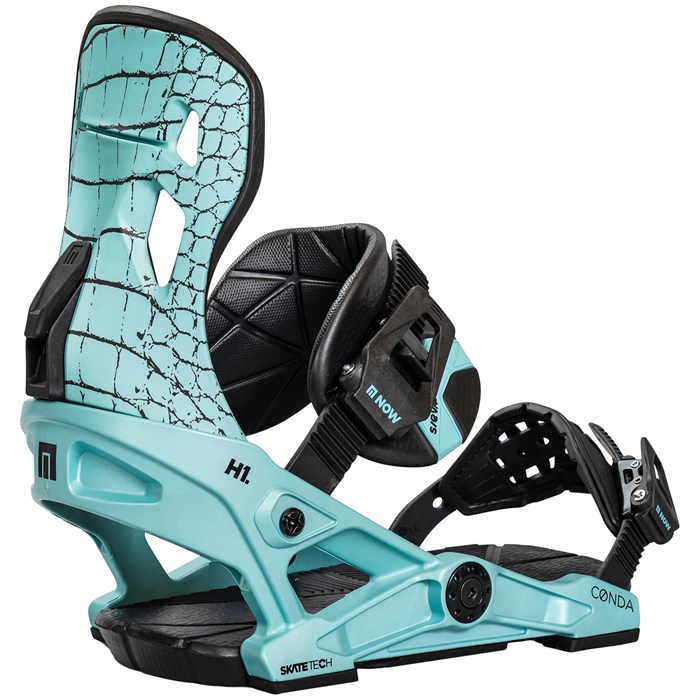 For starters, we have the Conda Snowboard Bindings from the Now line. These bindings are made specifically for women. They have a flex rating of 6 which makes them suitable for intermediates.
The baseplate is a Hangar 1.0 which is made of nylon which has glass fiber to strengthen it but also add the right amount of flexibility. The design of the baseplate also allows for smooth transfer of energy to the board edges.
The Flushcup technology ensures that the bindings can support boots even without a highback while the flex hinge 2.0 highback is designed to follow the contours of your leg and reduce calf bite.
The Asym SIEVA straps work just like Flipit straps but they have an extra TPU reinforcement for extra support on the lateral side.
Overall the skate technology used to make these bindings ensures that energy is transferred from your feet to the board effortlessly so that your feet remain comfortable at all times.
Features:
Flushcup Technology
Hanger 1.0 baseplate
Flex Hinge 2.0 Highback
Asym SIEVA Ankle Straps
Skate Tech
Next we have the Flux EM snowboard bindings with their simple no-nonsense design that is highly functional and comfortable. The flex rating is 2.5 so these bindings are ideal for beginners.
The baseplate has a Disco base which is broad enough with a flexible middle portion for extra stability. The base is complemented by an EZ bed which is comfy on the feet yet extremely responsive so that you are aware of the terrain conditions.
The bindings also have an adjustable toe and heel cushion that can adjusted according to boot size for maximum comfort. Additional features include the web highback and the redux lean adjuster. The adjuster lets you adjust the bindings for a better fit.
The honeycomb strap keeps your ankle protected from sudden jolts and bumps and the FTM Versa toe strap fits any boot type to keep your toes protected.
Features:
Disco Base with EZ bed
Adjustable Toe & Heel Cushion
Web Highback with Redux Lean Adjuster
Honeycomb Strap
FTM Versa Toe Strap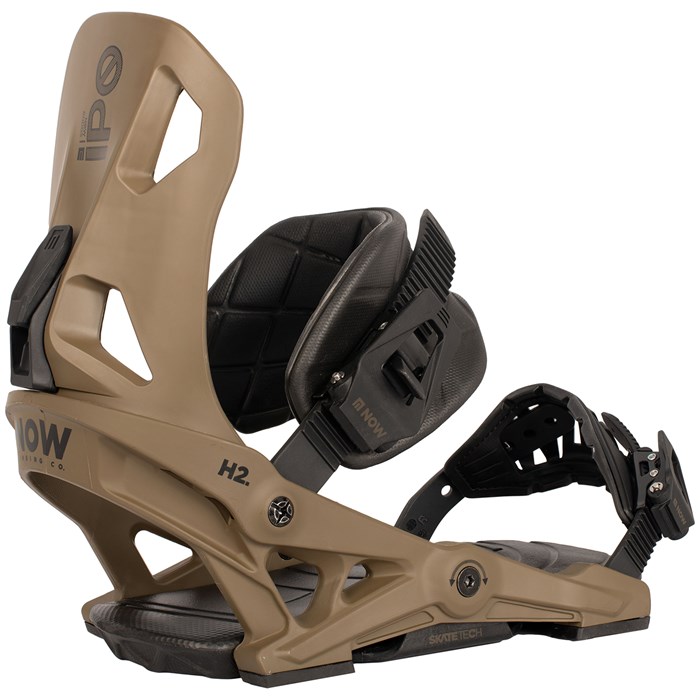 Moving on, we also have the Now IPO snowboard bindings that are another good option for beginners and intermediate boarders as these bindings have a flex rating of 5.
The Hangar 2.0 baseplate is made of nylon. The stiff I-beam walls of the baseplate are designed for efficient energy transfer to the snowboard.
Plus, the freewing highback has that is rotated 10 degrees and is 15 mm higher than the original flex highback. It also has a hook on the side for additional support.
The 3D Contour Toe Straps are adjustable and can be strapped in anywhere over the boot so you can adjust them to your own comfort. They are also super strong and hold your feet in securely. While the hinge connector prevents straps from getting in your way.
Lastly, the PA66-GF Buckle Levers are made from high-quality nylon and glass fiber which makes them durable and resistant to wear and tear.
Features:
Hangar 2.0 baseplate
Freewing Highback
3D Contour Toe Straps
Hinge Connector
PA66-GF Buckle Levers
Next, let's take a closer at the Hemlock LTD snowboard bindings from Arbor. They have a medium flex rating so they are ideal for intermediate and advanced snow boarders.
The baseplate is designed using a System X technique that maintains an even energy flow from bindings to board. The baseplate is constructed in a manner that all pressure is redirected from the center to the edges so that the rider retains control over the board.
The baseplate also has a 50A Durometer Outsole made from TPE rubber that protects your feet from vibrations and shocks.
An adjustable extruded aluminum heel cup provides stability by centering the foot in combination with the asymmetrical highbacks. The highbacks are also pre-rotated by 5 degrees so that riders still have a wide range of motion.
Finally, the bow-strap adjuster helps moves the straps out of your way quickly so that you can pop in or out of these bindings in no time.
Features:
System X baseplate
50A Durometer Outsole
Adjustable Extruded Aluminum Heelcup
Asymmetrical Highbacks
Bow-Strap Adjuster
Lastly, we have another pair of snowboard bindings made specifically for women in the form of the Fix January bindings. They have a soft flex rating so they are a good option for intermediate snowboarders.
The baseplate is made with injected nylon with a memory gel padding. The padding is added to provide a better fit because the memory gel contours itself to the shape of your feet so that the bindings are molded perfectly to your feet for a custom fit.
The highback rotation is adjustable so that you can adjust it to according to your boots. It allows you to retain a wider range of motion. The stitched ankle strap is cushioned to provide extra support to the feet. The buckles are also very durable as they are made from cast aluminum.
To top it all off, Fix uses regrind free injection moulding which results in stronger bindings that do not crack under pressure.
Features:
Injected Nylon Baseplate with memory gel padding
Highback Rotation
Stitched Ankle Strap
Cast Aluminum Buckles
Regrind Free Injection Moulding
Conclusion
We hope the information outlined above will help you make an informed decision when you go out to purchase your own pair of snowboard bindings.
Ryan grew up with snow, so he has an endless passion for skiing and snowboarding and everything around these.