Discover the best snowboard bindings for park boarding this winter. We list down the merits and demerits of each binding to find out which one is the most suitable option for park boarders at any skill level.
Related:
Best Snowboard Bindings For Park 2022 – 2023
The Snowboard bindings from the Rome "Do or Die" line are some of the most durable and well-made bindings. The baseplate is extremely robust as it is made from a mixture of nylon and glass following a 70:30 ratio. It is adjustable and can be made to fit boots of different sizes.
The high back is also adjustable so that riders can better align the high back to their heels for better power transmission. The high back also has an anti-shock mechanism to reduce the impact of any sudden jolts or bumps.
The bindings also have a lightweight ankle strap that holds in the feet more securely. The strap consists of two parts which are cushioned and lined with TPU for maximum comfort and support.
At the front of these bindings is a ProGrip toe strap that is made using an AuxTech design. The strap has a geometric design that works like a small network of hinges when stretched. This unique design helps the bindings provide a secure grip for a safer park boarding experience.
The flex rating of these bindings is medium so they are suitable for intermediate snowboarders who want a reliable set of bindings to hone their skills as they practice more adventurous moves.
Features:
Adjustable nylon baseplate
Anti-shock adjustable high back
Ultralight Ankle Strap
ProGrip Toe Strap
AuxTech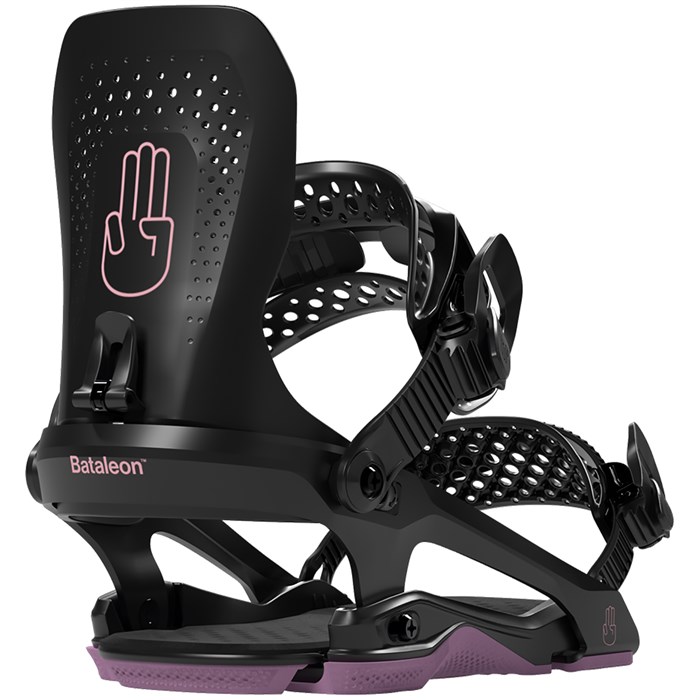 Next on our list today, we have the Bataleon Snowboard bindings that are made exclusively for women. They have a flex rating of 5 so they are a good option for beginners and intermediates who want a pair of bindings that combine comfort with versatility.
The Bataleon bindings come with a full wrap chassis made out of nylon and glass fiber as well as a heel hoop made out of aerospace grade aluminum. The baseplate itself is reinforced with additional elements to make it stronger. The combination of these three parts is what helps the Bataleon bindings align themselves more securely with your feet.
These bindings also have a dual density footpad to dampen the effect of any sudden impact. The top layer is made from a sturdy rubber material while the bottom is made from EVA foam. The footpad can be positioned in different ways so that riders can adjust it according to the shape of their boots for increased comfort.
The high back has a perforated Quarterback design. It is made out of a strong polyamide nylon and can be adjusted to improve power transmission at the heel. These bindings also have TPU-injected straps with robust aluminum buckles.
The strap fits snugly around the boot without being too tight so that riders do not have to worry about foot pain post-snowboarding. While the buckles securely close the straps and stop them from coming loose during an intense ride. These bindings are definitely designed to ensure maximum safety and comfort.
Features:
FullWrap Chassis
Size Adjustable Base
DualDensity Adjustable Footpad
Polyamide Nylon QuarterBacks
TPU Straps with aluminum buckles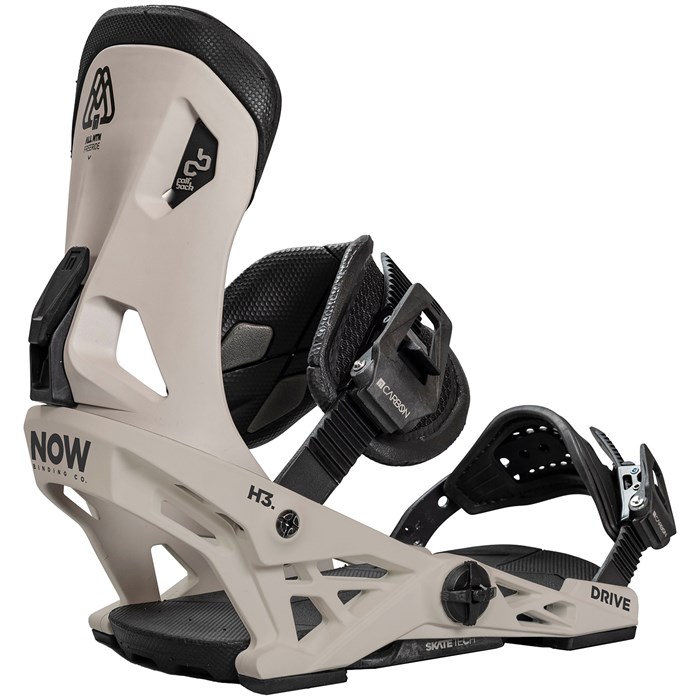 Let's take a look at the Now Drive snowboard bindings. They have a flex rating of 8 and are on the stiffer side which means that they are meant for more advanced snowboarders. Stiffer bindings help riders make more precise turns so the Now Drive bindings are an excellent choice for veteran riders.
The baseplate is made of nylon and reinforced with glass fiber. It has a wider base to accommodate larger boots and a minimalist design to aid ankle mobility. A flushcup technology is used to construct the baseplate so that the boots can be securely held even without a high back. Furthermore, this baseplate does not require any tools to switch between park mode and walking mode.
The Now Drive bindings also have a special calf back high back that is 10 degrees higher compared to other high backs. The elevated design helps these bindings better support a rider's legs. The calf back hinge also reduces any tightness around the calf and eliminates the chances of calf bite.
An additional feature are the hybrid ankle straps with an extra layer of EVA foam for added support and comfort. The straps are complemented by the PA66-C buckle levers that lock the straps in place for extra safety.
Features:
Flushcup Technology
Tool-less nylon baseplate
Calf back High back
Hybrid Flipit Ankle Straps
PA66-C Buckle Levers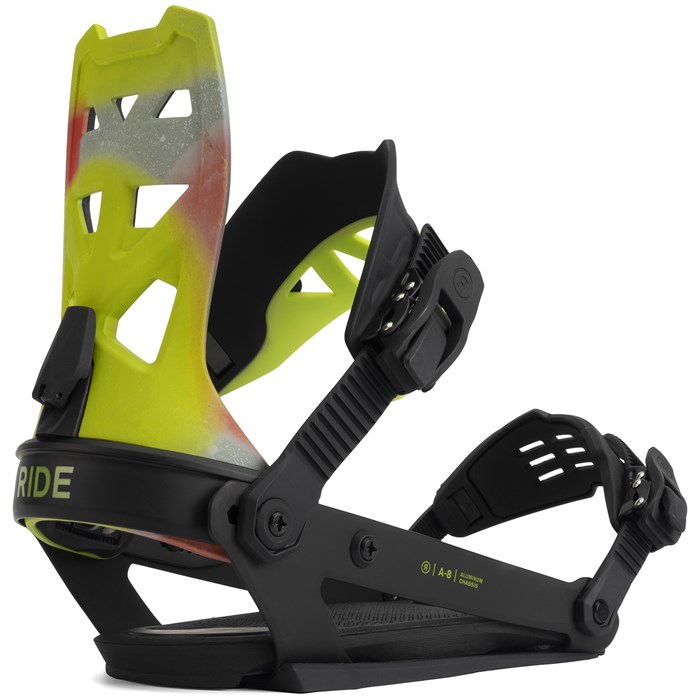 Now, let's take a closer look at the Ride A-8 snowboard bindings. These fall towards the stiff side on the flex rating scale. So, they are another good option for expert snowboarders.
The bindings have an aluminum chassis that is extremely well-constructed and allows the bindings to flex more naturally. The base pad is made out of heavy-duty TPU which makes it quite sturdy. It also has a canted footpad and the slight angle just makes the fit more comfortable.
The A-8 also has a cored nylon high back. The perforated design aligns with the leg naturally and allows for improved power transmission.
The bindings also have a reversible ankle strap consisting of two separate parts. One part is stiff while the lower one has more flexibility. The innovative design helps you adjust the strap according to your riding needs.
You can easily change the position of the strap if you want a more aggressive ride or re-position it for a more relaxed and easier ride. The buckles on these bindings come with a linkage ratchet. The ratchet makes the bindings more durable and provide a smoother riding experience.
Features:
A-Series Aluminum Chassis
TPU Base pad with canted footpad
Cored Nylon High back
Reversible Ankle Strap
Linkage Ratchet
Last but certainly not the least, we have the Fix Truce Snowboard bindings on our list today. They have a medium flex rating so both intermediates and advanced level riders can use them comfortably.
The baseplate is injected with nylon to provide strength and durability. The baseplate also has a foot bed that is made out of a rubber-like EVA material. As an additional perk, the foot bed also comes with memory gel padding so that the bindings are a better and more comfortable fit.
The high back is also made out of nylon and allows you to really lean in during a ride. The high back is also adjustable so that you can align it in a way to maximize power transmission as the heel area. The overall design of the high back ensures that your legs still have enough room to maneuver.
Furthermore, the bindings also have a stitched ankle strap which have the same gel padding as the foot bed. The extra padding makes these straps the comfiest and softest straps on the feet. Buckles made out of aluminum are used to make the bindings more secure.
These bindings come with an extra element which is the regrind-free injection molding. This process ensures that the bindings do not break easily even after an intense ride.
Features:
Injected Nylon Baseplate
EVA Footbed with Memory Gel Padding
Highback Rotation
Stitched Ankle Strap with Cast Aluminum Buckles
Regrind Free Injection Moulding
How to Set Up Snowboard Bindings for a Park?
To set up your snowboard bindings follow the steps outlined below:
Stand on the board with your feet wide apart. Your front foot should be the same distance from the top of the board as your back foot is from the tail-end of the board.
Place the bindings in the exact same spot as your feet
Adjust the bindings until you feel comfortable in the stance
Adjust the forward lean of your high backs until your calves are in the correct position
Take a few trial runs to make sure the bindings are securely adjusted and will not come loose mid-ride.
Things to Look for When Choosing Park Snowboard Bindings?
Here are some of the things you need to consider when choosing snowboard bindings. Firstly, the baseplate should be made out of a sturdy material like nylon and it must be able to accommodate any type of boots.
Secondly, the high back should be designed to maximize power transmission and help the rider lean forward comfortably.
Lastly, the bindings must have cushioned ankle straps and aluminum buckles to secure the boots to the bindings for a safe riding experience.
Conclusion
Now you know which snowboard bindings are worth your money if you want a good park boarding experience. We hope this detailed guide will help you choose the most functional and durable ridings you're your next snowboarding adventure.
Ryan grew up with snow, so he has an endless passion for skiing and snowboarding and everything around these.