Luckily, we are living in an age where women riders with a particular skill level can equally enjoy and pursue their passion for skiing thanks to the best skis available out there for female skiers.
Particularly, for intermediate skiers, market has some of the finest skis to offer.
Related:
6 Best Skis For Intermediate Female Skier 2023- 2024
Here our cherry-picked 6 best skis for intermediate female skiers for the year 2023-2024:
1. Rossignol Blackops W Trailblazer Skis ​+ Xpress 10 GW Bindings
For the past 100 years, Rossignol has designed iconic winter sports equipment for all the enthusiasts out there. The French brand believes in making skiing more fun and inspirational.
Blackops W Trailblazer Skis are made from Paulownia woodcore, laminated with Fiberglass, fitted with an Air Tip and an ABS insert. These laminations offer greater control, more flex and a medium pop.
Its Central Dualtec Sidewall has a combination of cap construction at the tip and tail and a traditional design at the underfoot. These features enhance durability and make the skis user-friendly.
These all-mountain skis come with Xpress 10 GW bindings. With a short turn radius and a flat tail type, these are most suitable for intermediate players. Three size options are available for females to choose from – 154cm, 162cm and 168cm.
Overall, Blackops W Trailblazer skis are extremely light in weight and are perfect for players who look for advanced maneuverability in their skis.
---
2. Atomic Cloud 7 Skis ​+ M 10 GW Bindings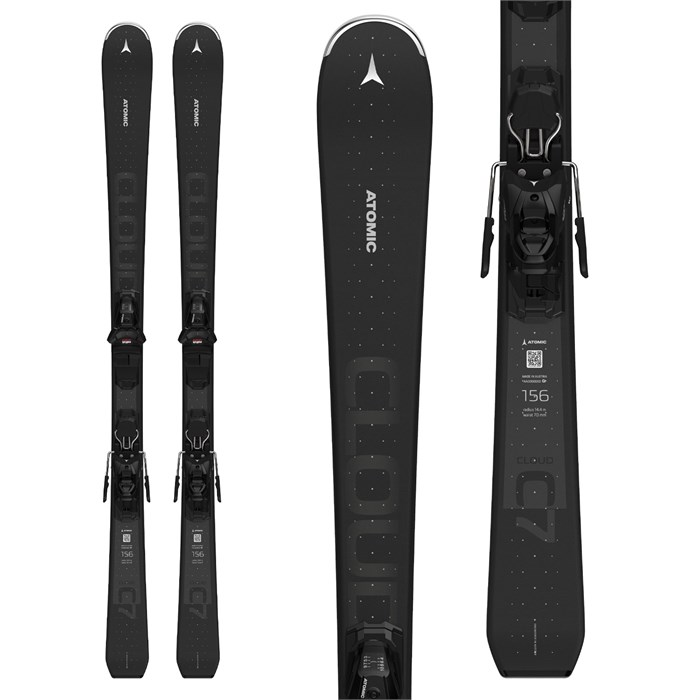 Atomic skis, considered as one of the coolest ski brands, has taken the lead in manufacturing high quality ski equipment for all the ski enthusiasts out there.
Their Cloud 7 Skis utilize state-of-the-art construction technologies for effortless skiing. At the core, Densolite foam material is used that is known for its vibration reduction. This core is then laminated with a structured topsheet which enhances durability.
It has a unique Piste Rocker type with 10% rocker at the tip and a 90% traditional camber followed by a flat tail. Atomic's Blend-X technology is applied to enhance the flex on these skis.
Furthermore, it consists of high-density atomic base, wear-resistant atomic edges and a full cap no sidewall construction. All these elements combine to improve the overall strength of these skis.
You have the option to mount M 10 GW bindings that come with Cloud 7 skis. These have a sleek and stylish black body. They can be purchased in any of the four size varieties that they offer.
All in all, Atomic Cloud 7 are highly recommended skis for intermediate women skiers who are looking for user-friendly skis.
---
3. Head Joy Pro Skis ​+ SLR 7.5 GW Bindings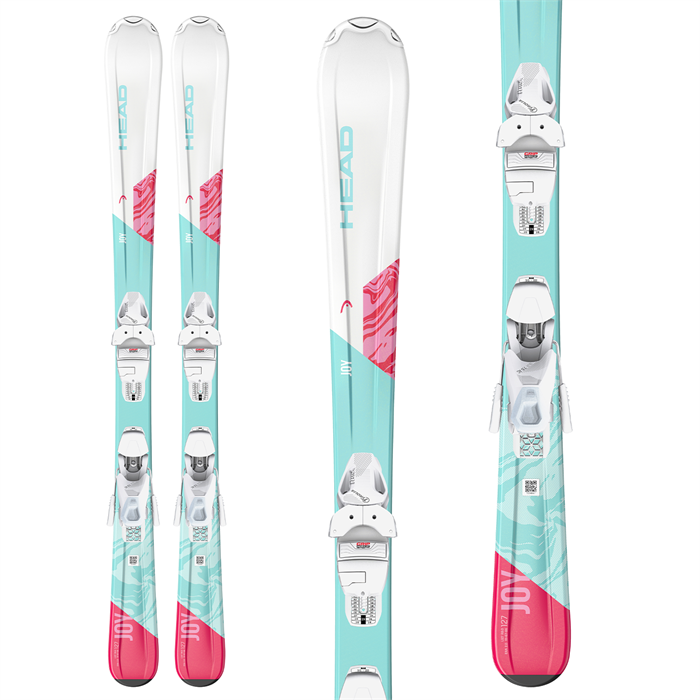 Head, with Joy – its new line of skis, has taken female skis to another level. These technologically advanced skis are meant to push you limits.
Joy Pro skis are built using Joy's Junior Power frame. This frame is made from a wood core that is light in weight and is ideal for intermediate players.
Its Junior Rocker has a rocker/camber profile with a flat tail that makes it easy to float on powder and is great for turnings too. With ERA 2.0 technology, a variety of shapes and technologies are combined so that these skis are effortlessly handled by women riders.
When you purchase these skis, you also get SLR 7.5 GW bindings. These are not mounted to give you the freedom to choose whichever bindings you wish to install.
With 127cm size option, these skis are a great companion while skiing on all-mountain and carving terrain. Without any doubt, Joy Pro Skis have great value for your buck and are designed to take your skill level from intermediate to advanced level.
---
4. K2 Dreamweaver Skis ​+ FDT 4.5 Bindings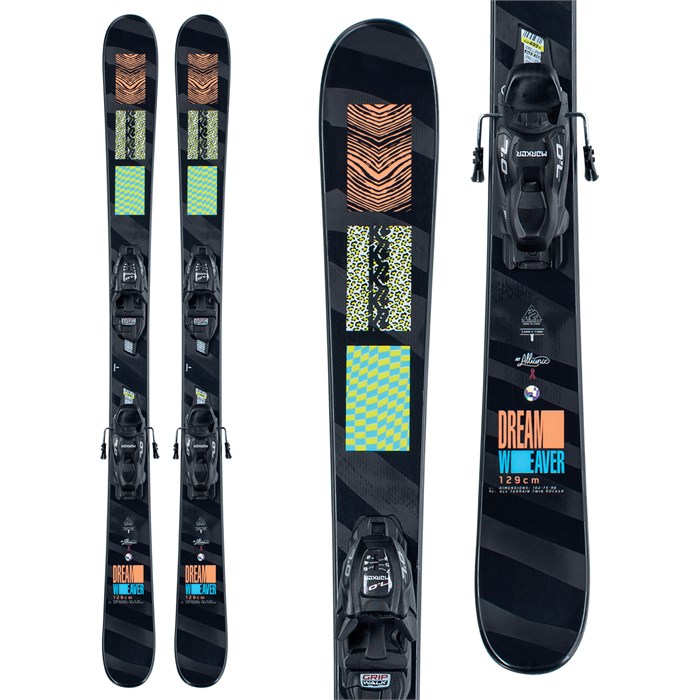 America's beloved ski brand, K2 skis has evolved into a fun-loving brand that does not only has good-looking skis, but their skis perform great too.
Deamweaver skis are constructed using Aspen woodcore. This core is not only sturdy but light in weight giving it the best of both worlds.
These have an overall full height twin tip shape, and they feature an all-terrain rocker profile. For enhanced control and greater versatility, such a rocker has a low-rise tail, a traditional camber and a gradually rising tip.
If you like, you can mount the FDT 4.5 Bindings that these skis come with. These skis have a size variety of 109cm, 119cm and 129cm.
Whether you are skiing on all-mountain terrain or a park & pipe setting, Dreamweaver skis will help you in smoothly and skillfully transitioning from an intermediate to an advanced player.
---
5. Salomon QST Lux Jr M Skis ​+ L6 GW Bindings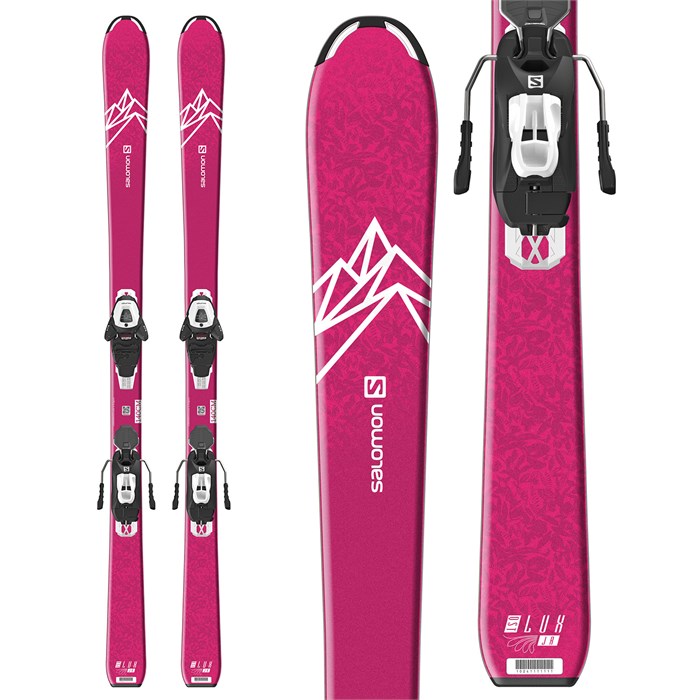 Salomon, as a brand, wishes to connect its customers to the nature through its unparalleled skiing equipment.
QST Lux Jr M skis are made from composite material and utilizes a single layer of fiber while employing its Monocoque Construction. These features keep the weight on the lighter end at the same time enhance the comfort.
These all-mountain skis have an all-terrian 2.0 rocker which has a traditional camber in the middle, full-length contact, flat taile and a slight twin rocker profile. With this rocker, greater versatility, enhanced grip and superb shock absorption is achieved while skiing on hard snow or piste.
The tail and tip are kept safe with protectors and the body has a corund topsheet to keep it shielded. The size options available are 130cm, 140cm and 150cm and these are sold with L6 GW bindings (not already mounted).
QST Lux Jr M skis, truly, are all-rounder when it comes to skiing in any type of terrain.
---
6. K2 Luv Bug Skis ​+ FDT 7.0 Bindings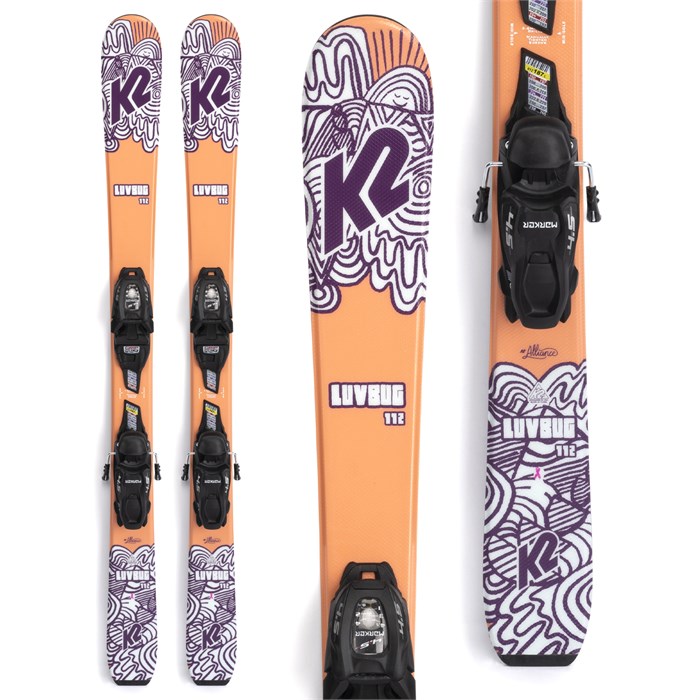 K2 artist series skis have gained much popularity across the states thanks to their unconventional and eye-catching designs.
Like other K2 skis, Luv Bug skis are made from a Composite Core. This material soft and light in weight while at the same time it has the right amount of sturdiness to it.
The sidewalls using a DuraCap Construction process which creates an envelope between the outer layers and the inner core of the skis. This enhances the durability of the skis.
With a unique Catch Free Rocker profile, Luv Bug offers adequate amount of confidence and control. Its raised tip and tail keep the movements and turnings stable as well as smooth when done at lower speeds.
FDT 7.0 bindings are included in the package when you purchase these skis. All in all, Luv Bug Skis are a forgiving piece of equipment that is sturdy and powerful.
Ryan grew up with snow, so he has an endless passion for skiing and snowboarding and everything around these.