Skiing becomes more fun when you are equipped with the right skis. Moving one step ahead of the beginner level means you need more maneuverable skis that can also give you fuller control with stability. These best skis for intermediate skiers can do wonders for you on the snow in 2023.
Related:
Best Skis For Intermediate Skiers 2023
1. Rossignol Rallybird 104 Ti Skis – Best Intermediate Skis Womens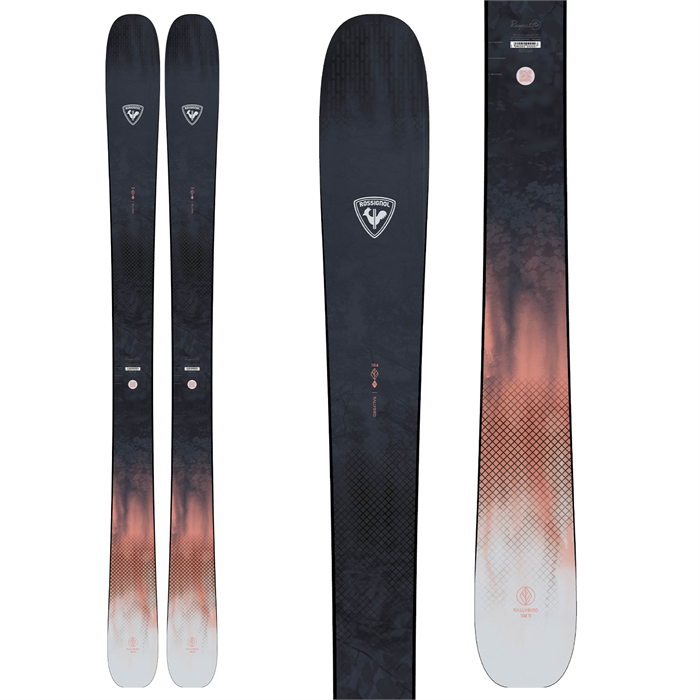 The Rossignol Rallybird 104 Ti Skis are ideal for female skiers who love steep descents, regardless of conditions.
With an impressive 104mm waist width and titanal injection technology built in, these ladies-specific planks provide power and stability that won't let you down. It has a free rocker with a progressive sidecut.
The skis are stable and agile and have lower weight thanks to the Paulownia wood core. There's also an extended core to enhance ski-snow contact and add precision and control. Their Air Tip further tightens both ends and increases control and maneuverability.
For women, these skis are one of the best to enjoy this sport to the fullest.
2. Black Crows Vertis Birdie Skis – Women
Every day can give you the best skiing experience with the Black Crows Vertis Skis.
These smooth-turning skis will help unlock your inner carver and flow from one turn to another, creating tighter arcs than ever before. If you crave hot lapping groomers while cruising any piste in style – this is the perfect everyday resort ski for making magic out of every run. It has a sporty playful flex that makes you more maneuverable than ever.
With the poplar fiberglass core, light rocker, semi-cap construction sidewalls, long classic camber, and narrow waist, these skis are stable, classic, sporty, and playful.
3. Atomic Maverick 95 Ti Skis – Best Powder Skis for Intermediate Skiers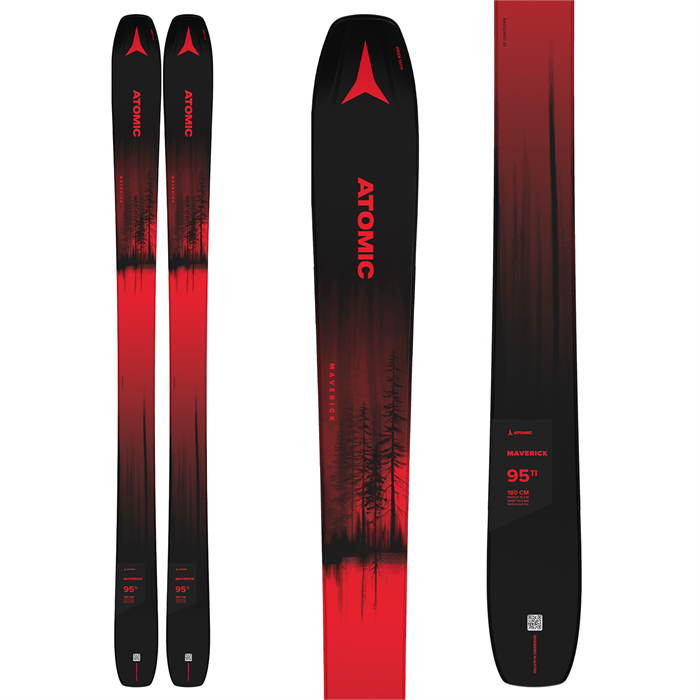 Cruise around the mountain with confidence on your Atomic Mavericks and have fun like never before.
Combining a stiff, powerful design and an OMatic core construction that absorbs shock over any terrain – these skis provide unrivaled performance in all conditions. It has an all-mountain rocker with the perfect blend of tip-tail rocker and camber to give you the best experience. The light wood core is made from poplar to optimize weight while giving it stability.
Rip pristine groomers one minute, then dip into powdery glades for leftover freshies the next – seamless experience transitions like never before; just onboard these skis and enjoy the best.
4. Blizzard Rustler 9 Skis – Best Carving Skis for Intermediate Skiers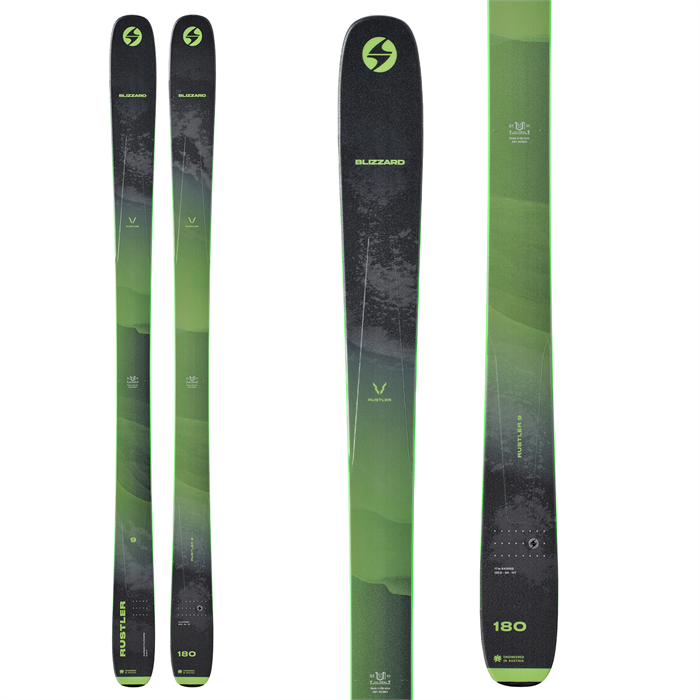 Smooth, worthy, amazing, playful, stable, just name the quality you want, and Rustle 9 will have it.
A rocker-camber ski profile combines the best of two worlds – effortless handling in powder thanks to tip and tail rocker and reliable edge grip on packed terrain due to camber underfoot. This design offers enhanced control while carving down hard and soft slopes.
It revolutionizes the ride with Carbon Flipcore Technology – an innovative ski construction method that seamlessly blends a unidirectional carbon frame into the core of each pair.
Experience enhanced performance and greater ease during even the most intense descents with these skis always.
5. Line Skis Sir Francis Bacon Skis 2023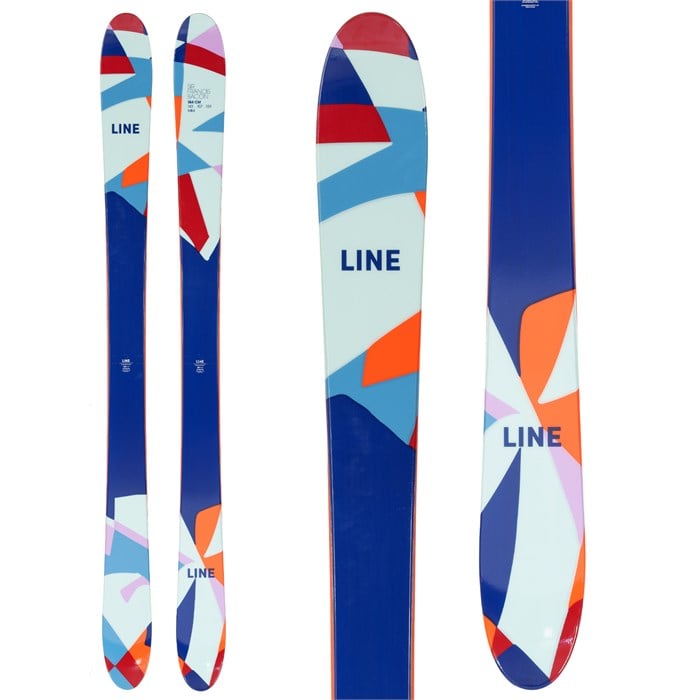 The Line Skis Sir Francis Bacon stands out as an iconic all-mountain freestyle ski revered by skiers of every generation.
Its smooth flex pattern keeps you rocketing through resort runs easily and allows buttery-smooth transitions off every bump or jump. The convex tips provide a nimble ride that's just begging to be twirled around.
These skis use Early Rise, a game-changing technology that brings the contact points of your ski closer to its center, improving performance on all terrains – from deep snow to hardpack. Further, it has symmetric flex with 3D convex technology.
With all the amazing features, it's no wonder why this ski is still considered a top favorite among today's riders.
Best Intermediate Skis 2022
#1. K2 Disruption 76X Skis ​+ M3 10 Compact Quikclik Bindings
Innovative shape and thoughtful construction have given these skis many extraordinary qualities.
Having a catch-free rocker, these skis provide you more confidence and control. They have elevated tips and tails that let you start even at slower speeds. Even the turns are smooth and you stay stable throughout.
The Aspen light core is also an all-rounder and very light in weight. It gives enough strength while delivering performance. It also features an I-Beam that runs from one end to another to enhance stability and adds precision to your every move.
The hybritech sidewall runs along the surface into the nose and tail and gives better durability with low swing weight.
Moreover, you get Compact Quicklink Bindings with these skis which are lightweight bindings with triple pivot comfort toe and a compact heel to make you feel safe and comfortable when you are enjoying your favorite sports.
From one end to the other, these skis are a complete package to make your skiing extra fun.
---
#2. Atomic Vantage 75 C Skis
When you are in transition from a beginner to an intermediate, these skis will give you the best of everything.
Specifically designed to make skiing amazing for intermediates, these skis are an all-mountain rocker. You enjoy a flat tail with 90% camber and 10% tip rocker. Further to enhance the performance of these features, it has a prolite construction.
These skis don't start with having a standard structure and then cutting away to give you the perfect shape, but it is made oppositely. Its construction starts with the slimmest infrastructure, then the ski's profile is improved in the areas where you need extra strength.
You don't have to worry about the weight at all. Thanks to its light wood core, you don't feel much weight on your feet while skiing. It is made using poplar wood which is known for its stability and shock-absorbing properties without adding much weight.
To improve things further, it has a densolite core which is a foam core that adds speed and reduces vibration to give you more fun while skiing.
Moreover, it features an energy backbone. Key zones are reinforced to provide extra power and edge grip to augment your skiing experience. Alongside, the structured top sheet not only gives an outstanding finish but also enhances durability.
Also, it features carbon tank mesh; it is a layer of extra hard-woven mesh that improves the strength of the ski from one end to another without adding extra weight.
The atomic base is designed to meet your speed at any type of snow and make maintenance easy. Additionally, atomic edges are made from high-quality steel which is five times more powerful than standard steel.
It is more resistant and gives extra grip with augmented strength. Above all, you are also getting bindings with these skis, which further makes things better.
---
#3. Rossignol Experience 80 Ci Skis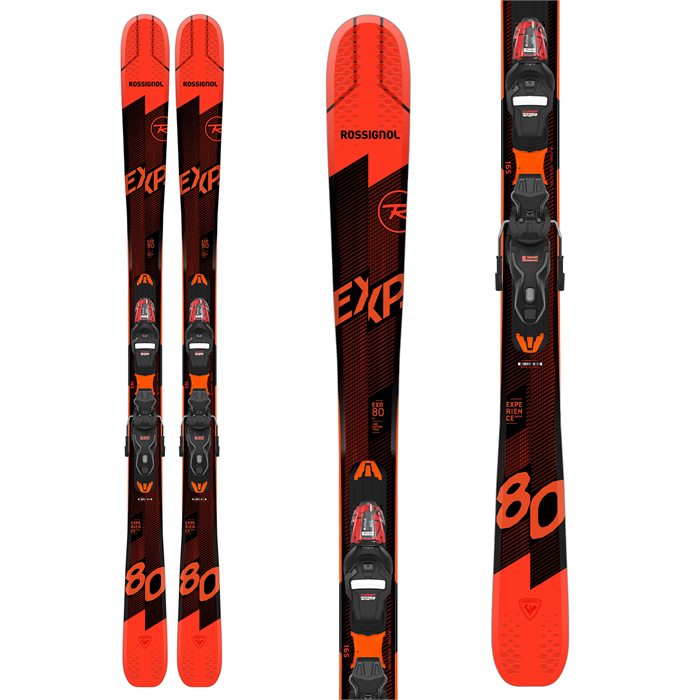 If you want to have playful skiing without any technical hindrance, then these skis are for you to give you flawless performance.
When you target all-terrain performance, for that you can gain the benefits of an all-terrain rocker. It is 70% camber and 30% low tip rocker. The rocker is made in a way to meet the needs of all snow conditions.
It has a long tip with an early rise tail to enhance its all-terrain performance. So you can enjoy modern all-mountain skiing, it has a new shape. The progressive sidecut design gives you more power along with playfulness.
The rounder tip and tail improve this thing even further and add speed and ability to face all snow conditions with fun.
With the HD core, you can enjoy a high level of snow feel along with smoothness. With the ABS sidewalls, no turn appears hard as it gives you a better grip. The weight is reduced with the low-density core so you can have fun all day without feeling tired.
Furthermore, it features the company's patented LCT (line control technology). Thanks to this, these skis have more energy and power with stability that remains constant.
For the laminates, you get an Air Tip VAS energy stabilizer. It has the potency to absorb all kinds of shocks. Additionally, it features an integrated visco suspension that not only absorbs shocks but also stabilizes your ski.
The combination of high tensile strength with high flexibility gives a carbon insert that is low in weight and low in thermal expansion but high in resistance. It gives you your most desired explosive pop.
With the Central sidewall, you get the best sandwich and cap constructions that give you extra grip with high durability and make it easy to use. It makes entry and exit turns flawless with more power and control.
You are also getting Xpress 11GW bindings with these skis to make things even better. On the whole, these skis are a complete fun package when you go to your favorite mountain.
---
#4. Head V-Shape V4 Skis
Very lightweight, easy to turn, and highly fun, these skis are just perfect wherever you ski. Having all-ride rocker type, these skis work amazing on hard as well as soft snow.
It features an early rise in the tip and throughout the ski, you will enjoy regular camber. The special V-shape design gives it thick ends at both sides with a thin center.
Further, the design gives you an ERA 3.0 fusion of radius, rocker, and rebound. ERA 3.0 is a mix of different technologies, geometries, and shapes to make your skis more reliable.
It gives you more control, efficient handling, and super grip. For the core, it utilizes a light composite that not only lowers the weight but gives strength as well. To reduce weight even further, there is a synthetic injected core inside.
When it comes to laminate, it has V-shape LYT tech construction which is either made using composite core or karuba wood. Alongside, the presence of full-length graphene adds durability and gives more power to these skis.
Overall, this construction gives these skis high performance with reduced weight.
These skis have the same base as the Head's best skis. The structured UHM base makes these skis perfect for all conditions. On the whole, no matter which aspect you see, these skis are ideal in all.
---
---
#5. Salomon QST Max Jr XS Skis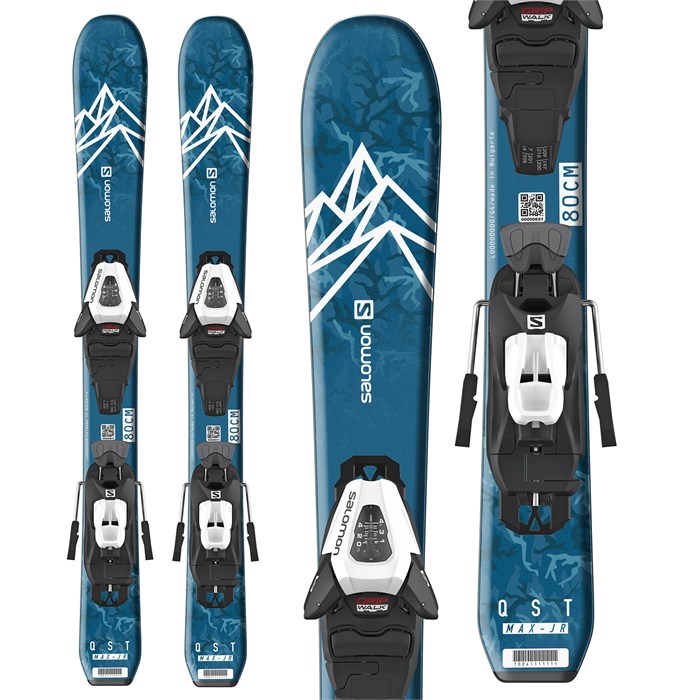 When you are one step ahead of the beginners, and you want to enjoy every aspect of skiing, these skis are specially designed to provide you with all these.
These skis feature all-terrain rocker 2.0 that is slightly raised at the tip and tail. It gives an extra dimension of versatility. Also, you get full control no matter what kind of mountain you are skiing on.
It has a middle camper as well and a full-length contact to give you full grip and power when you ski. Further, the slight twin rocker adds maneuverability and improves control in diverse conditions. The turning radius is short with a flat tail.
These skis feature a composite core that is soft and very light weighted but provides enough support. For the sidewalls, it has monocoque construction. It is a single structural layer of fiber that enhances comfort.
It also improves the response and performance of the skis. With these skis, you will get C5 GW bindings that keep you in your place and give you a comfortable riding experience.
Furthermore, in these skis, you will see corund topsheet and tail protector. All in all, these features make these skis ideal for any intermediate skier for an all-mountain ride.
---
#6. K2 Missy Skis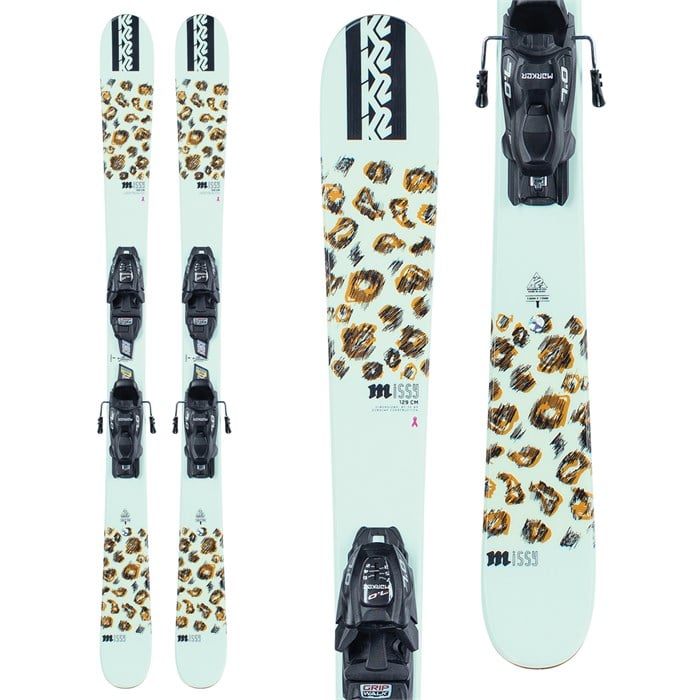 Durable, easy to handle, and full control, these skis are made to take your skiing skills to a whole new level.
In these skis, the rocker is specifically designed to meet all the transition needs from a beginner to an intermediate. Their catch-free rocker gives an ample amount of confidence because of the ease of use.
The elevated tip and tail make it simple to start even at the lowest speeds. Even when you are turning, these skis keep you stable. They have a very light weighted composite core that is soft and forgiving. For the sidewalls, you get DuraCap construction.
It is a special molding process to cover all the internal material and the core with the layer which without producing any extra weight enhances the durability of the skis with performance.
Developed for all-mountain, these skis have a short turning radius with a full twin tip tail. They come with FDT 4.5 bindings to make things even better. From high-quality material to design, these skis let you slay the snow as you want.
---
How To Know Which Are The Best Skis For Intermediate Skier
When you are leaving your beginner level, and heading towards intermediate, you try a lot of new things. And for that, you need a ski that is fully under your control and let you enjoy more challenging terrain.
The intermediate skis must have the ability to give you full control at a moderate speed. Here are the characteristics of the intermediate skis that you must look for:
Camber Or Rocker
For intermediate skiers, camber skis are the best to improve your turns and enhance your maneuverability. They let you practice advanced skills. Camber is an upward curve present at the center of a ski. It gives amazing precision and lots of power.
Mixing camber and rocker is also ideal for the intermediates as it provides better control and improves turns even at a slower speed.
Length And Width
When you choose the right length for yourself, you can ski better. For the intermediate skiers, the length of the skis should be 12-14 cm shorter than the height of the skier.
If you select the skis with the rocker, then select the length of a bit longer than the recommended limit. It is commonly said that the ski should reach your chin.
For intermediate skiers, the skis must not be very wide. The width should be around 85mm when you are skiing on groomed trails and this width is ideal for all. 85-95mm width is for you when your skiing is full of versatility.
96-110mm width for all-mountain skiing and more than that is for stability in deep powder. The width is the matter of the snow depth. Wider waists are for deeper snow.
With Or Without Bindings
Many skies come with the bindings while others are not. Many good options in the market let you have the skis with bindings at a very affordable rate. So if you want to save some amount, then don't have to always go for the latest bindings available in the market.
Turn Radius
How well your ski will turn is dependent on the turn radius. It is checked by finding the difference between the width of both ends and the center of the ski. When the ski has a lower radius, the turns are tighter and easier.
So for the intermediates, going for the middle values is recommended. If the turn radius is less than 12 meters, it is said to be a short turning ski. With 13-21 meters, it is called a medium turning ski, and when greater than 22 meters, it's a long turning ski.
Flex
How much flex should be there is decided by your weight and aggressiveness. A very soft ski doesn't respond aggressively, only the heavier can. So for the intermediate skiers, soft skis to medium flex skis are recommended that give ample performance while putting little effort.
Medium flex skis can provide stability at higher speeds and even give you full control when the speed is low.
Construction Materials
The lighter weight is considered better for the intermediates and the beginners. When the skis are light in weight, they let you maneuver easily. The heavier ones are for the advanced skiers.
So, if you want to improve your movements and also want stability, then going for lightweight skis is recommended. Don't go for extra light ones as they will affect stability.
Ryan grew up with snow, so he has an endless passion for skiing and snowboarding and everything around these.