If you are looking for a versatile and playful skiing experience, then the best twin tip all mountain skis are what you need. These skis have a curved design at both the tip and tail.
These upward facing edges offer enhanced stability and gives more room for creative twists and turns.
Best Twin Tip All Mountain Skis Of 2022 – 2023
Here are our top 5 twin tip skis for all-mountain terrain for 2023:
1. Season Nexus Skis 2022 ​+ Tyrolia Attack² 13 GW Bindings 2021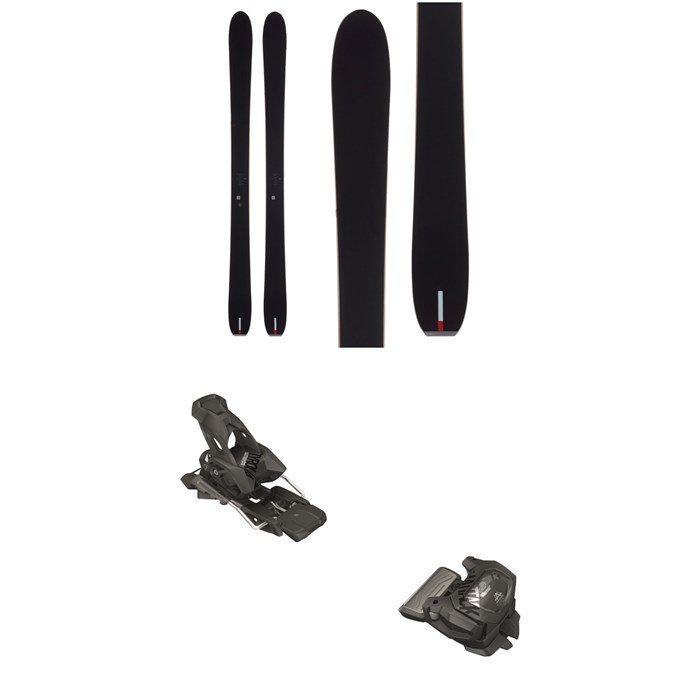 Season equipment takes pride in producing gender inclusive snowboards, skis and other equipment. Its Nexus skis, as the company claims, come without an expiration date.
Let us look at the features of this latest addition to their ski's lineup. Made from Paulownia woodcore, Nexus ski is extremely light in weight. The core is laminated with biaxial fiberglass and a stainless-steel rod is inserted in the tail in order to maximize strength.
It has a unique rocker with an elongated nose shape at the tip and a raised tail, both 27cm wide. There is a standard 6mm camber squeezed between the two ends. With a multi-radius sidecut, you have the option to use biggest radius while skiing at lesser pressure.
Nexus is wrapped in an ABS sidewall which has a 30o CNC route. This mechanism dampens vibrations, gives more stability, reduces weight and offers a nicer feel in the snow.
This all-mountain ski is made for advance-expert players who prefer medium flex rating. It is sold with Tyrolia Attack2 13 GW bindings that has an FR Pro2 Toepiece and a 3-piece FR heelpiece. This ski-binding combo can be purchased in a variety of sizes.
Overall, Season Nexus ski is a favorite amongst many thanks to its versatile design, durable materials and a very user-friendly setup.
---
2. Line Skis Sir Francis Bacon Skis 2022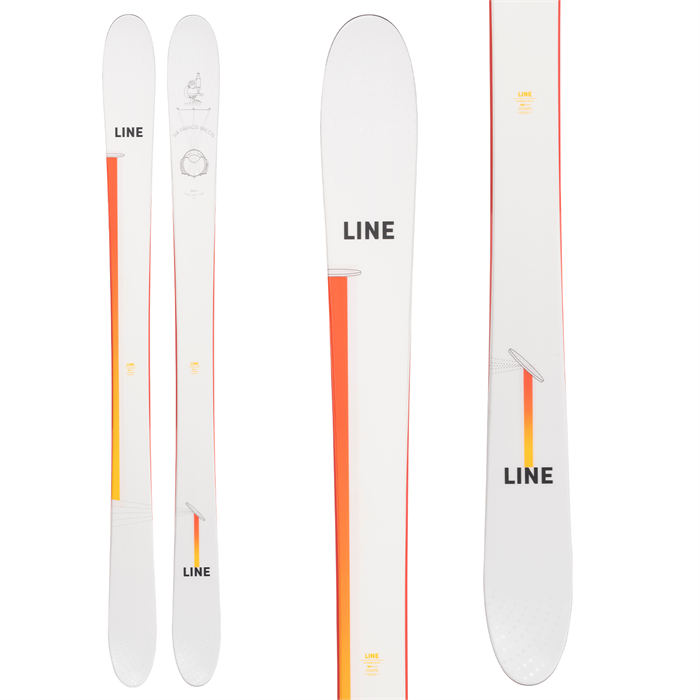 Line is one of the few brands that came into existence with the purpose of selling twin-tipped skis. Sir Francis Bacon skis have been a staple in their lineup. Continuous updates are made to this model to make it up to date using the latest technologies.
Their 2022 model features an Early Rise rocker which includes a 6mm lifted tip and tail. Its Thin Tip technology reduces the swing weight in the tips by 100 grams. Unlike other sidecuts, it has a 5-Cut technology as well as an Early Taper.
These five unique radiuses equip the skier with many turn shapes. With Symmetric Flex, skiers can experience same flex in both forward and backward directions.
At the core, this ski has Partly Cloudy construction made from a combination of maple and paulownia wood. Polyethylene sidewalls are vertically installed on the ski allowing it to soak up any vibrations and transmit energy in a powerful manner.
To enhance durability, it has a 30% thicker edge (known as Fatty Edge). Its Convex Base technology optimizes turn shape and offers additional contouring. The base is made of high-density sintered material that keeps friction to the minimum.
This all-mountain ski is a perfect companion of players with intermediate skill level. It is available for purchase in 176cm, 184cm and 190cm.
Truly, Sir Francis Bacon ski has impressive features with lots of spin and pop. These offer great control and superb performance in the toughest all-mountain terrain.
---
3. Lib Tech UFO 95 Skis 2021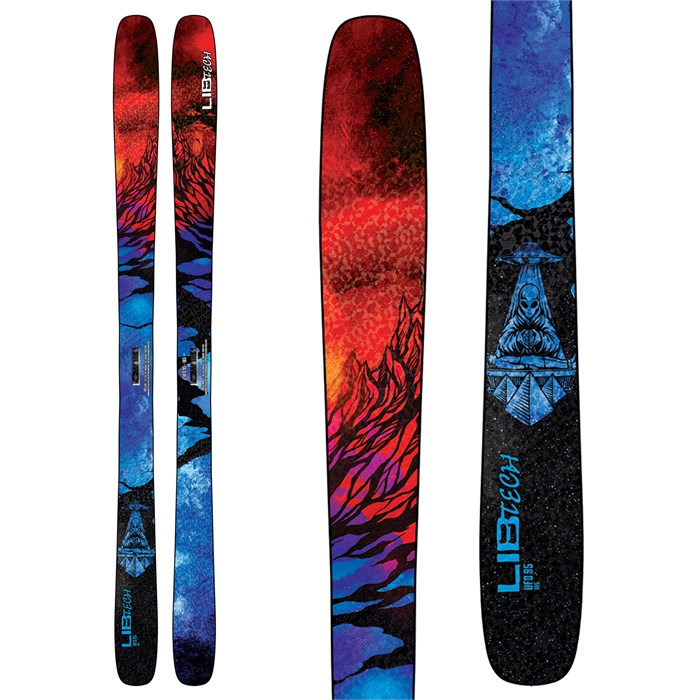 Lib tech, a company that does it all themselves, refers to their equipment as Dream Boards. Their UFO 95 skis have a stylish design and a spectacular artwork done in collaboration with the famous ski artist Ryan Schmies.
These freestyle skis are made from woodcore with Tri-Ax, Bi-Ax Fiberglass lamination. At the top, you will find Bio Beans which assist in dampening vibration and shedding snow.
Thanks to its Magne-Traction Jib Advantage technology, your ski glides smoothly and effortlessly on diverse surfaces including metal, plastic or cement.
Its rocker includes early rise tip and long tail which makes it perfect for all park and pipe settings. A soft flex rating ranging from 5.5 to 6.5 further enhances the smoothness of your ride.
UFO 95 is strengthened with the help of sintered UHMW sidewalls and base. Lib Tech manufactures both parts within the United States of America. An intermediate to advanced skier can make the most out of these skis.
Currently, you can get these in lengths of 171cm and 185cm, respectively. All in all, UFO 95 is not only a treat for the eyes, but it is also a lethal weapon in the field. Its sturdy built and lightweight feel beats many others in the market.
---
4. K2 x Geoff McFetridge Reckoner 112 Skis 2021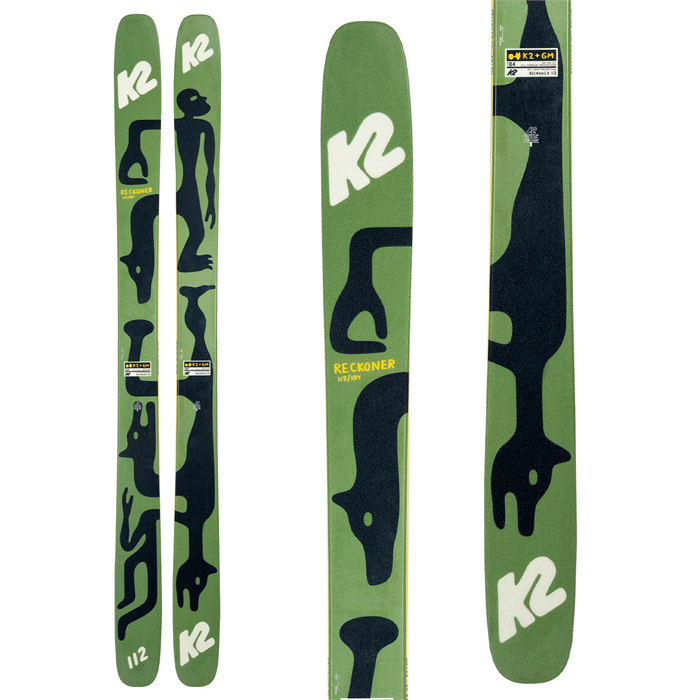 K2 is one of the oldest ski manufacturing brands from Washington State that began its production back in 1962. They were also the first ones to introduce skis for women.
Their latest Reckoner line of skis claims to be an all-in-one solution for a perfect skiing experience.
Reckoner 112 has a Double Barrel Core which uses a combination of thinner Aspen woodcore at the center with a dense outer Fir woodcore. Such a core is powerful on the edges and lightweight at the center.
The lamination of this woodcore is done using K2's spectral braid technology which applies carbon fiber material in variable angles. This reduces overall weight of the ski.
Company's patented Triaxial Braid has carbon stringers woven into the lamination in order to enhance pop. The top edges of Reckoner 112 are made sturdy with the help of TwinTech sidewalls.
The ski is beautified with the custom artwork done by Geoff McFetridge. As an advanced skier, you can take your ski out in all-mountain terrain with peace of mind thank to its unique all-terrain rocker.
Such a rocker combines a shorter tail with a gradually rising tip. Its tail does not have much rise making it perfect for big mountains. At present, 2 size options of 177cm and 184cm are available.
To sum it up, Reckoner 112 is a ripper and a playful treat for skiers who are looking for diversity as well as high performance in any terrain.
---
5. Volkl Revolt 95 Skis 2022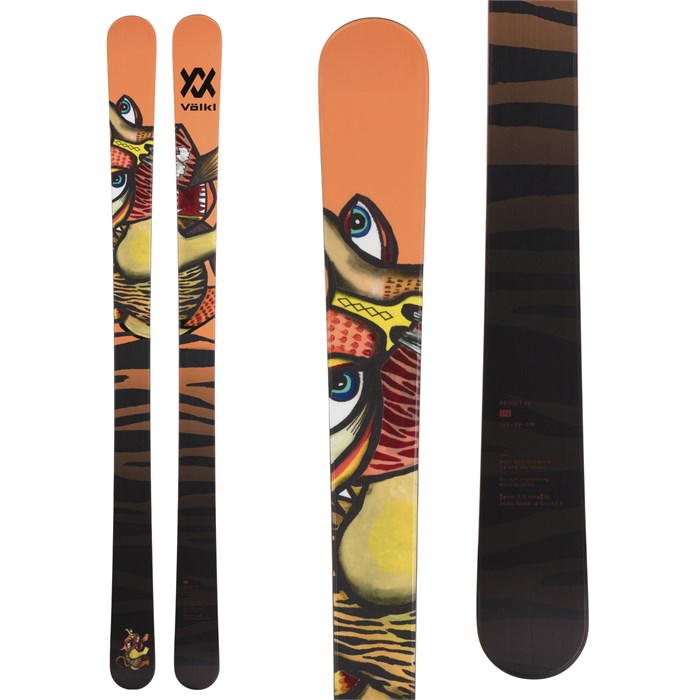 Volkl, a German brand, believes in consistently revolutionizing the industry by incorporating high-tech innovations to their traditional skis. Their Revolt lineup of skis is specifically put together for freestyle riders.
Revolt 95 is their newest model that is designed with assistance of a renowned skier named Ahmet Dadali. From Park & Pipe to All-Mountain terrain, these skis will make every ride joyous and playful.
They feature a standard camber with upward bending tip and tail rocker. At the core, aspen and maple wood is combined resulting in a durable and lightweight foundation.
Its full-length sidewalls strengthen as well as optimize the transmission of power. Its Polyethylene P-Tex 2100 sintered base offers smooth ride and enhances longevity of the ski.
Revolt 95 is a piece of art that is available in 4 sizes – 157cm, 165cm, 173cm and 181cm. Without any doubt, it is must-have for freestyle lovers who are looking for a ski that is lightweight as well as the right stiffness.
Related articles:
Ryan grew up with snow, so he has an endless passion for skiing and snowboarding and everything around these.