Here are the best twin tip skis for 2024 season to play on jibs and jumps in the way you like.
Unlike their traditional alpine counterparts, twin tip skis will give you all the thrill while jumping and skiing backwards, thanks to their curved ends. With a lifted and curved tip and tail, it not only makes sliding more fluid but spinning and jumping becomes smooth as well.
Whether you are a beginner or a pro, twin tips will be your best friend while skiing across a wide variety of terrains.
If you are looking to step up your game, let me present to you the top twin tip skis that are available in the market.
Top Rated Twin Tip Skis for 2024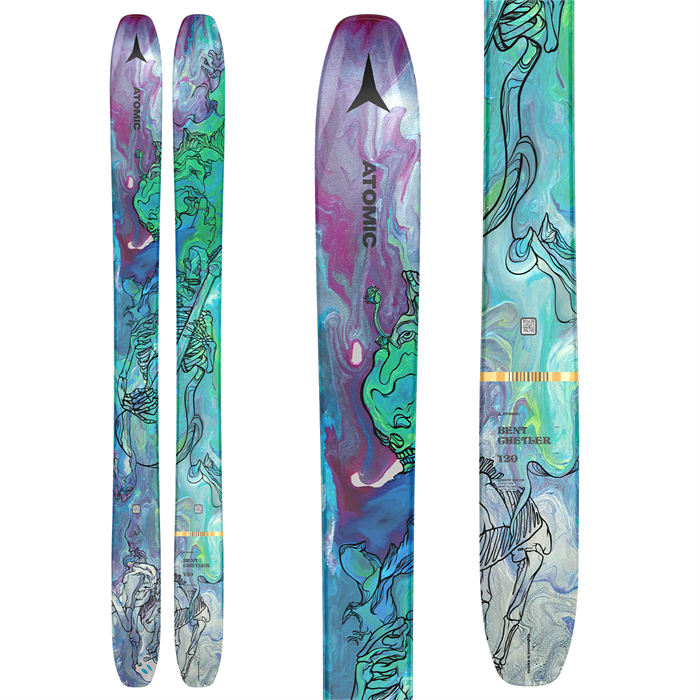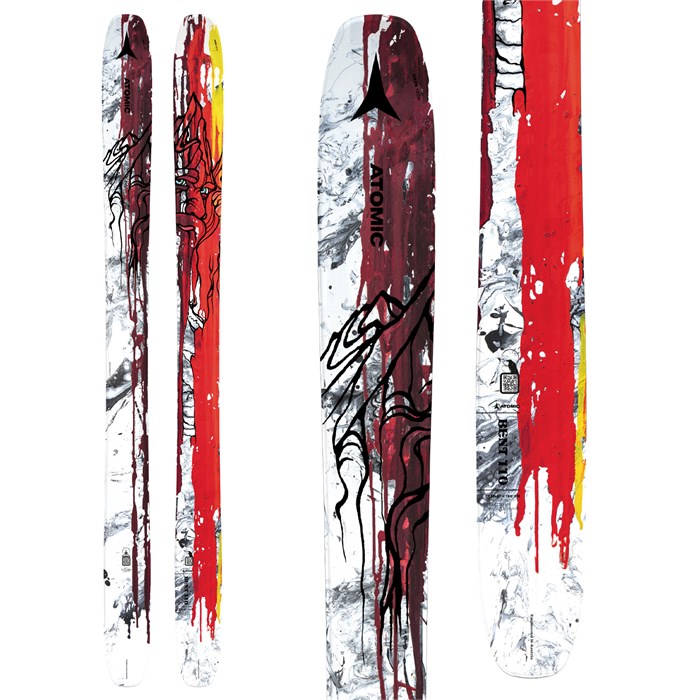 Best Twin Tip Skis 2024
Top 2023 Twin Tip Skis Reviews
1. Season Nexus Skis 2024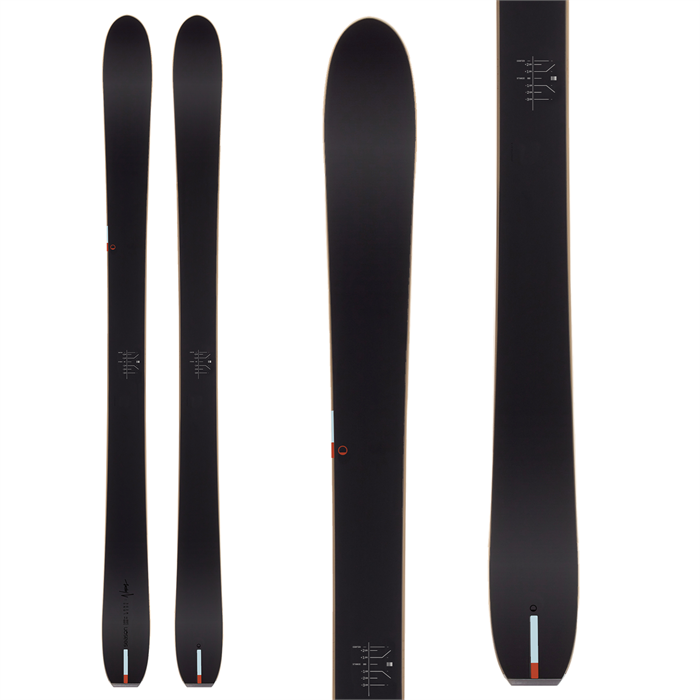 Meeting all your advanced needs, the Nexus skis is one of the best twin tip skis to go for.
It has an elongated nose and raised tail with a standard channel. Thanks to its all-direction nose and tail rocker, every track appears easier. The flex is medium to get you going the way you like.
Furthermore, it has what it's called progressive shaping. That means you are not relying on the same width and stance for every length. This model changes them according to the length. This in turn aids the ski to support all riders and allows them to do their best.
There is a special multi-radius sidecut as well. You get a stability radius underfoot so your performance is never compromised, the initiation radios in the nose for a better start, and the exit covering the tail for smart control.
The core is karuba wood; it's a lightweight full-core wood that makes these skis highly responsive while matching your riding commands. Also, it doesn't add any unnecessary weight to slow you down. For the laminates, you get biaxial fiberglass.
With sintered base and special sidewalls, you get better control and a boosted feel. Moreover, the ABS 360 degrees sidewall adds vibration dampening to the skies to give you more stability and extra fun.
On the whole, these skis are light weighted and perfect for an all-mountain ride; they will make you love the snow even more.
2. Atomic Bent Chetler 120 Skis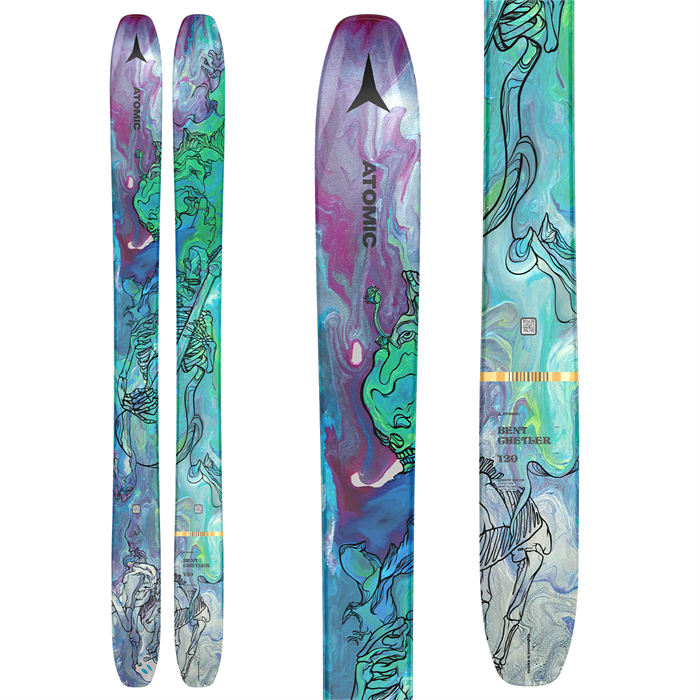 With great looks and superb performing abilities, these skis are set to shine the new year with greatness as always.
Bent Chetler uses a 30-40-30 percent ratio for the rocker at both ends with the camber in between. This makes them ideal for the free riders who don't want to compromise on their style.
As for the shape, it uses a hrzn tech tip and tail that augments the surface area at these spaces by 10%. It not only gives amazing float but also lowers tip deflection. Here, ABS sidewall construction is merged with a cross-sectional horizontal rocker.
The core is specially made lightweight for better performance without affecting the ski's stability. Poplar wood is used for this purpose. It's strong and arranged in a manner to absorb most of the shocks. To add more stability to the skies, an ultra-lightweight carbon insert is present inside as the backbone of the core. The speed is enhanced without increasing any weight.
With the high-density sintered base, no snow conditions give a no signal. The edges are made from special steel that is five times more resistant than regular steel. Duracap side wall adds durability.
Overall, no matter which aspect you see, you will find these skies to be perfect from every direction.
3. Line Skis Blend Skis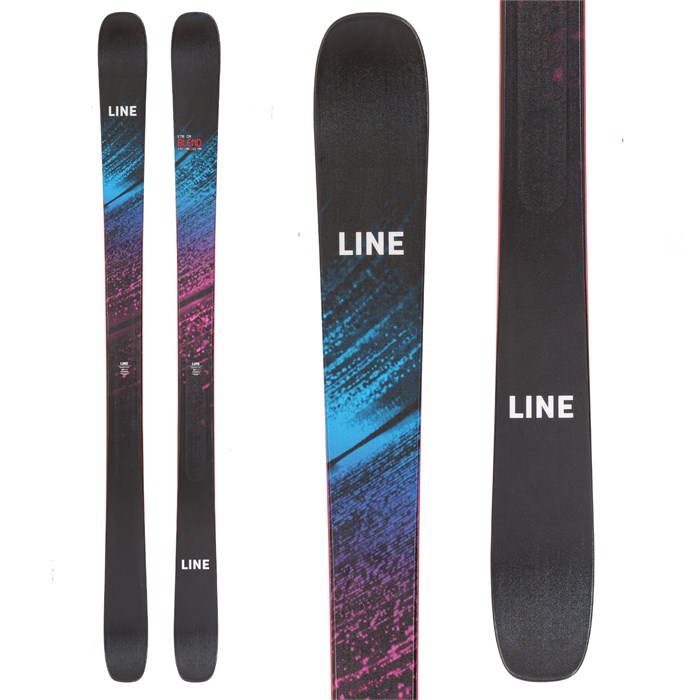 It's an all-around performer that gives you the best of the snow world.
With rocker-camber-rocker and medium turning radius, these skis give you a symmetric flex. You enjoy the same flex pattern at the back and the front that makes your riding almost the same; forward and backward.
The sidecut is highly innovative with the combination of five unique radiuses into one. As an outcome, you get amazing diversity of turn shapes and an exceptional feel.
The core is made from maple. It uses the special maple marcoblock. To use that, two full-length stringers are added and covered by aspen. Thanks to this construction, these skis have a wonderful strength to get you going anywhere. Alongside, the durability also increases a lot with that.
For the laminate, pre-stretched carbon olliband is added in the middle to give extra pop like no other. It also put more fun to play in freestyle skis. Sidewalls are capwall that are durable and lightweight. The fatty base adds more durability and speed to the construction.
All in all, this line skis blend gives you the taste of future skiing like a pro.
4. Armada Stranger Skis 2024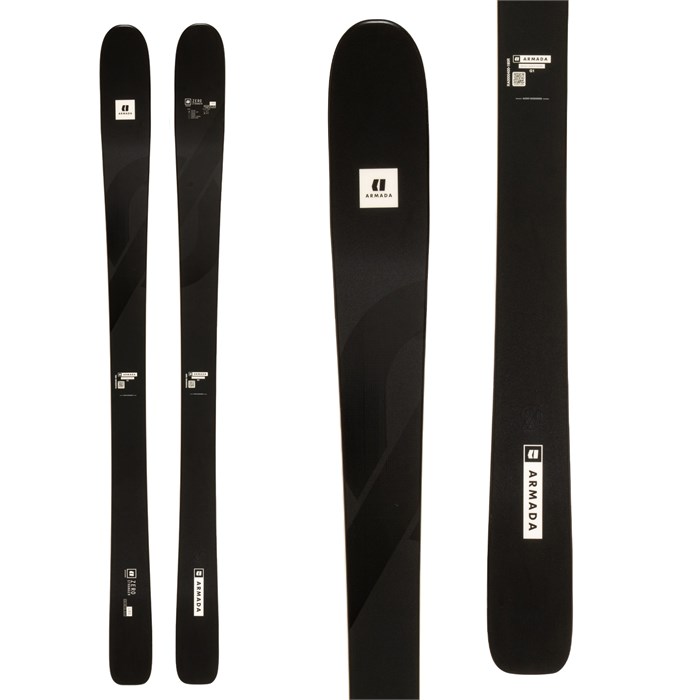 AR Freestyle Rocker
Poplar-Ash Core
AR75 Sidewalls
S7 Base
Impact edge
Armada is a huge name in the skiing gear industry. Their Stranger Skies are some of the best options that are available to intermediate skiers right now. The AR Freestyle rocker has a camber layer that provides extra stability and grip so that you can ski through any snow conditions easily.
The core of the skis is constructed out of poplar and ash layers. The ash layer is dense and adds strength to the skis while the poplar ensures that they remain flexible enough so that you can enjoy a powerful ride.
The AR75 Sidewalls are also an important feature of the Armada skis. The sidewalls maintain just the right amount of pressure so that making turns with these skis is relatively easier compared to other skis on the market.
The S7 base has a special element which increases the speed of the skis so that you can zoom down a mountain slope with no trouble while the impact edge keeps you safe and filters out excess vibrations from sudden jolts or bumps. This is definitely the right pair of skis for more aggressive skiers.
5. Line Skis Tom Wallisch Pro Skis 2024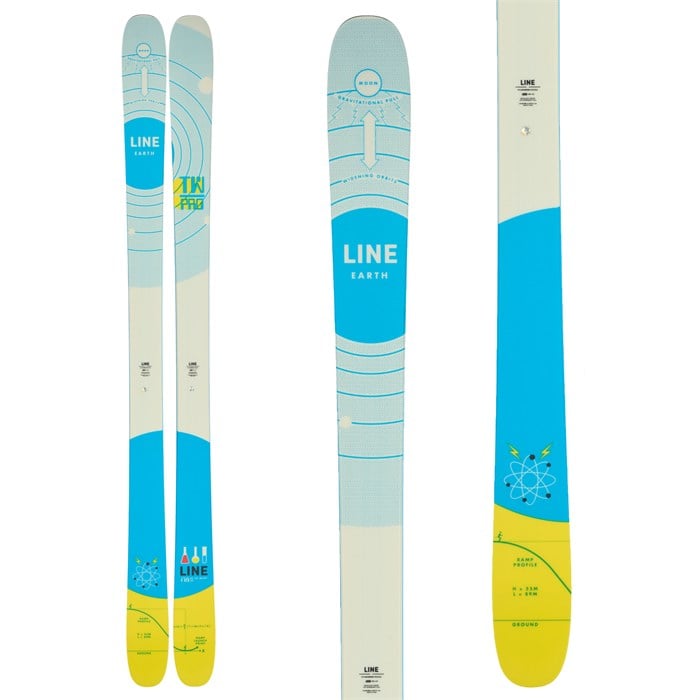 Early rise rocker
Early taper
5-cut side cuts
Thin tip
Maple core
Next, we have the Tom Wallisch Line Skis on our list today. These skis have a rocker design that is not commonly found in other skis on the market. This special rocker design is called the early rise and it means that the tip and the tail are well off the ground. Only the center of the skis remains closely in touch with the snow so that the skier can glide over the deepest snow with utmost ease.
An early taper is also incorporated into the overall design which means that the side cut narrows down towards the tip and the tail of the board so that the skis do not get caught up even in powdery snow. The side cut has a 5-cut design element that enables the skier to make turns more easily. And the thin tip on these skis helps maintain stability.
The core of these skis is made out of maple wood and aspen. Both the aspen and the maple give the skis strength and a greater lifespan even after a good amount of usage.
6. K2 Reckoner 112 Skis 2024 – Best Twin Tip All Mountain Skis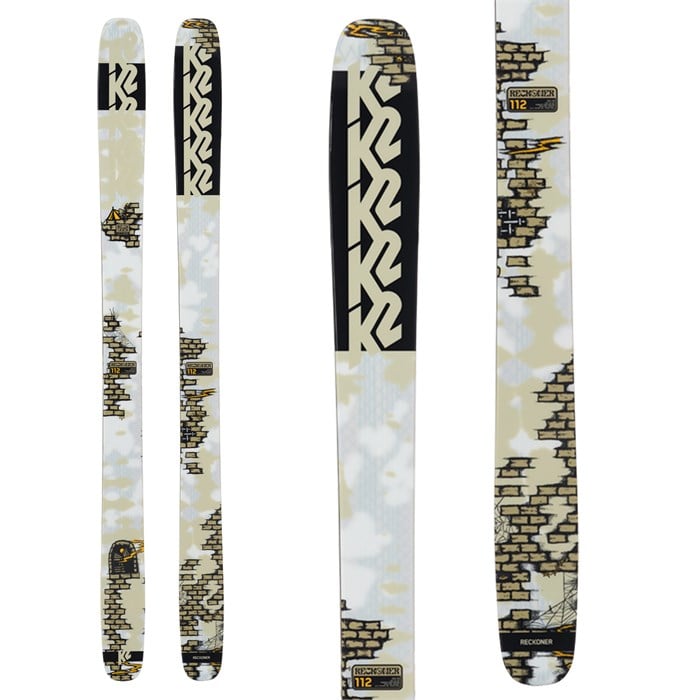 All-terrain twin rocker
Long turning radius
Double barrel core
Carbon fiber braids
Twin-Tech sidewalls
The K2 Reckoner skis are an amazing pair that you can rely on no matter what the terrain is like. The rocker is designed in a way to deliver high performance in all terrain types and snow conditions. The rocker also has a long turning radius which makes it extremely suitable for mountain skiing.
These pair of skis have a double barrel core made of fir and aspen. The aspen layer is added in the middle and it ensures that the skis will glide smoothly while the fir layers around the edges add strength and act as shock absorbers.
Two carbon fiber braids run through the core to keep the skis sturdy without adding any additional weight to the skis. And the twin-tech sidewalls also act as shock absorbers so that the skier stays safe under any circumstances.
7. Lib Tech UFO 105 Skis 2024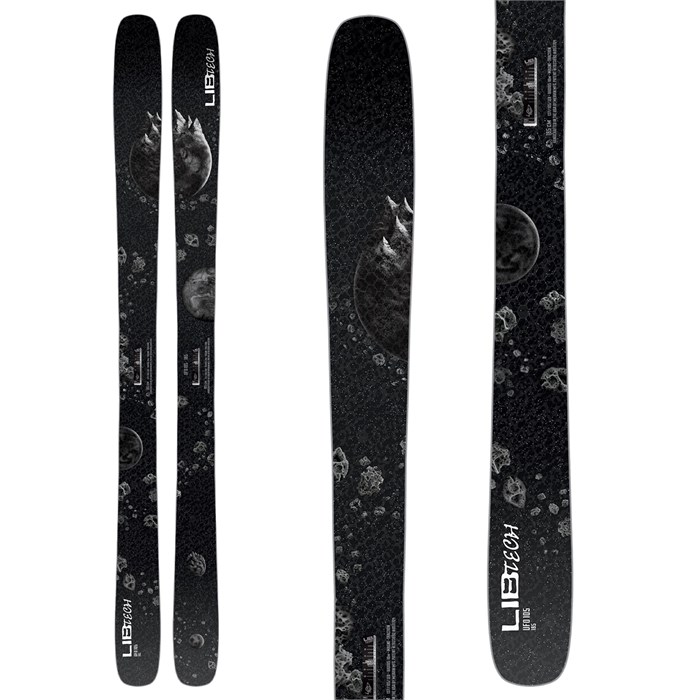 It's playful, stylish, freestyle ride, and only fun, Libtech makes sure that you love every inch of your skiing.
With the elliptical tip and tail, these skis made mid-length contact only. It lets you enjoy freestyle contour. You can be as playful as you like while fully controlling your skis. These skis have good flexibility with their flex lying at 6.5. It is somewhere between the stiff and soft flex.
The wood core is light in weight and allows you to be as lively as you can. It's stable and durable and gives enough strength to support your tricks. As for the laminates, it has triaxial and biaxial fiberglass.
The base sintered ultra-high molecular weight that makes it highly durable, fast, and sturdy. The same goes for the sidewalls. The edges are magne-traction that gives you full control in every condition.
On the whole, for the all-mountain terrain, there's nothing better than these skis for intermediate and advanced players.
8. Lib Tech Backwards Skis 2024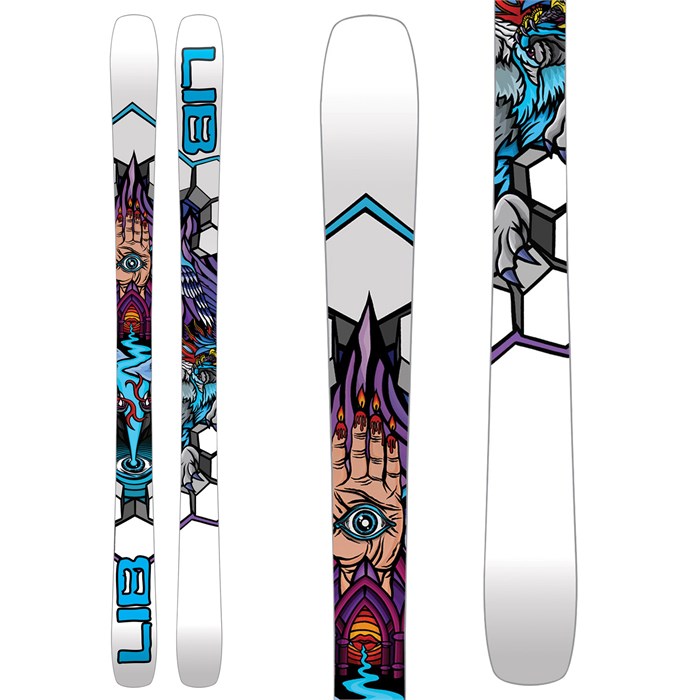 Park Contour
Wood core
Fiberglass laminate
Sintered UHMW Sidewalls
Serrated edges
The lib tech skis are made for park and pipe terrain. The RCR Rocker has a park contour with an early rise design. A layer of camber is also added to the rocker to maintain stability and keep the skier steady at all times.
The wood core is made out of only lightweight materials so that the skis can reach top speed in no time. The lightweight wood core also keeps these skis flexible and make it easier to turn. A fiberglass laminate is used to further strengthen the core without adding extra weight to the skis. The fiberglass also makes these skis more flexible and easy to handle.
The Sintered UHMW Sidewalls are designed to make the skis extra sturdy without any compromise on speed. The serrated edges make it easier to ski with less effort required so that you can ski all day without feeling too tired. So, beginner-level park skiers should definitely invest in a pair of lib tech skis.
9. Völkl Revolt 87 Skis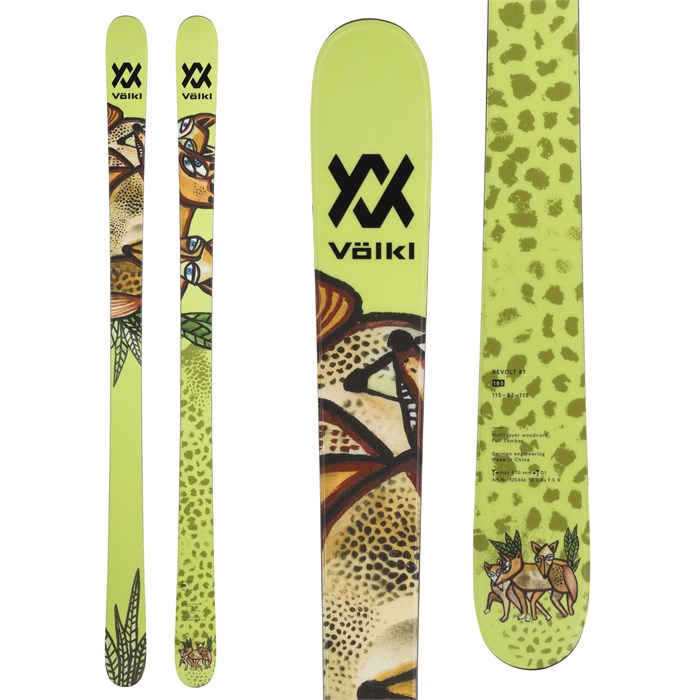 Camber rocker
Symmetric Twin Tip Shape
Multilayer Wood core
Full Sidewall
P-Tex 4500 Base
Volkl Revolt Skis are the choice of weapon of expert park skiers. The camber rocker is designed to help skiers glide over the hardest snow with ease due to the arched base of the rocker. The rocker also has a medium turning radius which is ideal for park and mountain skiing so it makes sense that seasoned park skiers prefer these skis.
These skis also have a symmetric twin tip shape which provide balance and allow you to ski in a versatile manner. A Multilayer Wood core is used to make these skis sturdy.
The maple wood used right in the center is dense and adds strength to the skis while the lighter aspen is used on the edges to provide the right amount of flexibility.
A full sidewall is also incorporated into the overall design of these skis. Its main purpose is to improve the power generation capacity of the Volkl skis. A P-Tex 4500 base makes up the underside of the skis.
It is made up of a dense polyethylene base that is resistant to wear and tear. The base is also sintered to improve wax absorption so that you get an extremely smooth skiing experience.
In fact, Volkl skis are valued for their streamlined bases because they are extremely sleek and can reach maximum speed in no time. They are perfect for competitive skiers who need to glide over the snow quickly to bag the top spot in races.
10. ON3P Jeffrey 110 Skis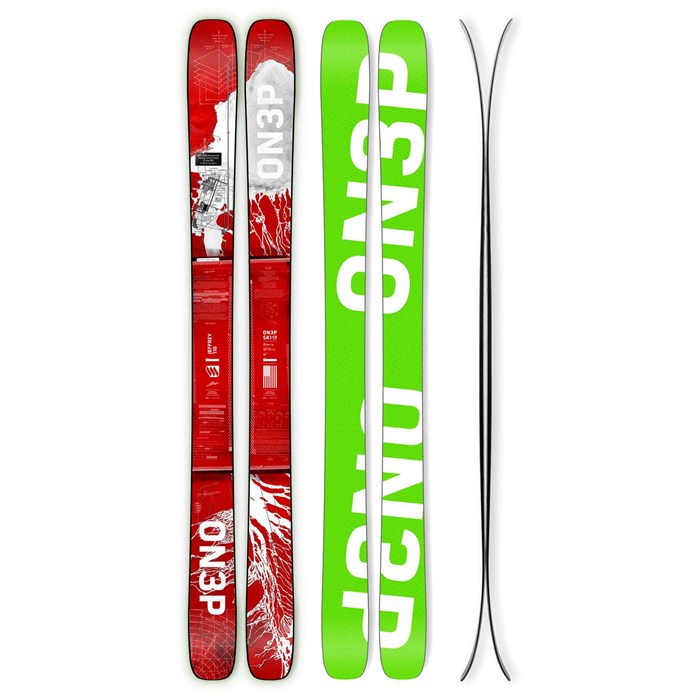 Aggression, versatility, agility, and efficiency, just name what you want and these skies are full of those exciting features.
These skis feature the elliptical rocker profile. The tip shape and rocker profile come together to mold the elliptical arc. Thanks to this construction, tips get greater speed in powder, enhanced edge running, and less deflection in variable snow. The elliptical rocker profile makes your skiing as natural as possible.
The core is 100% bamboo core which makes them highly responsive. These skis have vertically laminated bamboo for support and performance. The core is directly linked to the glass by incorporating carbon into the triaxial fiberglass later. This connection increases power and durability and keeps the skis' weight in check so you can ski the way you like.
With its hybrid sidecut, you get an elliptical arc in the middle that becomes smaller when going towards the ends. The tail further has the traditional radius. This side cutting gives you more drive and more fun in different snow types.
These skis are not going to crack at all. The sidewalls are made using ultra-high molecular weight polyethylene; this material is stronger to resist abrasions than steel even which makes it a highly likable material to use in skis. The extra thick edges lower the risk of delamination as well.
For the base, a durasurf sintered base is used that offers amazing gliding. Further, it keeps the skis protected from any harm. It is over 50% thicker than the other standard base material.
Made specifically for advanced players, these skis are perfect in every situation to give the best ride always
Twin Tip Skis Reviews for 2023
Our guide explains all the top features and pros of each one of the twin tip skis presented below:
Rossignol Free'ZB 118 cm
With over 100 years in the market, Rossignol is one of the top manufacturers of Skis and its related accessories. Free'ZB is their newer release which comes with Look Xpress 10 Ski Bindings.
Let's talk about the construction and design of this Skiboard. It is a 118 cm long full twin tip ski with ABS sidewall construction. If you were not previously familiar with ABS, it's a dense plastic material which is placed on the walls of a ski to protect the core.
Many people prefer ABS sidewall construction over cap construction. With a sidewall, you get more torsional stability, increased acceleration on the edges, dampened impact of vibration when you hit a rough corner and greater flexibility from one end to another.
Enhanced stability and power are achieved by Full 100% Camber Design and Centered Sidecut. Both the tip and tail are protected by 360 full wrap steel protectors.
Coming back to the Look Xpress 10 bindings – these are super lightweight and reliable. You don't have to mount them as they come pre-installed on your skis. It is compatible with a boot size range of around 4 to 12 US Size.
It enhances flex with its two-plate system. It allows for a DIN setting from 2.5 to 10 helping you to stay safe and protected. Moreover, you don't need any tools to adjust these bindings with an adjustment measurement between 258mm to 386mm which is definitely one of the widest ranges in the market.
Free'ZB is a unisex skiboard which comes in multiple colors. One skiboard has a weight of 2.4 kg and is a reasonable equipment for intermediate to advanced skiers. While this ski is perfect for All Mountain skiing, it works just great for parks and off trail as well.
K2 Press Skis – Men's
Established in 1962, K2 is considered one of the pioneer Ski manufacturers in United States of America. Being the leaders in the industry, they never fail to amaze us with their latest designs. Released in 2020, Press Skis is another addition to K2's twin tip line.
At its core, you will find longitudinal Carbon Boost Braid stringers which provide extra pop and strength. Made with Aspen and constructed using DuraCap molding process, Press Ski is all about resilience, durability and an overall lighter feel. Sidewalls are added for extra protection and stability.
A smooth transition and rise from tip to tail gives more control to the skier. It has a medium width and a very soft flex which allows you to ski through an all-mountain terrain with least amount of effort. Turning is also made easy with all-terrain rocker.
It's best suitable for a beginner who's ready to step in the park and then advance their way through to an intermediate level in the mountains.
Please keep in mind that Press Skis 2020 is specifically designed for Men. Also, as these do not come with Pre-mounted bindings, you need to purchase them separately.
Scott Scrapper 115 Skis
Scott Scrapper – the company that brands itself as "Innovators" – recently celebrated their 60 years Anniversary. They opened a new state-of-the-art Head Quarter in Switzerland which definitely speaks all about their innovation and technology.
115 Ski is a powder skiers' best friend. With a full-length laminate paulownia wood core and 3Dimensional sidecut, you get the best of both worlds – ultra lightweight flex combined with extra stability. The twin-tip rocker design enables you to float smoothly in deep snow.
It comes in two length configurations – 182cm and 189cm. 115 weighs around 1.7kgs – 1.8kgs and comes in a single color. Its turn radius is 23 meters. If you are someone that loves sliding their Skiboard sideways, then this is the perfect option for you.
Scott Scrapper 115 is paired with Marker Griffon 13 ID bindings which have an extremely powerful toe piece. Its triple pivot toe construction gives these bindings the ability to absorb an impressive amount of energy. You get enhanced support and excellent performance.
Griffon ID series has the latest Anti Friction Device (AFD) gliding plate for a perfectly timed release. Snow or debris never builds up in these bindings which allows for an uninterrupted release experience.
Armada ARV 106 Skis
A comparatively newer Brand, Armada was founded in early 2000s by a bunch of skiing enthusiast. They saw the ever-increasing rise in freeskiing and tailored their brand around this newly introduced style.
ARV 106 Skis, released in 2020, stood to the challenge of maintaining versatility along with control and precision. At its core, Poplar Ash is used which keeps it light in weight and gives it greater strength.
The Twin-tip shape makes it perfect for freestyle skiing and the AR75 Sidewall works great at absorbing high speed hits with walls or rails. AR Freestyle Rocker makes slashing through powder and carving groomers a dream. It has a flex rating of around 6.5-7 – leaning more towards the stiffer end. For enhanced control and grip, an underfoot camber is present.
It has a turn radius of 20.5mm and a length of 180cm. If you have a thing for funky designs, then this Ski is the one for you. It comes with ARV series Artwork created by Joram Roukes who's an artist known for his dark yet witty drawings. For many skiers out there, ARV 106 is definitely an all-rounder and a fan favorite!
Moving on to the bindings, this ski is paired with Tyrolia Attack2 13 GW Bindings. These are made with FR Pro2 Toe construction which supports a variety of all-mountain skiing. It's compatible with new Grip Walk Boot Soles. With a wide anti friction device and 4-13 DIN range, you will get great safety and enhanced functionality.
Fischer Stunner 111cm Jr
Finally, we have a great skiboard for Kids from Fischer – a company that's run by an Austrian family with a passion for skiing and a company focus on achieving socio-economic sustainability.
Stunner Skis features a full twin-tip design with special glass fiber technology. This technology gives much more room to the skier for some bending and turning action. The producers are able to reduce its weight by providing Air Power to the Ski Core.
Perfectly designed for Juniors, these 111cm long skis have FreeSki Rockers which ensure that your child doesn't have to put in a great amount of effort during initiation. The rockers are attached with an easy-to-maintain Extruded Base material.
For your Information – Many skiers get puzzled when it comes to going for an Extruded or Sintered Base. While it depends on the purpose of your skis, as a rule of thumb remember that Freestylers, beginners and young riders make the most out of Extruded Base.
Stunner has a two-piece Junior Railflex integration system for an enhanced transmission of power. It's most suitable for all-mountain, park and pipe terrain.
Now looking at the FJ4 AC Ski bindings for youth, these have Anti Friction Sliders (AFS) that are meant to provide more stability and a safer experience for your child. These have a DIN range of 0.75 to 4.5, making them ideal for beginners. For greater flexibility and better release, these bindings have FRP inserts.
Pros and Cons of Twin Tip Skis

In the final section of this article, we look at some of the Pros and Cons of selecting twin tip skis according to your skiing style.
Pros
Makes turning and maneuvering easy
A twin tip ski allows you to easily take turns and maneuver your way around a variety of terrains. It also makes skiing more flexible and is therefore the best option for newbies.
Allows Skiers to Jump and land Backwardly
If you have some jumping action and tricks up your sleeve, then a twin tip ski is definitely what you're looking for. With equal curve on both tip and tail, skiing forward or backward looks the same.
An All-Terrain Friendly Ski
Whether you take your twin tip skis for freestyling on rails or to an all-mountain skiing expedition, a twin tip ski will be there to give you the time of your life!
Cons
With a twin tip ski, you have a higher risk of getting in an accident thanks to its easy to float design. For aggressive skiers, these can be a bit of a threat.
Twin tip skis vs regular
Twin tip skis are for amazing maneuverability. They look like slender watch glass and are shorter than regular skis. Their tips and tails are wider than the center part.
What's the main benefit is that twin tip skis allow the skier to land or take off backward. Generally, twin tip skis are the same whether facing forward or backward.
Are twin tip skis good for beginners?
Formerly, it was considered that twin tip skis are for advanced skiers only, but not now. There are many benefits for beginners to select these skis.
These skis can turn easily without putting much effort which makes them advantageous for beginners to learn new tricks.
How do you choose twin tip skis?
For selecting the twin tip skis, the first thing to consider is the size. You need to select the right size to ski at its full.
Your own height will determine the length of your skis. You need to know the distance between your head and forehead from the ground. Your twin tip ski should touch the middle of your head and forehead when placed vertically on the floor. It is an ideal way to select the type.
The pro tip is to select a bit shorter skis when you are new to skiing. Approximately, around 5 cm shorter skis could do the job. They are easier to control.
On the other hand, take a bit longer skies when you are an intermediate or an advanced player. It will add more to your performance.
Along with the size, you must also know the type of your skiing before selecting the twin tip skies. Wider twin tip skis give greater speed and amazing performance. Slightly turned-up tips and tails are flexing and allow you to turn and spin the skis easily. The longer blade twins are ideal for all-mountain skiing and perfect for most surfaces.
In conclusion, we looked at the best twin tip skis available in the market as well as the pros and cons attached with them. Hopefully, this article will allow you to make an informed decision!
Related Articles:
Ryan grew up with snow, so he has an endless passion for skiing and snowboarding and everything around these.