If you have a hard time figuring out which hybrid ski boot to purchase the don't worry. We have got you covered with this list of the best hybrid ski boots of 2023.
The Winter is now! And that means it's time for some winter sports. If you are into skiing then you probably already know the importance of having a good quality hybrid ski boot.
Related:
Best Hybrid Ski Boots 2023 – 2022
#1. Atomic Hawx Prime 130 Professional GW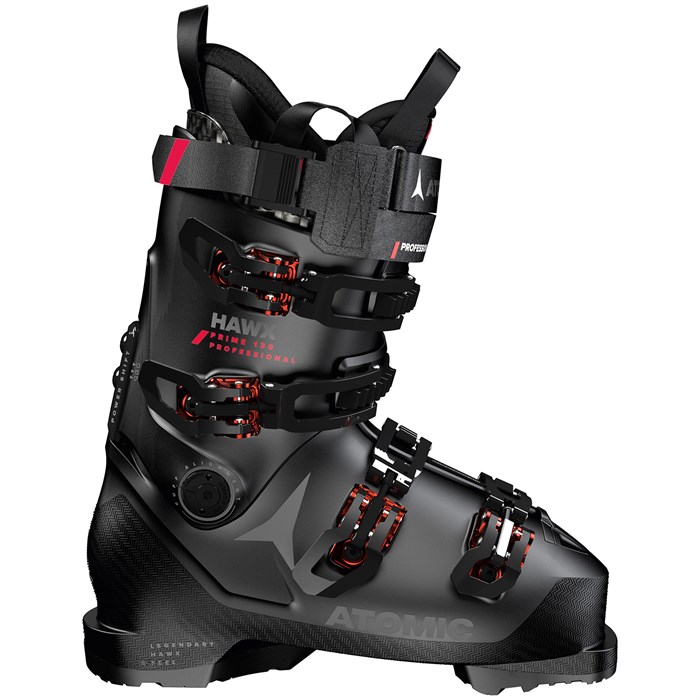 The Prime 130 is one of the best hybrid ski boot from the Atomic Hawx line. It is specifically designed for veteran skiers who want a boot that will deliver high performance with no compromise on safety.
These hybrid ski boots are made using cutting-edge Memolink technology that allows the plastic in the outer shell to expand more than ever before so that the shell of the boot is molded to the exact shape of your feet.
The liner too has special foam compounds that are designed to mold themselves to the contours of your feet for a truly customized fit.
The Prime 130 are also extremely lightweight because they are constructed out of a basic prolite shell that is reinforced in key areas with additional attachments. One such special attachment is the energy backbone that provides extra strength and an enhanced grip.
These Atomic ski boots have a flex rating of 130 which is adjustable. The Power shift screw on the back of each boot allows you to adjust the forward leans of these boots by up to 2 degrees.
Features:
Customized fit
Mimic professional liner
Prolite shell with energy backbone
Flex 130
Power Shift Screw
---
#2. Tecnica Mach Sport MV 85 W Heat – Women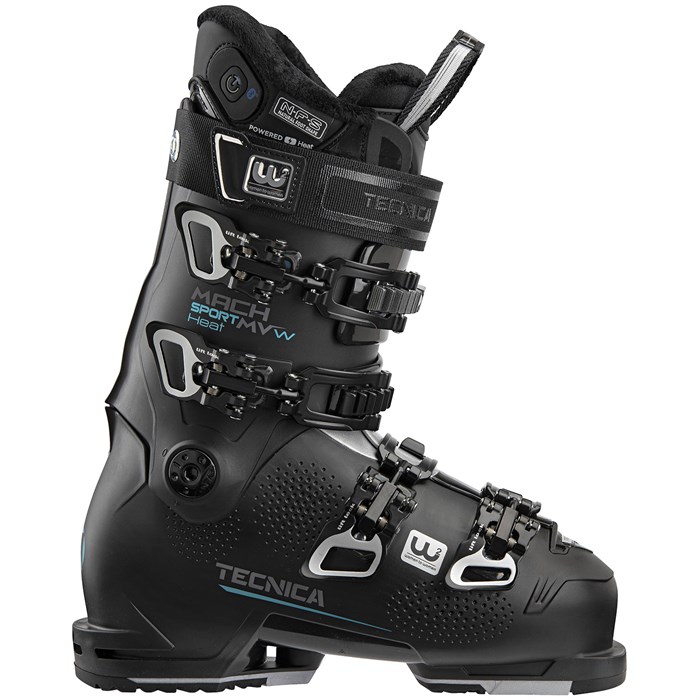 Ladies, pay attention! Tecnica has a hybrid ski boot just for you! The Mach Sport hybrid ski boots combine both comfort and safety with optimal performance to deliver a smooth skiing experience. The flex rating for these hybrid ski boots is 85 so they are meant for fairly beginner-level skiers.
The outer shell is made out of polypropylene and follows a custom adaptive design to provide an unmatchable fit. The shell also has an in-built flap which provides an easy entry for the instep.
The softer flap helps with opening up the shell easily and makes it convenient to wear these boots. A 35 mm power strap is also attached to the top of the boot and it helps support your lower legs to protect against sudden jolts.
The best thing about the Tecnica ski boots is the inner lining which combines a state-of the art heating mechanism that keeps your tippy toes nice and toasty. And here is where science fiction becomes reality: the heating in the liner can actually be controlled through a smartphone app!
Features:
Polypropylene shell
Easy entry instep
Flex 85
Liner with heating system
35 mm power strap
---
#3. Dalbello Panterra 105 W ID GW – for Women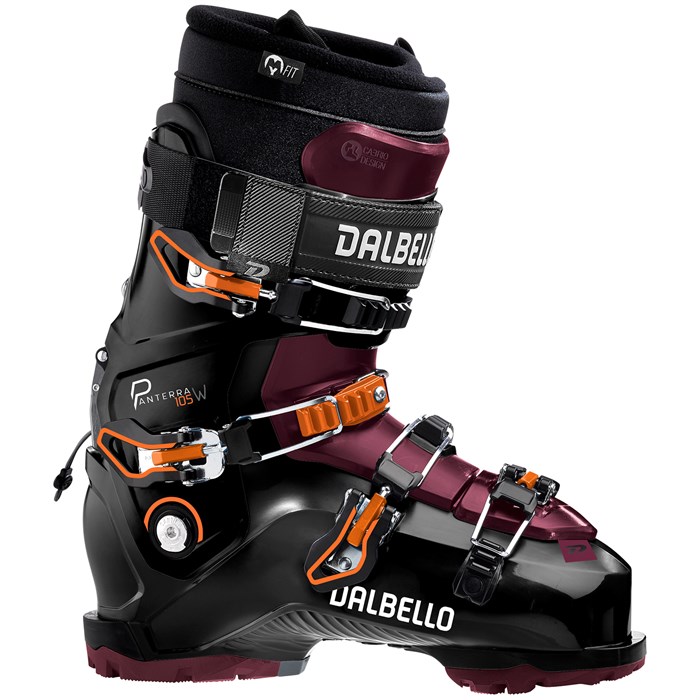 Next up, are the Dalbello Panterra hybrid. They are made of a tri-part shell with a low hinge point. The low hinge cuff enhances the skier's mobility for a smoother gliding experience.
The flex rating for these boots is 105 which can be adjusted using the in-built flex control panel so that they are more in tune with terrain conditions.
The liner under the shell is heat moldable and it takes only a few minutes for it to shape itself according to the contours of your feet. It is made out of the most lightweight materials so that it does not add additional weight to the boots so that you can enjoy skiing comfortably.
The cuff at the top of the Dalbello hybrid ski boots is removable so that women can better adjust it to the size and shape of their lower legs.
To maximize safety, an inverted forefoot buckle is provided at the front of the boot. This buckle locks in on the top of the boot rather than the sides so that it doesn't tear off in case of a fall.
Features:
Tri-part shell with low hinge point
Heat moldable liner
Flex Control
Removable cuff
Inverted Forefoot Buckle
---
#4. K2 Anthem 85 MV – for Women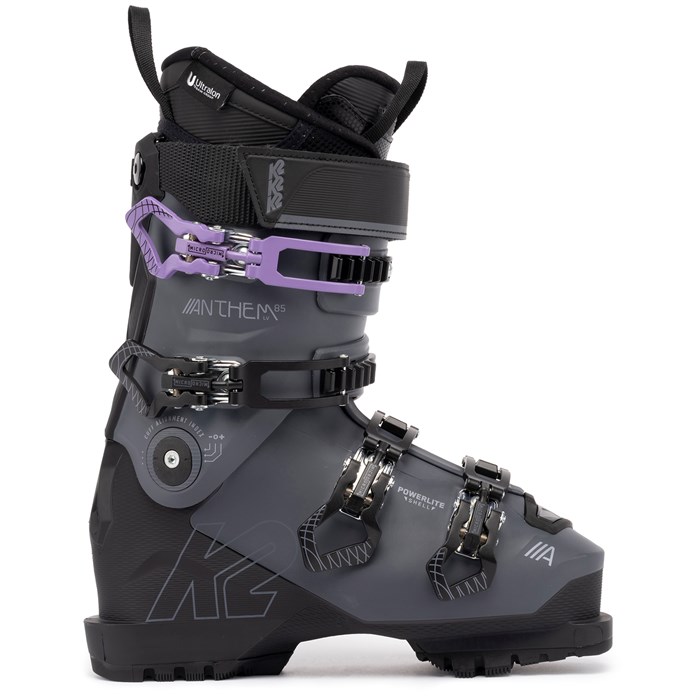 The K2 Anthem hybrid are another great option for beginner level skiers. They have a flex rating of 85 so they are perfect for women who are just starting out on their skiing journey!
The shell is made out of both hard and soft Thermoplastic Urethane so that the boots are lightweight yet sturdy. A power fuse spyne is attached at the back of the shell to provide additional support to your feet and keep you steady on the skis.
An adjustable polypropylene cuff and 4 micro-adjustable buckles are also attached to the shell. They help you adjust the boots to your liking depending on your weight and the condition of the slopes.
Features:
Thermoplastic Urethane Shell
Lightweight shell
Power-fuse spyne
Adjustable Polypropylene cuff
Micro-adjustable buckles
---
#5. Salomon S​/Max 120 GW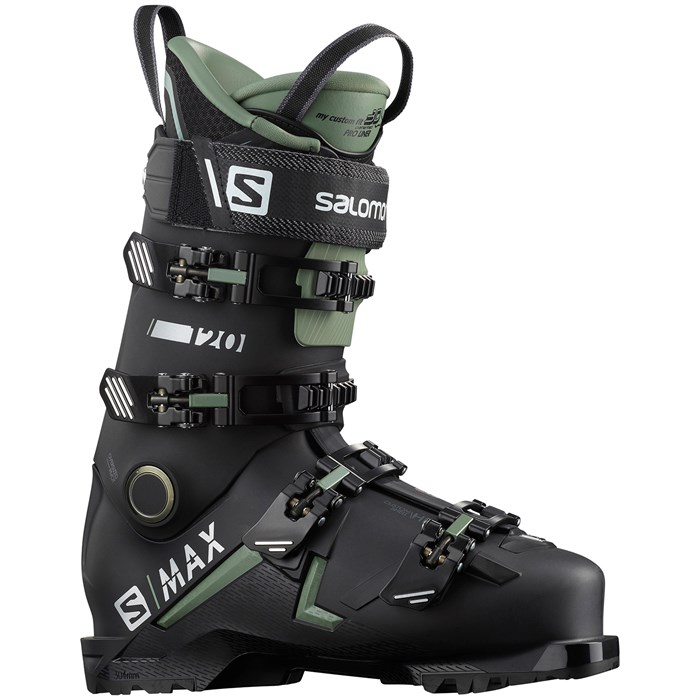 The Salomon hybrid is another great option for advance-level skiers because they have a flex rating of 120.
The shell also has a unique design with a fiberglass core-frame. The outer shell walls are made out of a thin polyurethane layer which brings your foot into closer contact with the boot walls so that you get a lot more terrain feedback.
The fiberglass core-frame adds stiffness to the shell without making it heavy. Moreover, the aluminum buckles on the shell provide a more customized fit.
Plus, the oversized pivot provides extra precision and power transmission. This pivot is especially convenient if you are using wider skis because it provides the extra power needed to ski fast on larger skis.
Features:
Thin polyurethane shell
Fiberglass core-frame
Oversized pivot
Flex 120
Adjustable aluminium buckles
---
Conclusion
We hope that the information in this guide will help you make an informed decision when purchasing a pair of hybrid ski boots. Happy Shopping!
Ryan grew up with snow, so he has an endless passion for skiing and snowboarding and everything around these.