There are two things that a good pair of ski boots must have: comfort and high-performance. So, to help you find just the right pair we have put together this list of the best park ski boots in 2023.
Any park skier worth their salt will tell you that a good pair of park ski boots is essential if you want to perform park skiing tricks.
Related:
Best Park Ski Boots for 2022 – 2023
Please swipe the screen from right to left to see more columns (on Your mobile).
Some of Top Park Ski Boots Reviews for 2022-2023
---
#1. K2 BFC 100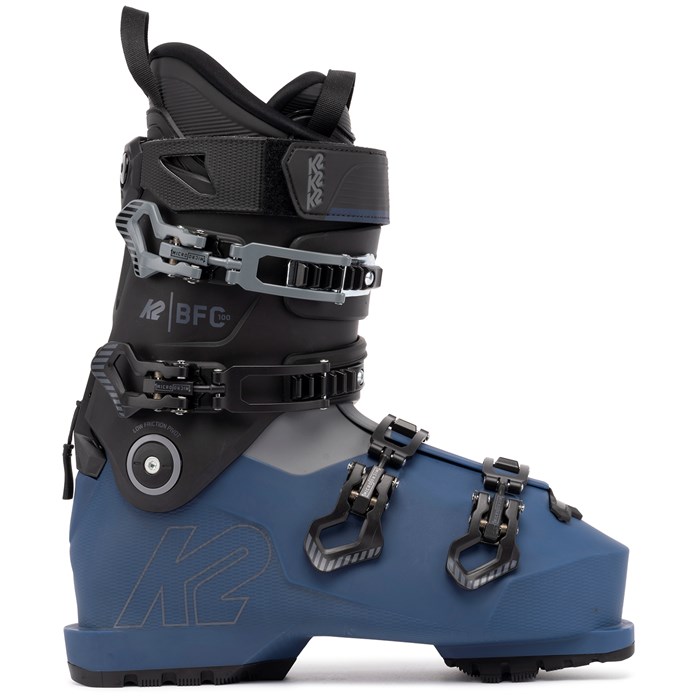 The K2 Ski boots are designed to maximize both speed and agility. The shell and cuff of these ski boots is made of Thermoplastic Urethane. A special feature of these ski boots is that the shell and cuff are integrated which allows for a smoother skiing experience.
The rear of the shell is Y-shaped. This unique design makes the K2 ski boots extremely impact resistant no matter how rough the terrain. These ski boots also have a lock on the back.
It allows you to unlock the boots to switch to walk mode and vice versa. So you both can walk and ski comfortably with these boots unlike other ski boots that are available on the market right now.
Moreover, the inside of the K2 ski boot is lined with a thick foam liner to protect your feet even if you spend all day skiing.
Features:
TPU shell and cuff
Impact-resistant shell design
Integrated shell and cuff
Foam liner
Dual mode ski boots
#2. Tecnica Cochise Team – for Kid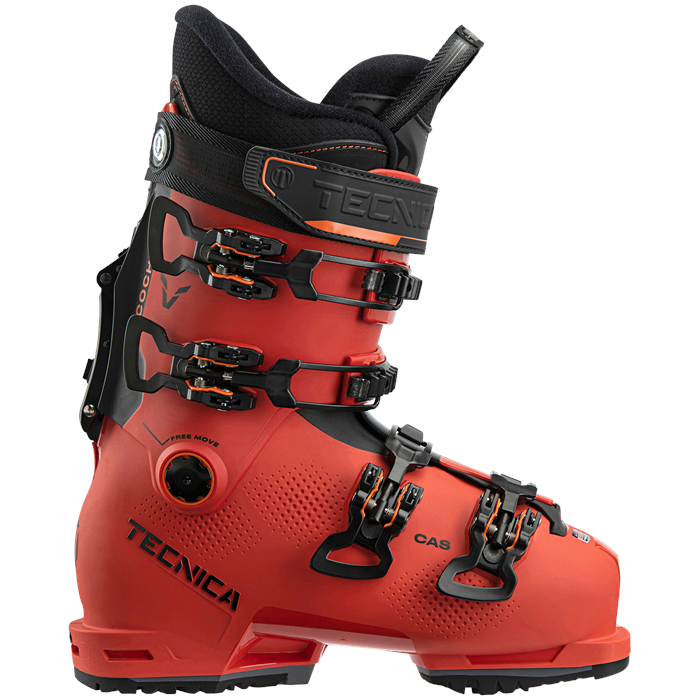 The Tecnica Ski boots are perfect for those of you looking for a comfortable pair of ski boots for your kids. They provide both comfort and safety so they are perfect for kids who are just starting out.
These boots have a custom adaptive shell which is lined with a sport celliant liner. The minerals in the liner convert body heat from your feet into infrared energy so that the heat stays trapped around your feet. So, there is no chance of you catching a chill with these ski boots on!
The mobility cuff helps you switch between ski and hike mode. It also increases your range of motion while the adjustable buckles and power strap provide additional support for your calves and feet so that you can safely ski downhill without straining your legs.
Features:
C.A.S Shell
Sport Celliant Liner
Mobility Cuff
Adjustable Buckles
Power Strap
---
#3. Lange LX 70 W – for Women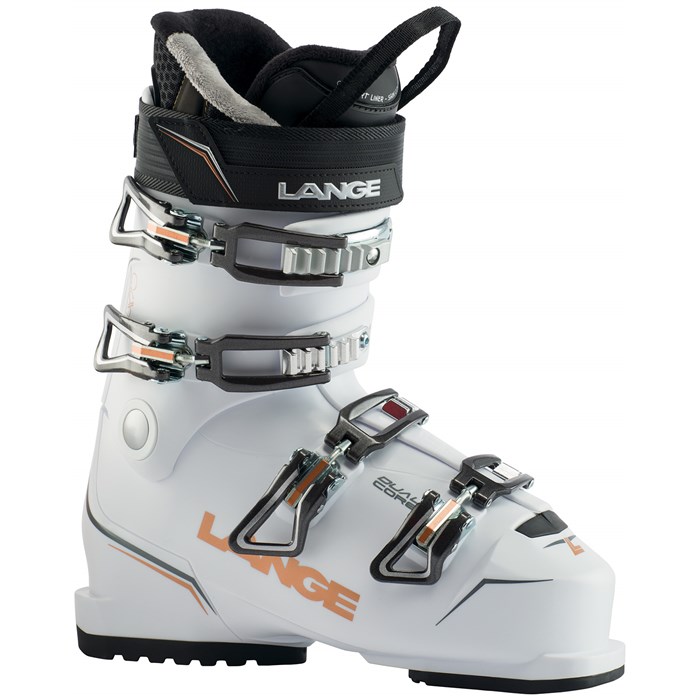 This boot that caters exclusively to women! The Lange LX have a shell that is designed keeping in mind the shape and size of a woman's foot.
It is a dual core shell that has a soft plastic inner covering to maximize comfort and a hard plastic outer covering for stiffness and strength. The flex rating of these boots is only 70 which means they are ideal for beginners.
The shell also has an additional soft plastic flap that is designed to make it easier to wear these boots. The liner also has additional padding for enhanced safety and comfort while the aluminium buckles and power strap can be adjusted to provide extra support to the legs and feet.
Features:
Flex 70
Dual Core Shell
Soft plastic flap
Comfort liner
Aluminium buckles
Power Strap
---
#4. Nordica Speedmachine 120 GW
Nordica is a giant in the ski boot industry. This brand produces some of the most top-notch skiing gear and their park ski boots are no exception!
The Speedmachine boots in particular are especially designed for park skiing pros because they have flex rating of 120. The extra high flex rating gives these boots the necessary stiffness needed to perform the most advanced feats in the world of park skiing.
The outer shell of these ski boots is made out of polyurethane which is lightweight yet sturdy. The shell also has a clever overlap mechanism which makes the shell waterproof so that your feet stay nice and toasty even in the iciest conditions.
The soft liner inside the boots is heat-moldable which means that it will conform to the exact shape and size of your feet for a truly customized fit.
A wide power strap is also attached to the top of the boot. This strap provides some additional support to your lower legs so that you can safely perform any park skiing feat! The best thing is that the Nordica boots are available in multiple sizes so anyone can purchase a pair of these bad boys.
Features:
Flex 120
Heat-moldable liner
Water-proof shell
Power strap
Available in a range of different sizes
#5. Full Tilt Descendant 100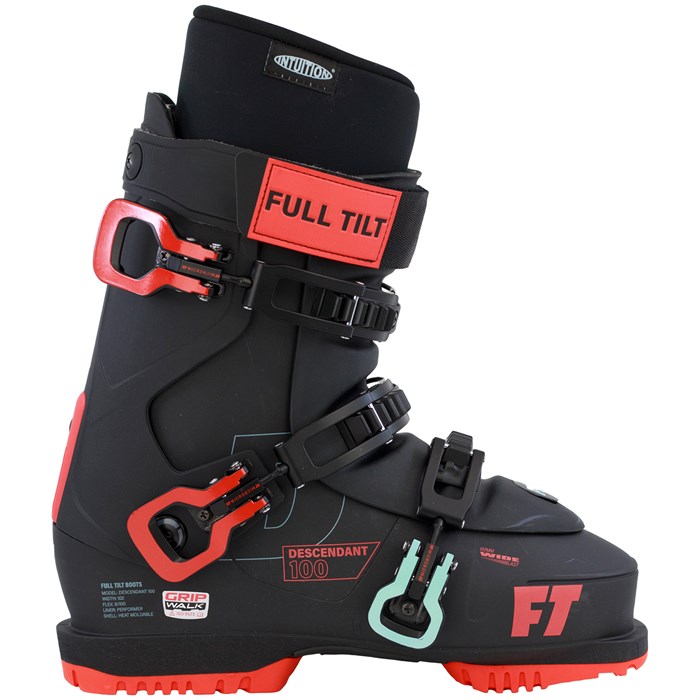 The Full Tilt Descendent Ski boots are another solid option for park skiers- specifically our hobbit-footed friends. Why? Because these ski boots have a high volume shell with an extra-large last size of 102mm.
This means that even if you have a wider foot shape you can still comfortably wear these boots without feeling any pinching sensation.
Plus, the Descendent boots have a range of additional features that other run of the mill ski boots can't boast of. Take the shell on these boots. Each shell has a special rubber attachment at the bottom that is designed to deaden the impact of any sudden shock like a fall.
And that's not all! The liner under the shell has additional padding around the sensitive ankle area so that you don't twist your ankle while making a sharp turn. So, top marks for safety features!
To top it all off, these ski boots are compatible with multiple soles from the GripWalk Outsoles to the special Mid-grip one. So you can use these ski boots on all types of terrain!
Features:
Extra-large Last size
High volume shell
Extra padded liner
Shock resistant shell
Compatible with multiple soles
How Tight Should Park Ski Boots Be?
Park ski boots should fit snugly but not too tight. It's important to have a good fit to ensure proper control and performance on the slopes, but if the boots are too tight, it can cause discomfort and even pain while skiing.
When trying on park ski boots, it's recommended to wear thin socks and make sure your heel is firmly in place in the boot. You should be able to wiggle your toes, but your foot should not be able to move around inside the boot.
Additionally, there should be no pressure points or areas of discomfort.
Keep in mind that ski boots tend to pack out or stretch over time, so you may want to consider a slightly tighter fit when purchasing new boots.
It's also important to have your boots professionally fitted by a trained ski boot fitter to ensure the best possible fit for your feet and skiing ability.
Conclusion
With so many great options to choose from we are sure that you will be able to find the right pair of ski boots for yourself. There is something for everyone on this list!
Ryan grew up with snow, so he has an endless passion for skiing and snowboarding and everything around these.