If you are reading this you already know how difficult it is to find the perfect ski boots that provide style and comfort without compromising on performance. So, to make things easier, we have put together this list of the 10 best ski boots for intermediate skiers in 2022 – 2023 so that you can make an informed purchase.
Related:
Best Ski Boots For Intermediate Skiers 2022 – 2023
Best Intermediate Ski Boots for 2023 Review
The best ski boots combine exceptional performance with comfort and style. So stay tuned, as we take you through the best intermediate ski boots that you can get your hands on 2023.
1. Salomon S​/Pro 120 GW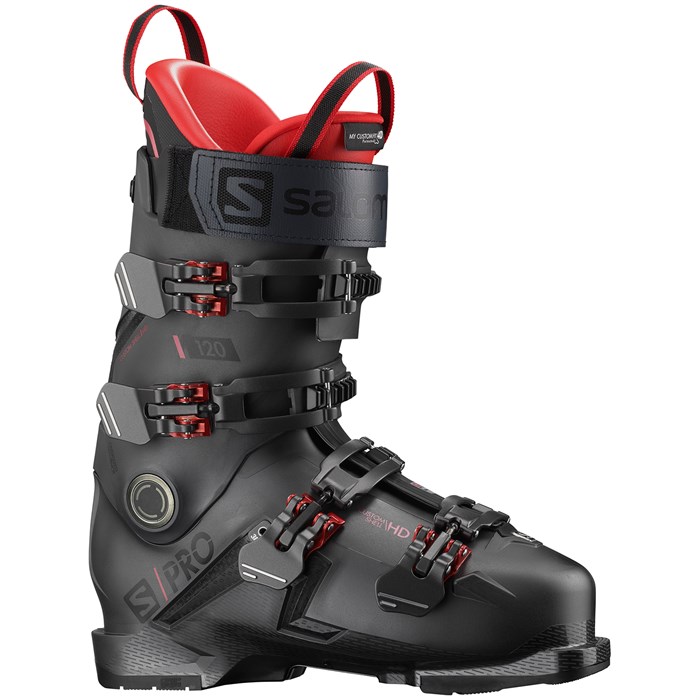 First up, we have the Salomon GW that have a flex rating of 120 so these boots are super stiff and are ideal for veteran skiers. These boots have a custom shell that is made using a core frame construction technique.
Using this technique, the team at Salomon have created a boot that has thinner walls that are reinforced with a core material that strengthens the shell. So the shell is robust yet has walls that can provide more terrain feedback compared to your average boot.
The boots also have a sense amplifier cuff and you can adjust the strap to tweak the overall stance of these boots. So you can adjust the rebound and forward lean to your liking. Plus, the boots are lined with a seamless liner that is customized to match the exact inner contours of the boots so that you are guaranteed a warm cozy fit.
Finally, these boots feature an oversized pivot which ensures a smooth power transmission between the cuff and shell.
Features:
Custom Shell HD
Core-Frame Construction
Sense Amplifier Cuff
Seamless Pro Liner
Oversized Pivot
2. Salomon S​/Pro 100
If you need any type of skiing gear Salomon is the way to go. From ski bindings to ski boots they have got you covered. Now, let's take a closer look at their S/Pro 100 to see what they have to offer.
The Custom Shell on these ski boots is especially designed for a quick molding process so that you can break in these shoes faster than ever before. The quicker molding allows for a better fit so that you can enjoy maximum comfort and control.
The material used for the shell construction is polyurethane which is reinforced using a fiber glass core frame. The thinner polyurethane walls allow for closer contact between your feet and the walls of the ski boot so that you get enhanced terrain feedback.
A sense amplifier cuff is also built into the outer shell. This cuff is adjustable and can be made to suit the shape of a skier's lower legs. This provides extra support to the lower legs so that they stay securely in place during a ski ride.
Plus, the Salomon cuff is designed to provide a quicker rebound which is pretty awesome if you want to try more aggressive skiing.
Another great thing about these ski boots is that the custom liner under the shell is seamless. This new liner design provides better control and it is a lot warmer than previous liners.
The S/Pros also have 4 micro-adjustable 3D buckles made of aluminium. They allow you to customize the fit according to the shape of your feet so that you get a stronger and more personalized foot hold.
Features:
Custom Shell
Shell designed for maximum power transmission
Sense Amplifier Cuff
Custom fit liner
4 adjustable buckles
3. K2 BFC W 95 Heat – for Women
Now, let's talk about boots made especially for the ladies. Who said you can't ski without giving up comfort and style?
For starters, we have the K2 Heat that have a flex rating of 95 which makes them suitable for beginner and intermediate level skiers. The shell is made from a thermoplastic urethane shell and the cuff is made from a robust polypropylene material.
These boots are lined with a futuristic liner with a cutting edge thermic heat system that is powered by batteries built into the liner itself. The heat system provides warmth for up to 19 hours when fully charged.
The boots also have a walking switch so that you can switch between walking and skiing mode swiftly. Four micro-adjustable lightweight buckles line the outer shell. They are made of aluminum and keep your feet locked in securely throughout the entire ride.
Features:
Thermoplastic Urethane Shell
Polypropylene Cuff
Thermic Heat System liner
Walking Switch
Micro-Adjustable Lightweight Buckles
4. Dalbello Panterra 90 GW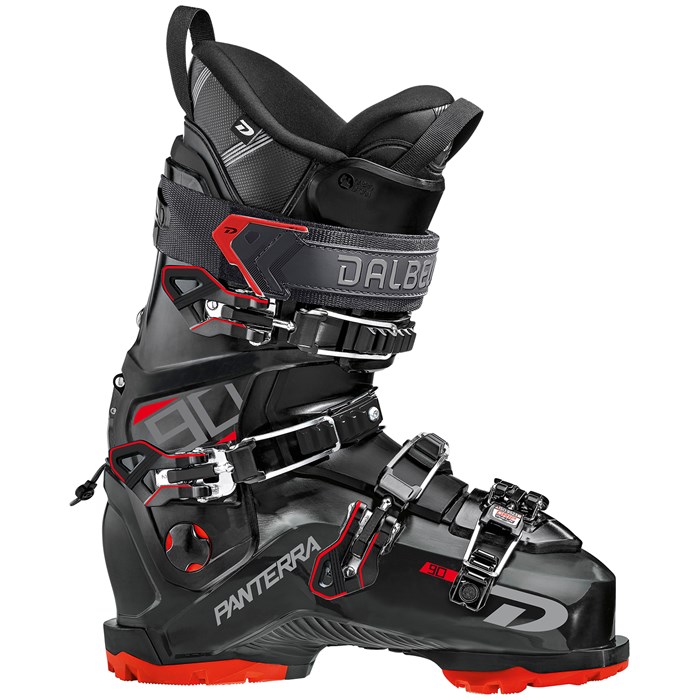 Next on our list today are the Dalbello Panterra. They are one of the most well-constructed and comfortable ski boots that you can get right now. The outer shell and cuff of these ski boots are made out of DB Hyperlite while the tongue part of the shell is made out of polyurethane.
Unlike other ski boots the Panterra boots have an additional perk which is the extremely low hinge point on their cuffs. This low hinge point provides the skier with more flexibility and an improved range of motion.
This way the skier has more control over their movements and can perform a smooth glide down any slope.
To maximize comfort, the ski boots are lined with a special sport liner. This liner is made out of moldable foam. When you purchase a new pair of these boots the lining is gently heated so that when you slip your feet into these boots the lining will adjust itself to the size and shape of your feet for that perfect fit.
Another benefit of using Panterra ski boots is that they come with an in-built flex control panel. This allows you to make slight adjustments to the stiffness of the boot so that it is more aligned with your skill level.
Intermediate skiers usually prefer a stiffer boot and the flex control panel allows you to tweak the stiffness to your liking.
5. Rossignol Track 110
The Rossignol Track is a pretty solid choice of foot gear for any intermediate skier out there. These heavy-duty ski boots have an outer shell and cuff that is made out of polyurethane.
The shell on these boots is designed using a sensor matrix which is a grid positioning feature. This unique characteristic allows for a lightweight boot without compromising on power transmission or stiffness and boot strength.
A custom T3 liner is placed under the outer shell. This liner has additional padding around the ankle area for maximum protection of your joint. While the heel area is made out of stiffer material so that it receives more support and stays securely in place.
A special insulation membrane made out of aluminium is also fitted into the liner. This keep heat locked into the boot so that your feet stay warm even in extremely icy conditions.
Lastly, the Rossignol boots feature a dual mode aluminium lever that allow you to easily switch from ski mode to hiking mode by simply pulling on the tab attached to the lever.
6. Atomic Hawx Magna 130 S GW
Next, we have the Magna GW from the Atomic line. These boots have the highest flex rating of 130 so these are another good option for seasoned skiers. The cuff and shell are made from a lightweight yet durable polyurethane material.
The best thing about these boots is the memory fit. Atomic uses special Memolink technology to create a boot that fits the exact contours of your feet. That's not all, the boots are also lined with a platinum liner for an anatomical fit that keeps your feet safe and comfortable.
To protect your feet against the elements a layer of Thinsulate is inserted into the boots that keeps the chill away from your toes.
Finally, the boots are equipped with a power shift which helps riders adjust the forward lean of these boots by up to 10 flex points using the power shift screw.
Features:
Polyurethane Cuff and Shell
Memory Fit
Mimic Platinum Liner
3M™ Thinsulate™ layer
Power Shift
7. Tecnica Mach1 LV Pro W – for Women
The Tecnica Ski Boots also designed exclusively for women. These boots have a flex rating of 120 and are a match made in heaven for dedicated female skiers.
These boots have a Custom Adaptive Shape Shell which is molded and shaped for a better fit. The cuff is made of polyester and has an additional spine insert which is made from fiberglass and adds extra strength to the cuff.
The boots also have a full liner which is made from a dual density micro-cell material that is durable and provides an optimal fit for your feet. The liner comes pre-customized and is thermos-molded and shaped to fit your feet in the best possible way.
The boots also have a quick instep feature that makes popping on these boots a breeze! Lastly, the power lock strap on these boots provides extra stability and control so that you can maneuver expertly on the snow.
Features:
Custom Adaptive Shape Shell
Polyester Cuff
Full C.A.S. Liner
Quick Instep
Power Lock
8. Atomic Hawx Ultra 100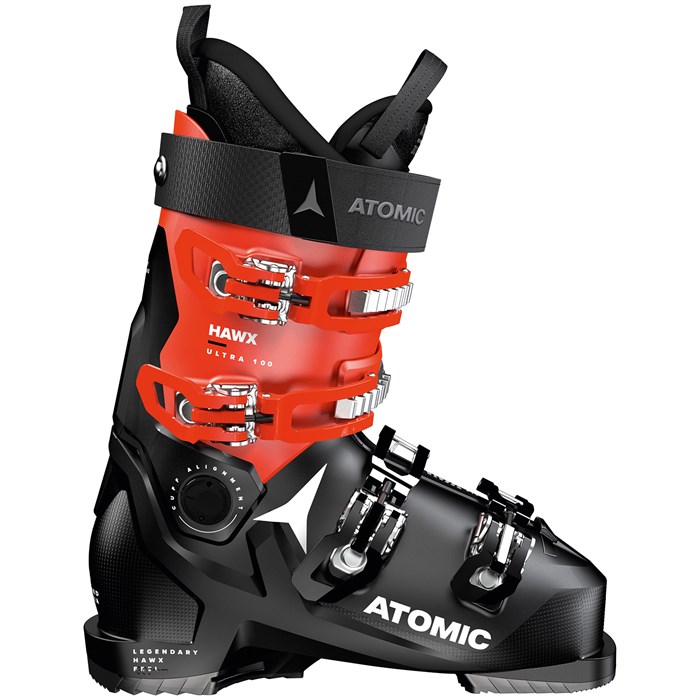 The Atomic Hawx Ultra 100 is another contender for this list and with good cause.
Not many ski boot lines cater to people with narrow feet but the Atomic line does not disappoint. With a last size of 98mm the Atomic line features some of the smallest ski boots on offer so that people with smaller and narrower feet can also get in on the skiing action.
Next, the Atomic ski boots also stand out in the customized fitting department. They use a special Memolink material in their shell which makes the boots more moldable than other ski boots out there. The Memolink gives the plastic shell more flexibility so that when heated it expands to fit the exact shape of your feet.
The construction of the Atomic boot is also quite unique. The outer shell of the boot is made out of a material called Prolite which ensures that the boot retains its lightweight nature while remaining sturdy at the same time.
To reinforce this lightweight shell an energy backbone is also built into the shoe. This backbone provides the ski boot with the stiffness and strength that is needed for intermediate skiing while making sure that the boots do not weigh heavily on the feet.
So, this is definitely a pair of ski boots that combines strength with comfort.
9. Nordica Sportmachine 100
The Nordica sportmachine 100 are an excellent choice for people with larger feet. These boots have a last size of 102mm which allows them to easily accommodate feet than are a little on the larger side.
Even better, Nordica offers a Tri-Fit technology for custom fitting. Once you purchase a pair of Nordica ski boots, the staff uses an infrared mechanism to heat up the liner and the boot shell so that when you put your feet into the boots they will conform to the exact contours of your feet.
This way you get the most customized fitting ever which will be just as good as getting custom-made ski boots for yourself.
The sportmachine ski boots also have an adjustable cuff that can be tightened or loosened depending on the size of your lower legs. This provides greater support to your calves so that they are better protected during a high-speed ski run.
Furthermore, soft flaps on either side of the stiff outer shell aid in an easier and more comfortable instep entry. A wide power strap is also provided at the top of the boot. This can be adjusted to fit your leg more securely for better performance on the slopes.
The Nordica ski boots are compatible with ISO 5355 Alpine High Traction Soles and have a flex rating of 100. This means that the boots are stiff enough for more advanced level skiing yet retain some of the comfort found in boots with a lower flex rating.
Features:
Tri-Fit Technology
Adjustable Cuff Profile
Comfortable instep entry
Power Strap
Compatible with high traction soles
---
10. Full Tilt Plush 90 Ski Boots
Moving on, we have the Full Tilt Plush 90 that are hands down the best option for women on the market right now. These boots have a moldable evolution shell. The shell is moldable and provides a personalized fit for all feet size and shapes including wider feet. So bonus points for body-positive design! In fact, these boots also have a specially designed cuff for women to provide a truly anatomical fit.
These boots have a performance liner with an added foam layer for max comfort and cushioning. It has additional J-bars to protect the ankles and hold them in place. But the highlight of these boots is definitely the Shock Absorber Boot Board that is an extra rubber layer under the shell which keeps your feet safe from bumpy trails.
Features:
Moldable Evolution Shell
Women's Cuff
Performer Liner with foam layer
J-Bars
Shock Absorber Boot Board
---
Things to look for when choosing the Intermediate Ski Boots
Before choosing a ski boot make sure it has:
A stiff yet lightweight shell for both comfort and high-performance
An adjustable cuff with low hinge point for better range of motion
A heat moldable liner for a customized fit
Adjustable buckles and a power strap for extra leg support
A heat insulation membrane to keep your feet warm
A flex rating of around 100
Conclusion
We hope this informative guide will help you choose the best ski boots for intermediate skiers. All the boots on this list have some unique features which help them stand out from the rest. You are sure to find something on this list that suits you perfectly and fulfills all your skiing needs.
Ryan grew up with snow, so he has an endless passion for skiing and snowboarding and everything around these.