As a passionate skier, you're always ready to sail through the unforgiving snow, navigate around the rough terrains and crush your way downhill. This keeps you on the lookout for better and more advanced equipment. You spend hours searching for the best skis for advanced skiers.
Well, look no further as we're here to assist you in finding the perfect match according to your needs.
Related:
Top Picks Skis for Advanced Skiers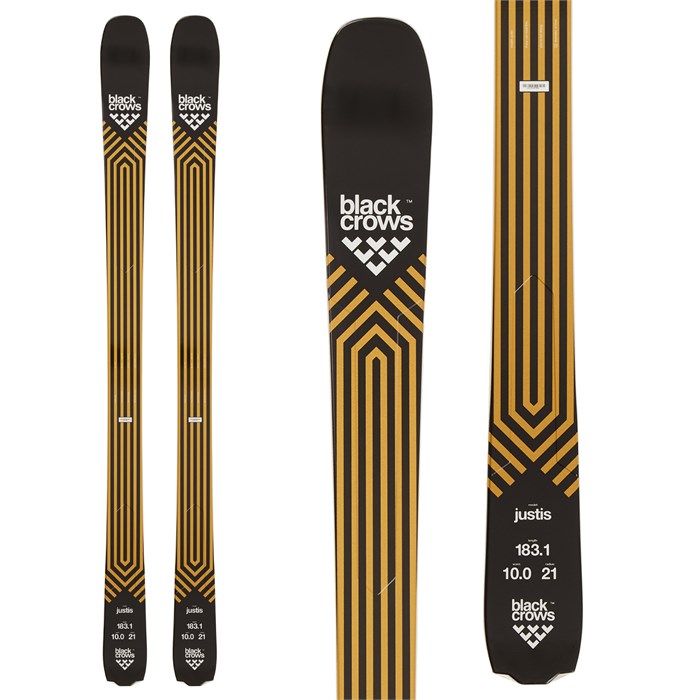 Black Crows Justis Skis 2022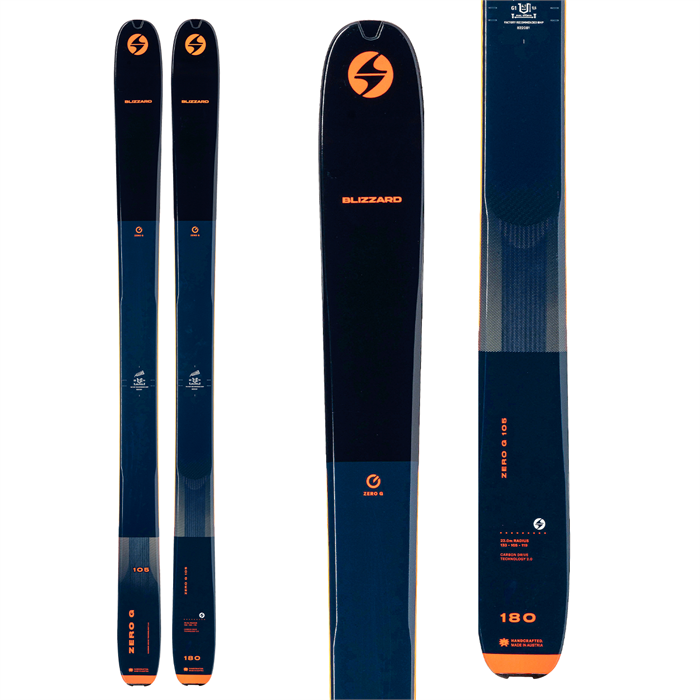 Blizzard Zero G 105
Best Skis for Advanced Skiers of 2022 – 2023
We've put together a list of the best advanced skis for 2022. These newest launches come with features that will blow your mind!
Overview Best Advanced Skis
1. Black Crows Justis Skis 2022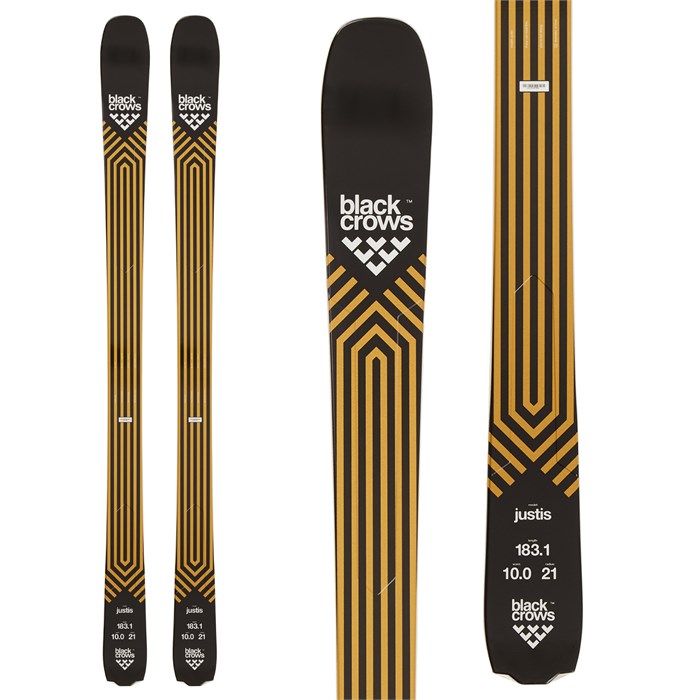 Since its inception in 2006, Black Crows has emerged as an innovative ski manufacturer. Their products are all about playfulness, reliability and enhanced performance. From mountain touring skis to all terrain ones, Black Crows has got you covered!
Justis is a new addition to the company's all-mountain line of skies. Let's look at the unique features of this beauty! Its ski profile includes a front rocker and early-rise flat tail combined with a medium classic chamber. Such a profile allows skiers to achieve greater maneuverability as well as enhanced grip. With a flex rating of 88 out of 100, this ski has a solid flex. This means that while riding on hard snow you will be able to enjoy a more stable ride as well as take turns with greater precision. You can select a shortened turning radius configuration of 20m or 21m.
Like other Black Crows Skis, Justis has an innovative construction. It has a poplar wood core which keeps the ski light in weight. It's laminated with Double H-Shaped Titanal Plates which use aluminum alloy to maximize the dampening of vibrations. Fortunately, this type of material doesn't add a lot of extra weight to the ski. It has Semi-Cap 3D sidewall construction which is a blend of both sandwich and cap sidewall system. This design provides better grip and reduced swing weight.
Justis comes with a waist width of 100mm and is available in 3 sizes – 171.3cm, 177.4cm and 183.1cm. It's suitable for advance-expert level skiers who're passionate about this sport. It has a sleek good and black design which makes it perfect for all the classy skiers out there!
2. Blizzard Zero G 105 Skis 2022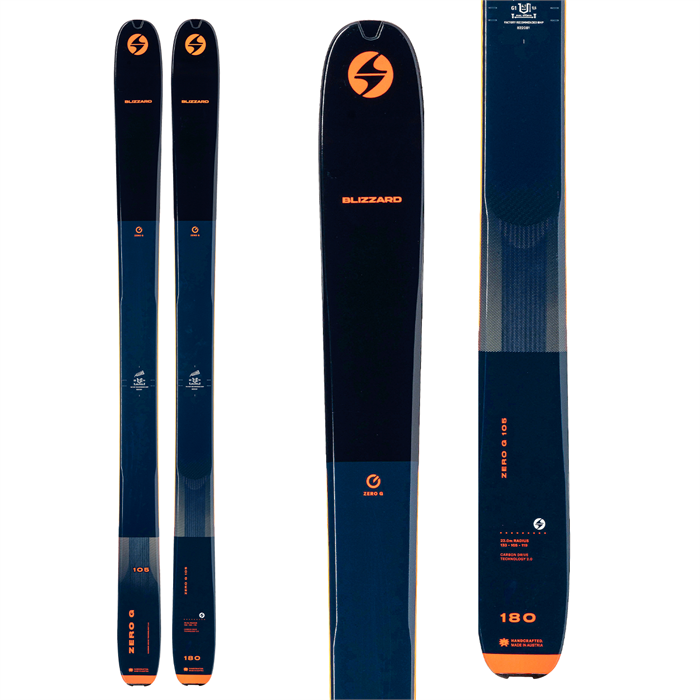 Skis from Blizzard Sports are meant to give you a modern feel while keeping the traditional aspects of a ski intact. Interestingly, every upcoming model is tested in Austrian Alps by the talented Engineers working at Blizzard. Zero G is the newest and most innovative addition to the freeride backcountry models by the brand.
This All-Mountain Ski comes with a wide 105mm waist which allows it to float seamlessly in powder. With a ski profile of rocker camber rocker, there's enhanced grip in the middle and reduced pressure on both edges (tip and tail). As far as its flex rating is concerned, while its tip & tail are easily bendable, the ski generally falls on the stiffer end of the spectrum. It has a long turning radius and is available in 18m, 20m, 23m and 24m sizes.
Zero G is constructed using Carbon Drive 2.0 technology. This innovative technology integrates a 3D uni-directional carbon fiber frame with paulownia woodcore. Did you know that paulownia is one the most lightweight types of wood available in the market for ski construction? Using such a woodcore allows manufacturers to keep the overall weight of the ski on the lighter end. The integration of carbon fiber with this lite core results in a more structured and better performing ski. For the protection and durability of its core materials, sandwich compound sidewall is applied. This version of sidewall is usually made from ABS plastic or phenol material.
Zero G is made for expert ski riders who are looking for fast speed and longer turns. It can be purchased in 164cm, 172cm, 180cm and 188cm. All in all, it is an extremely lightweight ski that offers greater edge grip and smooth riding.
3. Season Nexus Skis 2022
Season Equipment believes in keeping its products simple as well as durable. The company offers state-of-the-art skis which perform in versatile terrains and are strong enough to last you for decades.
Nexus Ski 2022 comes with a ski profile of entry & exit rocker and a standard camber. The rocker has an elongated nose or entry rocker with a height of 56mm at the tip and a raised tail or exit rocker which is 50mm high. Its standard 6mm camber has a medium flex rating which is perfect for the playful skier out there. Its progressive shaping style gives more independence to players while they choose the model that most suitable for them.
With its unique construction, this model stands out from the rest. At its core you will find paulownia wood which is laminated with biaxial fiberglass. This core is further wrapped in 360 wrap ABS sidewall that is installed using 30-degree CNC sidewall route. All these materials combine to give enhanced feel, reduced vibrations and improved control.
Nexus is an all-mountain ski which is geared towards advanced-expert riders. You can purchase this model in 3 different size specifications – 167cm, 177cm and 183cm. Overall, players find this model to be a versatile one that glides around twists and turns and is quite long-lasting as well.
4. Volkl Revolt 104 Skis 2022
Volkl, a German brand, takes pride in manufacturing high-tech state-of-the-art skis. Its Revolt lineup of Skis caters to the freestyle riders. This new Revolt 104 model is the perfect fill between Revolt 121 and Revolt 95 that this lineup needed.
104 is built with Tip & Tail Rocker which gives maximized float while skiing in deep snow. At both ends you will find a long 3D radius sidecut that keeps the ski stable around turns. It has a standard camber in the middle as well as a short radius which allows riders to maneuver in a better way. At the base of 104, you'll find a high-density polyethylene material (P-Tex 2,100). Aspen and maple woods are combined to form its multilayer woodcore. All these items assist in enhancing the durability of this ski. With its full sidewalls, power is transmitted in a better way.
Revolt 104 has a modern design and a wide 104mm waist. It's made for the professionals out there who take freestyling as a serious hobby. This model is most suitable for park & pipe and all-mountain terrains. It comes in 3 size configurations – 172cm, 180cm and 188cm. As a whole, Revolt 104 offers quick response and has a sturdy underfoot. Rippers can surely trust this model without having any second thoughts!
5. Dynastar M-Free 108 Skis 2022
A France based brand, Dynastar is all about feeling alive and agile while skiing on versatile terrains. 108 is the latest addition to Dynastar's M-Free ski lineup.
Its ski profile consists of a progressive rocker – a high rise tail and tip that allows the skier to easily maneuver during jumps and around obstacles. It comes with a partial twin tip and a medium turning radius ranging from 16 to 20. The flex on this ski is kept at a medium level too. Thanks to Dynastar's unique Adaptativ Sidecut, the transition between sidecut underfoot and the tip & tail is quite smooth. You will find sintered HD material at the base which ensures that this ski glides in a better way
M-Free 108 is constructed with a Hybrid Poplar PU core. This technology combines one of the lightest woodcore i.e. Poplar with hybrid PU material. It creates the perfect balance between weight and resistance. The core is then wrapped with a fiberglass torsion box. This lamination makes the ride more comfortable. For more protection and precision, a sandwich full sidewall is constructed.
If you're at an advanced to expert freestyle skiing level, then this is the perfect ski for you. It can be used in all-mountain and powder terrains. With a wide waist of 108mm, skiers perform exceptionally well in snow powder. It has 3 size options to choose from – 172cm, 182cm and 192cm. To sum it up, M-Free 108 offers a stable and smooth riding experience.
6. Rossignol Black Ops Gamer Skis 2022
Finally, we have Black Ops Gamer Skis from Rossignol – a French company that was amongst the pioneers in manufacturing plastic skis. The brand has now attained ownership rights to few firms including Dynastar.
Black Ops Gamer ski has a ski profile of high tail & tip joined with a high camber. Its tail has a full twin tip design which gives a buttery feel while skiing. With a responsive flex rating, it's able to dampen vibration in a better way resulting in a higher pop. Rebound is further enhanced with the help of Damp Tech inserts. These inserts are placed at the tip in order to absorb massive hits while skiing in versatile terrains.
At the core you will find poplar wood with an extended core design. It is then laminated with Diago Fiber material. This allows for overall reduction in ski weight while at the same time offering increased stability and control. Below the ski, an ABS beam is installed. It offers more grip and a smooth sailing ride. Full-length rectangular sidewall construction further optimizes grip and control.
Black Ops Gamer is a beast of the big mountain and powder terrain. Advanced players take benefit of its wide width of 118mm. It comes in 2 size configurations – 176cm and 186cm. All in all, it's one of the more stable models that is easy to handle. It has a great floaty feel to it!
What Are the Characteristics of Skis for Advanced Skiers?
On a scale of 1 to 8, the ability level of skiers falls in category 7 or 8. As an advanced skier, you know your parallel turns, your high speed jumps and now you're looking for a companion that will not only complement your skill level, but it will enhance it as well. Here are the ski characteristics that you should keep in your mind:
With a rocker ski profile, you're able to maneuver at higher speeds. Instead of having a traditional camber, look for tip & tail rocker styles. Being an advance player, you want to master your twists and turns and have greater control. This can only be fulfilled with a rocker profile. Stay clear of camber-only skis!
Next, you would want to choose a wider width of your ski. This configuration gives the ability to float in powder as well as deep snow. Such a feeling is unmatched and is what many advanced players seek while choosing their skis.
Finally, a stiffer flex rating allows expert skiers to have a stable ride with a better grip. As an advanced ski rider, the last thing you want to worry about is having a ski that cannot handle high speeds and is quite unstable. So, sticking to a firm flex rating works best for such skiers.
To sum it up, we hope that now you have a better idea of the best skis for advanced skiers and that now you'll be able to select one that is perfect for your style!
Ryan grew up with snow, so he has an endless passion for skiing and snowboarding and everything around these.